This post was originally published on our partner website India.com.
Arshiya Kherani is passionate about many things. Her Master of Public Administration in finance with a focus on social entrepreneurship from NYU Wagner proves her love for the subject. Her five-year career in real estate and affordable housing proves her dedication in the field. Her new clothing line, Sukoon, which uniquely includes hijabs, scarves, and shirts, places her in a whole new arena, one she is very excited about, especially because of how personal this activewear line is.
She started Sukoon in April 2015 after she ran her first half marathon.
"I am very active and I've been wearing hijab for a number of years," she said, "but have always struggled with finding workout wear with the right amount of coverage – more specifically, hijabs that would stay in place and wouldn't get drenched with sweat during a workout."
For her, training before that half marathon proved particularly difficult because she was wearing bandanas and beanies instead of high-quality activewear hijabs.
"A friend of mine suggested I try making my own, and that's how Sukoon came about. I realized that many other women probably faced the same problems that I did," she said.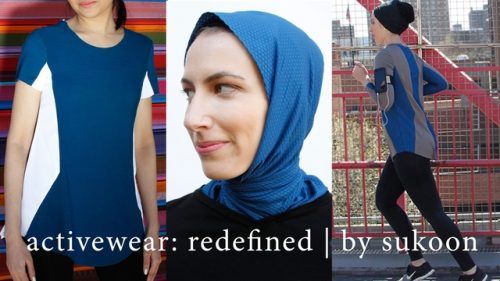 "The name 'sukoon' has roots in Urdu, Hindi, and Arabic meaning peace, tranquility or calm – and it has always been a word that I have identified with strongly," she said.
Therefore, this name perfectly fits the message she wants to promote her line — it is a source of comfort.
Kherani does not consider Sukoon as just any other activewear line, she believes it is "a movement representing a generation of women creating solutions that move beyond the options that are presented to them." Having grown up as a Muslim woman in America, like so many others, she had to find creative ways to supplement the hijab in her wardrobe. She did that for seven years before finding her voice around the issue of inclusive fashion.
"But it wasn't until my scarf literally fell off during a race that I realized the enormity of this issue," she said. "There are countless demographics excluded by fashion trends, but just the American-Muslim market is valued at $170 billion. I think it's time for us to be a part of the broader conversation around market trends, and I think the best way to do that is to design creative solutions to our own problems."
Sukoon's signature collection includes the classic hijab — an athletic, fully-adjustable one made of merino wool with a mesh outer layer, the up-do hijab — similar to the classic but with a unique velcro base at the hairline, which is perfect for intense workouts, the classic tee — a lightweight merino wool and mesh panels that are strategically placed under the arms, at the sides of the shirt and center of the back, allowing for additional ventilation in sweaty areas. The collection also includes a signature bag.
"We've researched everything from headbands to snapbacks to inspire our hijab designs, and of course, we keep a close eye on Muslim bloggers for tips and tricks on scarf-wrapping techniques," she said.
Kherani said she prefers to wear hers in tie-back style, but she knows others might not.
"We wanted to bring both sets of options to the market so that women could choose which better suits their needs and preferences," she went on to say.
They plan to introduce pants, leggings, accessories and swimwear as the company grows.
The first time she went for a run wearing its prototype, she said she had tears of joy, literally.
"We had been working on Sukoon for six months at that point, and I had tried SO MANY failed prototypes before then," she said. "I don't think I'll ever forget that run. It was the middle of January and freezing cold, but I have never felt so inspired. It stayed on beautifully and I didn't have to adjust it even once. I kept touching it to make sure it was still there because it was so comfortable that I couldn't even feel it."
And that's when she knew she was onto something special. Each time she felt like giving up on the idea of her startup, she thought of the quality of her workouts and how much they had improved as she started wearing the prototypes. She wanted all her customers to feel the same way.
In order to promote and grow her business, Kherani has taken Sukoon to Kickstarter, the world's largest funding platform for creative projects.
"Why not?" she asked herself because it is the perfect platform to introduce groundbreaking startups. "We were chosen as a Kickstarter "Project We Love" because we met half our funding goal in under three days," she said. "We met our initial funding goal of $10,000 on Day 9 of the campaign. We are about halfway through our 30-day campaign, but we are excited to keep gaining traction for the project!"
Till date, the project has 257 backers and has raised more than $17,000.
Most importantly, she said she wants her brand to be a champion at inclusive fashion. She went on to say, this conversation goes beyond women who cover their hair; it extends to any and all women across different faiths and cultural backgrounds who are looking for modest options in the market.
Maybe this is what makes Sukoon stands out in the competitive market. It is a company created for women, by women. Well, that and the importance of ease, comfort, and wearability, which are not very common in activewear. Most existing brands make their hijabs out of poly-spandex or nylon blends, which are common and effective fabrics for workout wear, but not optimal for activewear hijabs because they man-made materials and do not absorb moisture well. That means that they can trap heat which can restrict airflow and lead to headaches and/or premature heat-exhaustion.
"A key element of our approach has been to focus on creating a range of hijabs that allow for easy micro-adjustments on the fly, with natural fabrics like merino wool that prioritize airflow and prevent overheating whether you're using them in a cold or warm-weather workout," Kherani said. "The high quality and breathability of these fabrics translate to our shirts design as well."
She believes starting a business has been the hardest thing she has ever done — and it hasn't really started yet.
"Every once in awhile people will say things like 'it's not personal, it's business' – but over the past year, I've come to believe the exact opposite. Our team has poured every ounce of creative energy and intellect into building Sukoon; everything from the design of our products to an update to our Kickstarter backers is in some way a reflection of who we are," she said. "I think maybe the hardest part has been to put everything I have into the brand and leave it open to the world for discussion. Not everyone is going to like it, and that's where as personal as it is, we can't take it personally. I feel vulnerable but also excited and curious to be a part of the conversations that will come out of our venture and shape us as a generation."
---
Saloni Gajjar is a recent alum of NYU's Magazine Writing Program. Her passion lies in pop culture writing, as is evident in her work with magazines like Marie Claire, Interview, and Complex. Her goal is to show the arts as a medium and mirror of the society, much beyond just entertainment.