"Life is good.Love is sweet. Take a chance and follow your dreams."
That's the message the Naked Hipster Project hopes to send with its new music video, PARTS.
The Naked Hipster Project is the music and comedy brainchild of two close friends, Sujata Day and Will Collyer. Known for her starring role as CeCe in Issa Rae's The Misadventures of Awkward Black Girl, Day has established herself in Hollywood as a performer, creator, and writer.  She currently plays the recurring role of Sarah on HBO's hit comedy, Insecure.
Collyer is an actor, singer, songwriter and voiceover artist based in Los Angeles. As a voiceover artist, he can be heard in countless TV series, audio books and feature films, including Disney and Pixar's Finding Dory, Marvel's Avengers Assemble, and Disney's Doc McStuffins.
Inspired by acts like She and Him, Foster the People, and Owl City, the two released their first song and music video for the Naked Hipster Project in 2013. PARTS is their project's second single. The Parts music video is directed by Cameron Fife with DP Noel Maitland.
We, at Brown Girl Magazine, had the opportunity to speak with the singer- songwriter friends about their experience making and inspiration behind their music.
Several years ago, Day dropped a mutual friend off at Collyer's place, which gave her the opportunity to converse with her now 'biffle', for the first time.
 "I came in to say hello, saw Will's electric piano and asked if he was in a band," Day said.
They both exchanged email addresses after bonding over one composing music and the other writing lyrics.
"And that was it.  We started writing songs, then helping each other with auditions, then weekly dinners at India Sweets and Spices in Atwater Village.  We've been biffles and collaborators ever since,"  Day said.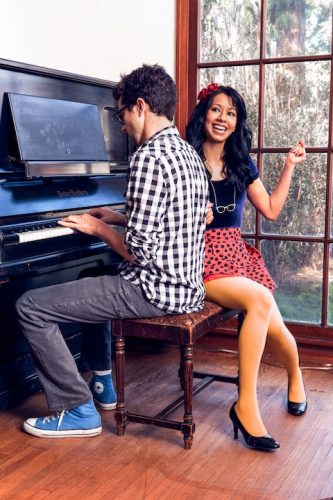 After spending some time writing songs together and recently placing a song called "The Kill," sung by Sara Bareilles, in the indie movie Bounty Killer, 2—the two wanted to explore being the artists as well as the song writers in a production.

"We wanted to explore being the the artists as well as the songwriters, and had the idea for a concept album that would follow the progression of a relationship from meet-cute to bitter end."
To begin the production of their second single, Day and Collyer worked together to compose and write the music, which they proudly say is very "SFW or G-rated, kid-friendly."

"We flew to Milan where our friend Giovanni has a recording studio located on his vineyard and spent two weeks bathing in the sonic vibrations of… JK JK," they joked.
Day first wrote the lyric at her apartment in Studio City after which Collyer composed and arranged the song to be recorded in his home studio. The track was then to friends at Humble House Music to mix and master. 
While Day and Collyer are both the artists and songwriters, their favorite part of the process is creating the song.
For Collyer, printing up Sujata's lyric and sitting down at the piano and finding the tune is the best part.

"Her lyrics are always so instantly musical and mathematic- her engineering degree helps in this regard-so they write themselves into musical form pretty much spontaneously," Collyer said.
For Day, the assignment of writing a lyric that's part of a larger storyline made it both a challenge and more fun than her usual pieces.

"Then", she said, "Will mostly composes the music alone, there's the surprise of opening the email with the rough demo and listening to the lyric come to life as a song for the first time."
When asked about some of the challenges they both faced when bringing PARTS to life, both artists agreed on time management.

"Time management.  Literally, days, then weeks, then months, then years went by and while we would still be seeing each other all the time, we were busy doing other stuff, so NHP wallowed on our hard drives."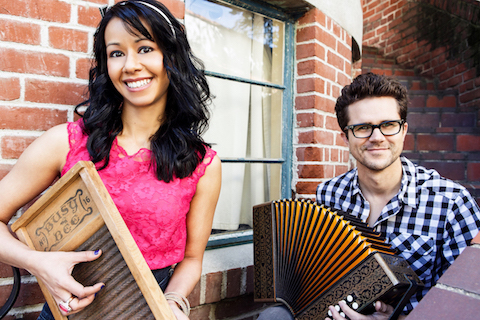 PARTS is only the second song in the ten song cycle, the pair is working on. While the first song, 'WALLFLOWER', depicted two heroes too scared to make a move, 'PARTS',  shows the force of destiny allowing them to finally meet and exploring the possibility of trusting one another.
Both Day and Collyer have received positive feedback from those who have received their music including their friends and family, 'who had no idea they were working on this project.'
The two singer-song writers are working on the mix for the third song in the series, 'PARIS IN JULY', which they hope will be in stores in time for the holidays. They hope their movement gains enough attention to allow them to actually record in Milan.
"We hope that this gains enough attention that we really can record the rest of the album at Giovanni's vineyard outside of Milan.  We know you're out there, Giovanni, hit us up!"
Follow Day and Collyer on social media: Naked Hipster Project | Sujata Day | Will Collyer