by Smita Das
The following post is brought to you by our sponsor, IndiaBoulevard.com— a marketplace for Indian fashion. These photo series are a part of our 'East Meets West' photo shoot, curated in efforts to showcase how we merge our eastern and western flairs to shape our identities.
My fashion has certainly evolved over the years.  In college, ripped jeans and cute little tops were my go-to options. But that quickly changed when I began my 9 to 5 corporate job and my wardrobe transitioned from "college girl" to business casual. My walk-in closet was now lined with button up blouses, knee-length pencil skirts, and several navy blue and khaki slacks.  However, two years ago, when I left the security of my steady paycheck to spend a year trekking (solo) around the world, everything in my life evolved again and this definitely included my sense of fashion and style.
I moved to New York City right after my ventures around the globe and continued this self-journey. And I must say, I didn't waste any time in pursuing my dreams, in the city of dreams—I quickly joined the world of modeling, and started a career in real estate.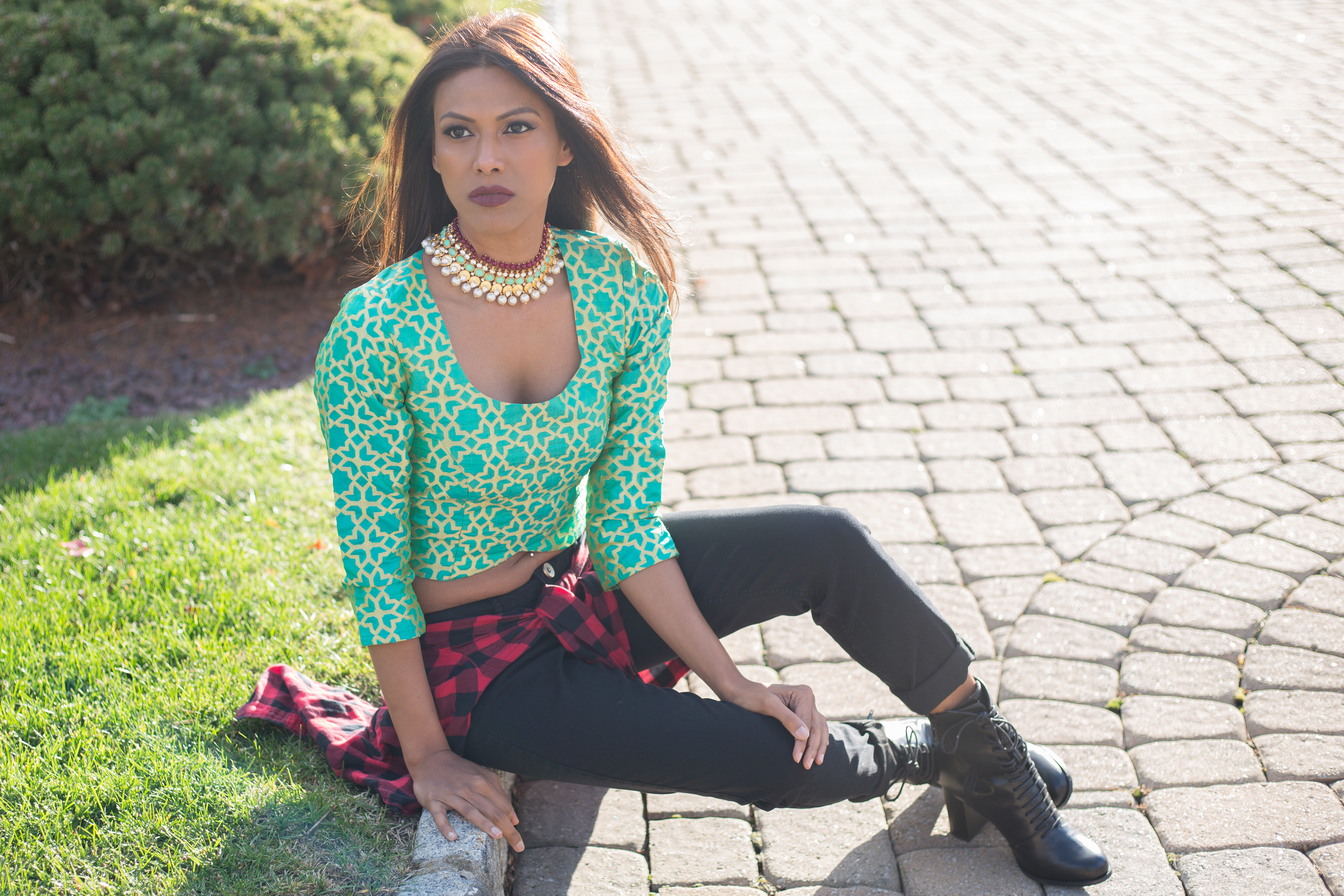 [Smita sports a beautiful teal and gold blouse, courtesy IndiaBoulevard, to complete her Indian-New Yorker look.]
My passion for real estate came from my desire to become an interior designer. I would spend hours watching decorating shows and found myself designing my personal living spaces; needless to say I would also experiment with my clothing a bit. I remember pairing different colors together to add some oomph to my professional outfits, much like in the book "The Well-Dressed Home."
The two passions became a natural complement and it became no accident that I found myself pursuing modeling and real estate in New York City. My choices were so fitting because we all know New York City is the fashion and real estate capital of the world. Immersing myself in these creative occupations allowed me to further explore my taste in personal style and expression.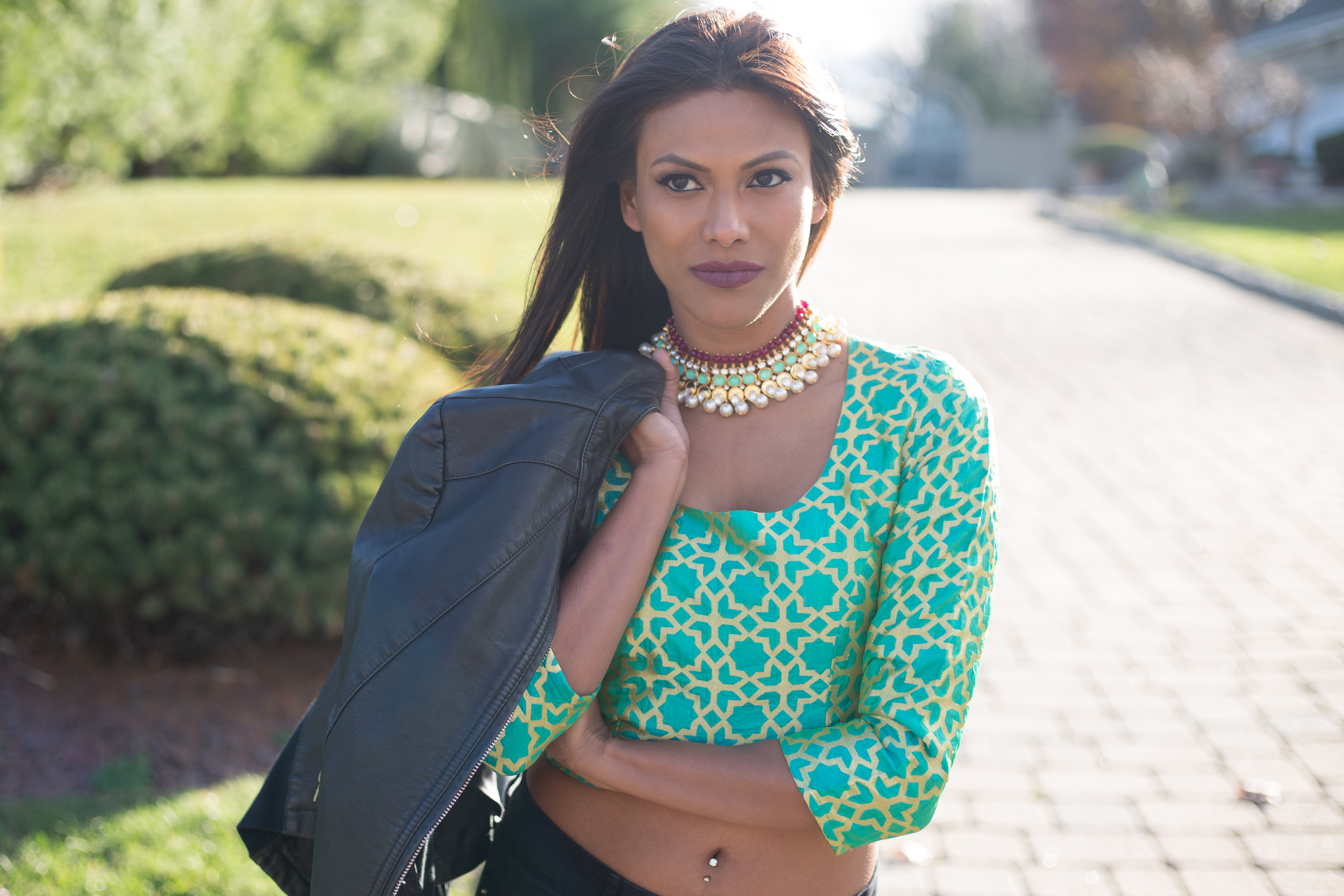 I am naturally drawn to the deep colors and patterns reminiscent of Indian fashion. But I can't forget the New Yorker in me either. I enjoy pairing signature pieces, such as a black blazer or leather jacket, over a jewel toned top in a color that accentuates my dark skin tone and is synonymous with New Yorker style.  Among my favorites are colors like turmeric yellow, saffron orange, and Indian green (which are coincidentally the colors of the Indian flag). A pair of jeans, ripped or not, are here to stay and still one of my favorite things to wear with anything and everything.
Finally, a beautiful piece of jewelry polishes the entire outfit. I find nothing beats the exquisite nature of Indian jewelry such as bangles, necklaces, and my favorite: the dangling earrings.
I'm in love with New York City, a true melting pot of people, cultures, and ideas! It's safe to say that my environment and collaborations with fashion designers here have heavily influenced my sense of style. As a model, each time I go in for a fitting I am inspired to try something new in my personal wardrobe. Like my lifestyle, my fashion continues to evolve and I love to incorporate new elements as I grow as an individual.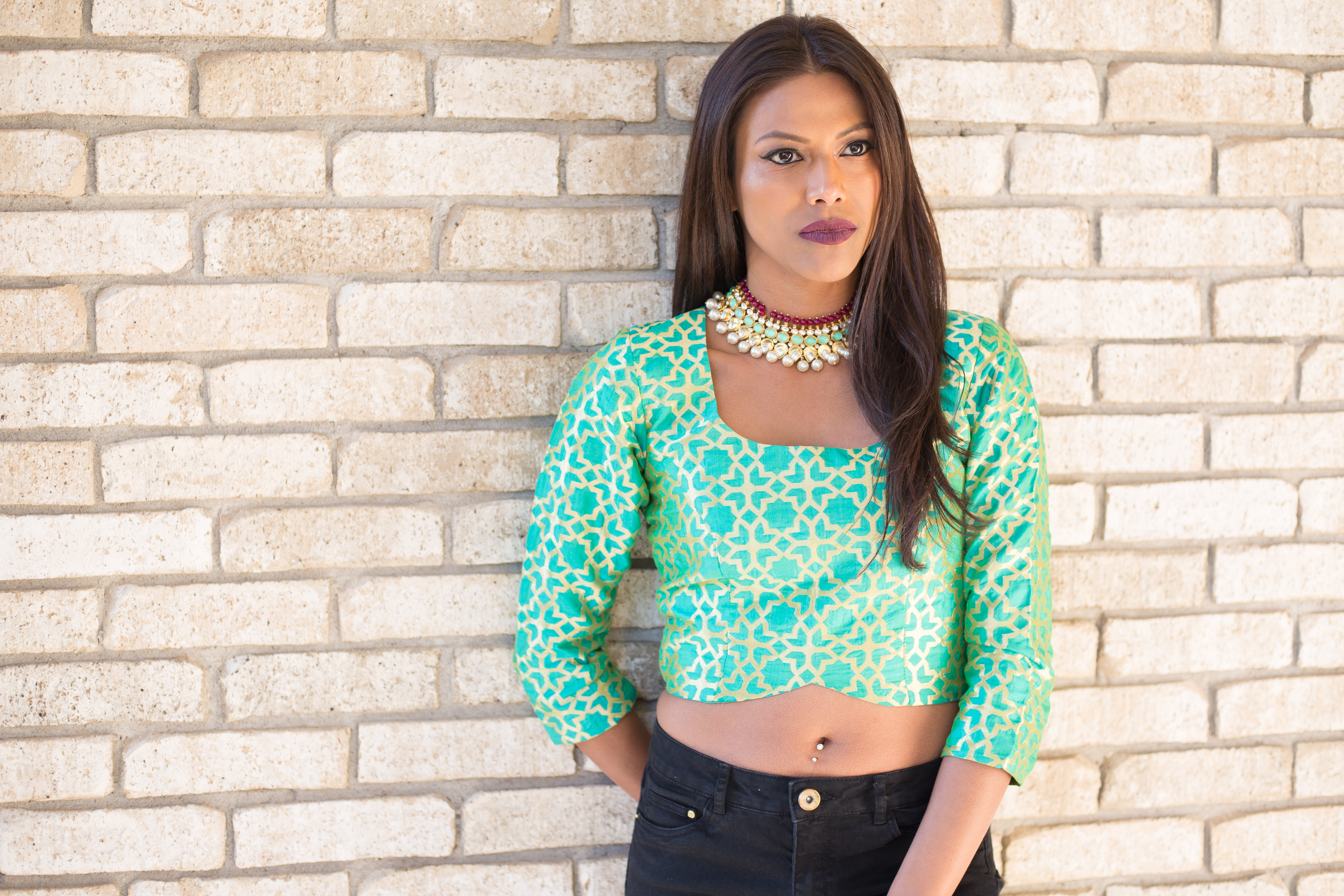 Nevertheless, having signature pieces that can be layered to create a professional and classic look is key for my multi-career, on-the-go lifestyle. It's definitely an east meets west look, but I also envision my style as a global citizen of feminine independence.
---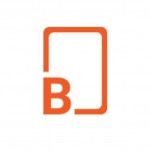 IndiaBoulevard is a curated marketplace for designer fashion. We connect customers from all over the world with a variety of designers, to make custom-made outfits. We believe that every person is unique and has a personal style. Our team combines your style inspirations with your spending preferences to customize the perfect design for you. Our mission is to make designer wear accessible to everyone everywhere.
---
Prior to relocating to the concrete jungle, Smita enjoyed mild winters and scorching summers in Phoenix, Arizona.  Before her big move to the Big Apple, she spent 10 years as an Engineer and decided it was time to pursue bigger dreams.  In 2014 she found courage to quit her 9 to 5 job and travel around the world for one year, solo.  Following a journey across 20 countries her compass would ultimately point her towards the Fashion and Real Estate Capital of the world where she now balances her passions for Fashion Modeling and Real Estate—New York City.  Smita's fashion, real estate, and travel adventures can be found on Instagram @hashtagsmita.