by Sylvia Pamuk
We met in Zamalek, on a cool February night at an expat party full of drunk Americans. The way he told it to our friends later is different from what I remember: He saw me with a friend on the apartment balcony, he tells them, and was determined to talk to me. So he did. The story is suave and controlled, and everything he is not.
It was the early months of 2012, and the fuss surrounding the first anniversary of the Egyptian revolution had just died down. I was studying abroad at the American University of Cairo and had been living in Egypt since August. The second semester students were fresh from America and drunk on the power of having come to such an exotic locale while their friends flew to Europe for the semester. My girlfriend and I counted the number of State Department wannabes and laughed, deciding that we refused to take anyone present seriously.
I saw my girlfriend meet someone's eyes over my shoulder. I turned. His words tumbled out suddenly as if he had been holding his breath.
"Can I borrow your lighter?"
I looked up at him. I agreed to exchange my lighter for his name.
"Layth," he said. He lit his cigarette. His face was thrown in sharp relief by the flame: strong brow, aquiline nose, a handful of springtime freckles tossed carelessly across high cheekbones.
"Oh?" His eyes flickered when I met them. "Where's that from?"
"Palestine," he said and handed me my lighter.
Palestine, he explained, via Washington D.C. He'd been coming to Cairo since he was about 12 when his father took up a teaching post at the university. He played the drums and guitar, he loved to dance, he said he was back in Egypt indefinitely to improve his Arabic. We talked for hours, and I brought him home.
My roommate was talking up someone cute in the kitchen, so he kissed me in the dark on the balcony. I twisted my fingers in his tawny curls as strains of music from felucca boats on the Nile drifted up from the riverbank ten floors below. It wasn't until I met him in the light of day that I realized how high he had been that night.
Tongues tied, hands twisted, we met for coffee on a bright terrace at the university. I should have known it was over then, but it took several weeks and another drunk conversation at another crowded party for him to tell me that he actually wanted to see someone else. I held my head high, stayed at the party, and refused to cry until I was in the middle of the Eastern Desert the next morning, driving with friends to Ain Sokhna for the weekend.
One month later, he came back to me.
Your first mistake: You don't ask why. You take it as it comes, his pleas for forgiveness and his elation at being taken back, because by now it's the beginning of the end, during your last six weeks of studying abroad in Cairo.
You are ravenous, you are desperate, you want everything before it ends, and so you take everything he has to give: the city's madness and noise, sweat, and traffic and springtime dust storms, the call for the dawn prayer ringing in your ears as you tumble into bed together. The warmth of the afternoon sun on your skin as you sit in one of Zamalek's sidewalk cafes, dodging Tahrir sit-ins on the way home from the university bus stop, drinking coffee on your balcony and admiring the way the sun glitters on the Nile before eight in the morning. You skip over dogshit on sidewalks, smoke inside cafes and bars, and breathe deeply of the night air during the long cool drive down the Corniche to Ma'adi after a night of sweaty dancing at Cairo Jazz Club. You kiss hungrily in dark elevators, yet are unable to hold hands in the street. You meet strangers outside the famous downtown 'ahwa Horriya and end up dancing in someone's dirty living room two hours later, the bottoms of your bare feet collecting fallen ash from the hashish and your blood pulsing to the beat of the drum beneath Layth's palms.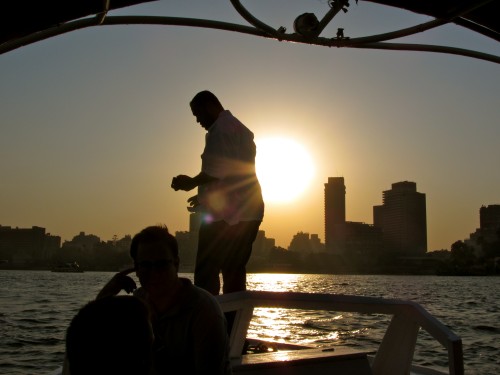 Whenever I think I miss Layth, I realize I'm longing for the life he showed me how to live in Cairo: the paradox of ease and adrenaline, the long nights and lazy afternoons, the music from delivery boys' mopeds, the cheap cigarettes, the cane juice from streetside kiosks, nearly getting hit by cars while crossing the street and cats wandering the night, weaving between beggars on littered streets. I miss not worrying about the price of rent or taxis, I miss the smell of the Nile in April when it's not yet too hot in the city. I miss steamier May nights on the rooftop terrace at the Greek Club, my favorite restaurant in Midan Talaat Harb. We drank ouzo and ate stuffed grape leaves that weren't as good as his aunt's and people-watched, laughing as our group of friends found itself joining parties with the next table over.
I miss Layth's golden moments — when he was comfortable and relaxed, sweet and open. I'll always remember how everything about him was like shirts left too long on the line, bleached by the sun: washed-out pale blue eyes, gilded tips of otherwise dark lashes, tawny hair the color of a lion's mane. How his flannel shirts smelled of Marlboro Reds and Egyptian laundry detergent, how the fine lines around his eyes disappeared in peaceful sleep.
I left Cairo during the presidential elections of 2012 to work as a translator at a small news station in the West Bank for the month of June. I left my luggage at Layth's apartment and when I returned five weeks later, it was with too many photos of weekends spent with old friends in Tel Aviv for us to go back to the way we were.
We haven't spoken in over a year. I assume he's still in Cairo, waking to the cry of the muezzin each morning and watching the sun glint blood orange off thousands of skyscraper windows each afternoon, but Cairo is a different world now. If one day we meet again, I don't know if we'll be friends. That brief life we had has vanished, the friends we knew have come and gone, and the Cairo we loved — blissfully tucked between the reigns of Mubarak and Morsi — has disappeared.
---
Sylvia Pamuk is a pseudonym for a graduate student and writer who divides her time between London, Istanbul, and Chicago.
Original post and featured image source: The Matador Network