by Priyanka Gulati – Follow @Gulatee
The events of the past week have brought no respite to those across the world grieving slain Virginia teen Nabra Hassenan.
The memorial left by participants of Tuesday's vigil in Washington D.C.'s Dupont Circle was set ablaze, according to officers called to the scene in the early hours of the morning — one arrest has been made in connection to the torched memorial, but it is not being investigated as a hate crime according to HuffPost.
Despite the anger and sadness associated with this level of unconscionable actions, the vigil was a powerful and emotionally heightened affair. More than 300 strong came out to listen as Muslim women spoke about themselves and Nabra, and called on Muslim men, POC allies, and others to hear their stories.
Despite the arrest of 24-year-old Jonathan Solomon of South Carolina, the police once again continue to neglect to name this travesty a hate crime, insisting that "the incident does not appear to be motivated by bias." Virginia police have pursued the murder as "motivated by road-rage."
While horrific details and speculations continue to ignite social media, elsewhere Hassanen's family found themselves preparing for their 17-year-old daughter's funeral, one that was attended by thousands of mourners and seemed so full in comparison to what the Dupont Circle fountain shrine had been reduced to. 
#JusticeForNabra vigil in DC tonight. Heartbreaking. Powerful. Full of love.

We will stand united against violence until we win. pic.twitter.com/68fw3zhsxM

— Collin Rees (@collinrees) June 21, 2017
Nabra, we do not all know you, but we know your story and we love you.
---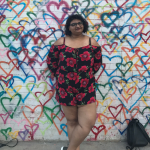 Priyanka Gulati is a writer, Bollywood fanatic and hazelnut coffee lover. When she's not swiping the burgundy lipsticks at Sephora she can be found starting unnecessary fights on Twitter. Follow her @gulattee.