by Farah Khan
This story was originally published on our partner website India.com:
I will be the first to admit that I have never been a huge fan of mashups of Indian songs with English songs. Something about the way the lyrics and tunes mesh has never really been appealing to me — that is, of course, until I was introduced to Vidya.
Self-described as an "Indian-born American," Vidya was born in Chennai and grew up in Virginia. She learned classical Carnatic singing while growing up, and has recently been making waves on YouTube with her incredible mashups of Hindi and Tamil songs with hit English songs.
Since 2011, her YouTube music has been mixed, mastered, and produced by Shanker Tucker of Shrutibox fame. Vidya also has some pretty great original songs and covers on her YouTube channel, so check them out after you take a peek at this roundup of some of my personal favorites from her work thus far!
"How Deep is Your Love/Balam Pichkari"
https://youtu.be/qPweDwkDw6w
Calvin Harris and the Disciples meets "Yeh Jawaani Hai Deewani" in this creative mix. The video was apparently shot at night in NYC and you can tell how much fun this group had while putting it together.
"Love Me Like You Do/Hosanna"
Who knew that Ellie Goulding's "Love Me Like You Do" was made to be partnered up with this A.R. Rahman classic?
"Lean On/Jind Mahi"
Given that "Lean On's" bizarre video was made in India, it was just begging for this type of brilliant mashup that pays appropriate tribute to the motherland. Vidya is accompanied by Ricky Jatt's vocals along with Raashi Kulkarni on the keyboard and Roginder Momi on the violin — and the resulting mashup has been wildly popular with more than one million views on YouTube.
P.S. Can these guys come together again for another masterpiece ASAP?
"Blank Space/Mental Manadhil"
Vidya seamlessly transitions from Taylor Swift's "Blank Space" lyrics straight into A.R. Rahman and Mani Ratnam's "Mental Manadhil" lyrics from the film "OK Kanmani"—and this is just one of the many reasons this mashup is so on point.
"All of Me/Main Hoon Hero Tera"
https://youtu.be/UMsA3T4xsU8
I may be the only person in the world who has never really been a huge fan of John Legend's "All of Me." I also was not so impressed with Salman Khan's debut as a playback singer for the title track of "Hero." But Vidya's mashup of these two songs is absolutely beautiful — this song is currently on repeat in my house…and car.
"Where Are U Now—Tamil Remix"
This is one of Vidya's newest releases, and the Tamil lyrics are so subtle that you really have to pay attention to even catch them when the beat drops in Justin Bieber's latest hit "Where Are U Now."
If you're like me and cannot wait to get these songs onto your phone so you can jam to them in your car or while you're working out, then head to Vidya's Bandcamp page and download her songs today!
---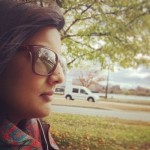 Farah Naz Khan is an internal medicine resident at Emory University. After graduating from college in Boston, she returned to her Alabama hometown to attend medical school and was reunited with the mix of Southern hospitality and South Asian culture that had shaped her childhood. Follow her on Twitter @farah287 or read some of her thoughts at farah287.blogspot.com.