by Shima Begum
This post was originally published on our partner website India.com. 
The following profile is part of the Urban Desi conference/concert series. Produced by Desi in NYC and presented by India.com, ?#?UrbanDesi? is a one-of-a-kind, two-day event in New York City featuring 20 global South Asian artists for an exclusive conference and a state-of-the-art concert in Times Square on March 24th and March 25th, 2016. For more information and advance tickets, visit UrbanDesi.org. Be sure to use promo code BG2016 for 10% off. #UDC0216
Singer and songwriter Ashni Dave, 25, from Queens, New York will be performing at the first-ever Urban Desi Conference and Concert on March 24-25 in New York City.
The Urban Desi Conference and Concert is the result of a collaboration between India.com, Urban Asian, New York Dreams, and Brown Girl Magazine. Dave will be showcasing her work among several other South Asian artists including Mickey Singh, Raghav, Raxstar, Amar Sandhu and more.
Dave currently writes and records her own original compositions, which can be found on her website. From a young age, she had a special interest in music including writing about her 8-year-old heartbreak. It wasn't until she was 15 that she began taking voice lessons and getting more serious about pursuing her interest.
As a vocalist as well as a songwriter, Dave said she has a fresh perspective on how the two things define her as an artist.
"They're absolutely intertwined,"  Dave said. "Developing my vocal ability serves my songwriting. My voice is my instrument, so becoming a better singer also means becoming a better listener, developing my ear, and being able to write more freely—not necessarily more complexly."

"I had a lot of musical influences, ranging from my parents' classical Indian records to jazz singers from the 40s through the 60s. My mother loves to sing and began studying Hindustani classical in her 30s while I was growing up. So music was always around the house! Just in a very casual, this-is-not-a-career-way," she added.
Dave said that although she encountered obstacles along her path, she's also had many supporters and friends whose encouragement helped pave her path to a musical career.
Following the encouragement of a friend who saw her YouTube videos, she began to record her own music and hasn't stopped since then.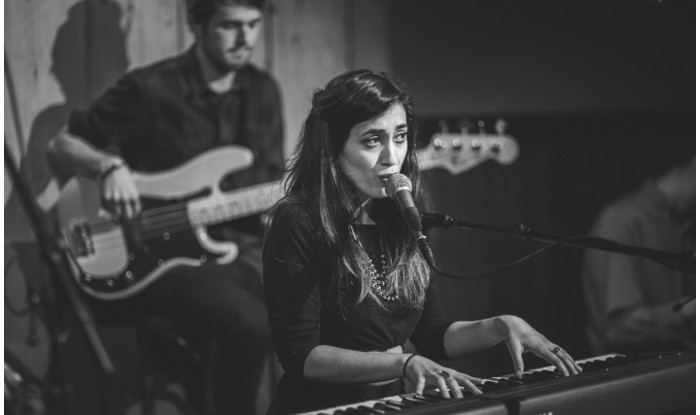 "If you have to make music, you know it. We're all still figuring it out, but maybe the best advice I have for someone at this point in my journey, is to work really hard on your own, and then go find people with whom you can grow artistically, emotionally, and professionally," Dave said.
Despite some initial guilt and fear at her career choice, she moved forward with the help of friends and family. She stresses the importance of support from peers and friends as it seems it has helped her a great deal through her journey as an artist.  Her own family, although initially surprised, has also been understanding and supportive of her choice to pursue music for which she is very grateful.
"Please support artists you love! Follow them and "like" their posts on social media, it makes a big difference. If you have the means, buy their art. Go to live shows. Ask them how you can support them. The smallest things really have an impact," she said.
That said, you can find the talented Dave on a variety of social media forums including SoundCloud and YouTube. And, you definitely don't want to miss her performance at the Urban Desi Conference & Concert.
---
Born in Bangladesh, raised as a true blue New Yorker, Shima Begum aspires to work in the health field. During her free time, she loves reading avidly and finding inspiration that she can share with those who need it through her writing.