by Liya Thachil 
[All photos via Vogue India]
Lakme Fashion Week went by in a whirl, and it left in its wake: SILK! This festive season, we are seeing designers returning to the basics, and the basics of the subcontinent is, silk. Silk is to South Asia as the jersey is to America; it is the fundamental building block of a desi wardrobe. Designers sent down easy-to-wear pieces that can be layered, all cut in cotton-silks. The breeze was palpable. For more luxe moments, they used rich brocades, lehengas made of kanchipuram, without a sequin in sight. How refreshing!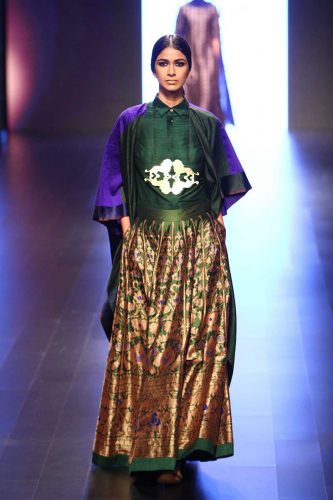 [A runway model donning Payal Khandwala's silk creation.]
I've been keeping a vlog about my reactions to this season and each vlog is prefaced with the same sentiment: I keep my expectations low. So I have been continually surprised by what I see down the runway. Tulle and infamous pinks and peaches that have been plaguing the lehenga scene have disappeared. In its place, we have raw silks in rich turmerics, bold teals, vibrant reds. I see a celebration of heritage in a very modern perspective.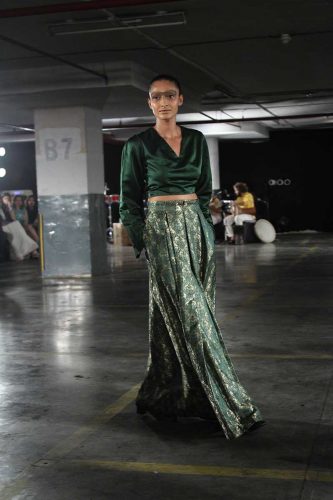 [Tulle, and traditional color palettes have been replaced by silk and bold hues in Sanjay Garg's latest collection.]
Breakout moments were Raw Mango sending couture dresses draped in kanchipuram, Tulsi Silks grand lehengas in the Southern sensibility, Payal Khandwala and her silk separates billowing with presence and ease. Embellishments in the form of traditional zardosi was not prevalent this season. Designers sent a clear message: focus on the woman, not the glints off her outfit.
Designers sent a clear message: focus on the woman, not the glints off her outfit.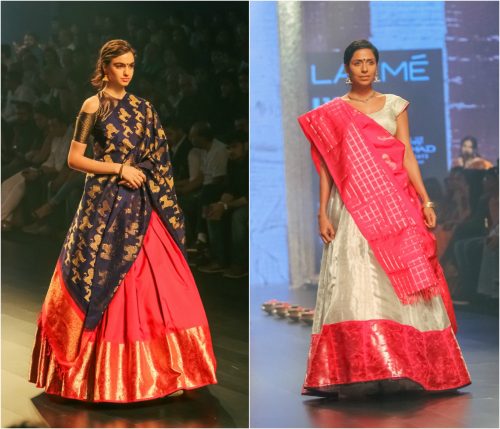 [Tulsi Silks' lehngas add a Southern flare to the ramp this season.]
South Asian attire has always been stereotyped as "more is more," and if you haven't been scratched raw by your dress, then it ain't fancy enough. If your dress doesn't make you break out in sweat from the weight of it and the effort it takes for you to move around, then you didn't get your money's worth. I've personally felt we've lost sight of what exactly the definition of desi wear should be. But this season has clearly rediscovered what it means to dress up the Indian way.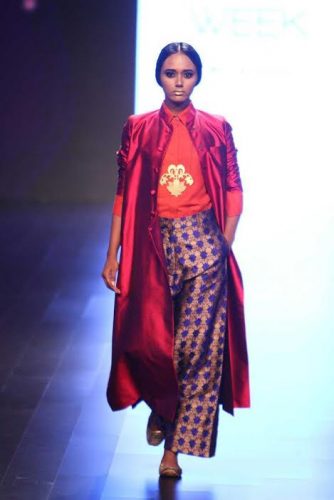 [Payal Khandwala suggests switching the traditional with something more contemporary like this pant-suit.]
So brava designers, it has been a delight! BGs, I look forward to seeing all of you in the coming holiday season in head to toe silk. (It's about time.)
---
Liya Thachil is the co-founder of WESTxEAST, which is a retail brand aiming to provide South Asian inspired basics. It was created because of the need she and her co-founder, Tania Chackumkal, discovered for sari blouses, petticoats, kurtas and etc. They believe the silhouettes of the subcontinent should be more globally embraced. WxE aims to be a movement towards style beyond borders. Liya is an avid collector of vintage saris and believes all women should own at least one kanchipuram sari.