by Proma Khosla 
YouTube's hilarious hijabis "Shugs & Fats" are back for the most American of all American holidays: July 4.
In the latest video from Nadia Manzoor (Shugs) and Radhika Vaz (Fats), the girls are raring and ready to celebrate America's Independence Day, complete with dollar-store American flag napkins, gaudy decorations, and the "international food of peace and harmony," A.K.A. hot dogs. They love everything about the holiday and its traditions, from buying cheap objects to burning everything in a bonfire, which they find more majestic than wasteful.
After several phone calls from invited guests (calling via a landline that rings with the "Star Spangled Banner"), Shugs & Fats get to work on their independence feast, setting up decorations and readying the grill. But things go south, as usual, when Shugs decides to wear the American flag as a cape and misguidedly cosplay's Captain America, the cape catches fire on the grill.
"This girl is on fiiiire!" she calls out, in response to Fats' mounting hysteria that her friend's costume is literally ablaze.
It's not too bad, and they can stifle the flames by beating the flag against the balcony. Unfortunately, it's still a flaming American flag in plain view of anyone who walks by the building–including Shugs and Fats' guests, who promptly run away.
"Girl on Fire" is a classic mishap and misunderstanding of sitcom-levels. And what could be more American than that?
---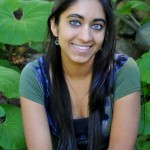 Proma Khosla is a writer, dancer and proud resident of New York City. She graduated from the University of Michigan, where between cultural shows and dance competitions she somehow earned a B.A. in Communication Studies. Her degree and her work with the Michigan Daily gave her an unshakeable desire to work in editorial and entertainment–basically to talk about TV and movies all day in the hopes that someone will care to listen. She also writes for GeekyNews, Fantastic Fandoms, and has an impressive collection of personal journals that live in shoe boxes under her bed.