This post was originally published on our partner website India.com:
Every year, Halloween ignites at least one social issue. Sometimes it is the hyper-sexualization of women or sometimes it is the sexualization of children.
Last year, the big Halloween theme was the now suspended NFL player Ray Rice beating his wife Janay Palmer. Violence, racism, sexism and all other kinds of 'ism's have prevailed in the American society in some form or other. Festivals like Halloween not only make these issues a hot cake for the media but also make us think about the world that surrounds us.
Two years ago, Reena Karia, nicknamed "Inappropriate Reena" by her college mates for joking about the things deemed inappropriate, decided to mix and match the atrocity going around and the festivity of Halloween. As a result, she directed a short film titled "My Hot Mom Gandhi," starring herself, Shane Gill, and some friends.
The 4-minute-44-second short film premiered at the San Francisco International South Asian Film Festival in 2014. It has since screened at four more film festivals across North America.
"The idea for the film was based on an actual conversation that Shane and I had on the eve of Halloween two years ago," Karia said about the film's birth. "I was feeling particularly bummed and angsty about the state of the world and wasn't feeling all the Halloween hype. A lot of U.S. holidays are about consumption and overindulgence. The 'establishment,' whether it's the government, the corporations, or mainstream media, feed us capitalist and patriarchal based ideas to desensitize us and keep us distracted from wars, the effects of climate change, systemic racism, gender and sexual inequality. You get the picture."
But what kind of film title is "My Hot Mom Gandhi?" Isn't Mahatma Gandhi India's father? But "Inappropriate Karia" has an anecdote for that too!
"Shane, myself, and Micropixie, an electronic recording artist who lent her music, garage, and script editing expertise to the movie, were sitting at an Italian restaurant in the Mission District of San Francisco," she recalled. "Instead of a tablecloth, the restaurant puts a piece of white paper on the table and gives you crayons. We were using the crayons to brainstorm ideas and draw pictures. Shane realized that 'Mahatma Gandhi' sounds like 'My Hot Mom Gandhi.'"
*The following content contains a spoiler.
Karia and Gill portrayed the existing racial profiling in the American culture with a smart and informed way, yet connecting to the movie's potential audience.
"We knew our audience was going to be South Asian because that's who we are," she said. "So, we just tried to think of costumes that related to South Asian history or current events. Shane is a history buff, so he knew that October 31, 2014, was the 30th anniversary of the assassination of Indira Gandhi. And we decided upon 'whiteface' in response to the pandemic outbreak of black face parties on U.S. college campuses," Reena said while remembering the effort they put to come up with the concepts for their costumes.

"We wanted to comment on the U.S. controversial use of drones in the Middle East and South Asia," she added. "We knew that the topics were going to make people uncomfortable because we didn't feel like we could actually dress up in any of them and go out in public. But we could do it in a movie."
Since the success of the short film, Karia said it has encouraged her gang to go on with their mission of raising awareness while entertaining people.
"We are in the process of developing a web series in the same vein as the short," she said. "Fortunately or unfortunately, there's a lot of inspiration out in the world."
---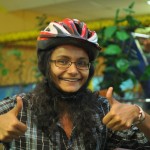 Aantaki Raisa is an engineer, a sports reporter and is pursuing her masters in Media Arts and Studies at Ohio University. Traveling, writing, and photography are her passions. Being from a third world country, Bangladesh, she thinks of herself as a rebel with an awesome sense of humor. She has always fought her way to living her life independently in a conservative society with the ideologies she believes in; she speaks her mind and works to eradicate the existing injustice and discrimination around her.