The following post is brought to you by our newest sponsor, Shan Foods, producer of premium  spices, mixes, and ingredients from all over the world.
Bust out the mortar pestle!  Pound it. Grind that. Blend this. Mix those two together and then dry roast. Oooh wee! I remember my mom, perennial hostess with the mostess, going through the rigmarole of making a bevy of homemade masala mixes to be used for her grand Diwali dinners. She practically invented the concept of DIY.
As a seasoned cook and a cook who seasons well, I, too, appreciate homemade spice mixes. I'm all about that DIY life! Rather, I tend to say that  in fear of experiencing the wrath of Pinterest gods.
But real talk, friends? Sometimes I don't want to do it myself. Sometimes I'm all about that GSETDI (get-someone/something-else-to-do-it) life. And this attitude of mine will get me far this Diwali season, just you see. Better yet, join me!
So check it: Every Diwali, my friends and I get together to celebrate, complete with themes and the whole shebang. This year, it's Indian street foods. Friendsgiving has nothing on us!
Our annual celebration comes with a caveat though: No one person should be weighed by the daunting task of feeding a huge crowd—there is typically about 15 of us in our group. And so as potluck traditions go, each of us is in charge of bringing one dish and a libation of our liking.
Now look, I don't usually shy away from making more involved dishes. However, I already anticipated—between a demanding work schedule this season, along with over committing myself to numerous other social obligations—that I wouldn't have the bandwidth to spend a lot of time in the kitchen on an elaborate dish. So early on, I had called dibs on bringing pav bhaji, as I was well aware of it being easy to cook and transport, not to mention being an efficient dish in feeding a large crowd.
Sure, I only have to cook one dish but even so, I'll have to rely on some tricks up my sleeve to save time but not skimp on taste. I'm not about that mortar pestle life this year. Ssshh, don't tell my mom.
When I find myself short on time and energy, I always turn to Shan. This line of spice mixes makes my food taste like I put my back into it without me really having put my back into it!
Shan is also helpful in that it has a foolproof recipe on the back of the box to help create the dish the spice mix is for. But I wanted to deviate from the traditional aloo-gobi pav bhaji. I wanted to think outside—or in this case—off the box. I wanted to "squash tradition" if you will and so I opted to make a butternut squash version of my favorite!
What you'll find is that Shan's pav bhaji masala actually enhances a lot of vegetables. If you simply follow the box directions, you will not be misled. But for those of you looking to break from tradition, I recommend you use this spice mix to make pav bhaji with squash, beans, or even tofu for a unique spin on a classic.  
Other shortcuts to take is using frozen squash. Cutting squash and pumpkin can be quite cumbersome and my mantra this season is save time, save sanity!
You can still be creative when saving time. For instance, you'll notice my recipe uses fresh basil rather than the more conventional coriander leaves. Basil's brightness and nuanced peppery sweetness go well with butternut squash and other masalas.
Don't have traditional pav? No worries! You can always use slider buns or mini potato rolls. I used Hawaiian style rolls because the slight sweetness rounds out the spiciness of my bhaji.  Other genius options are focaccia or ciabatta rolls, which pair wonderfully with the butternut squash and basil!
Whether you go the traditional route or squash tradition this year, turn to Shan to help you create your favorite dishes.
Happy Diwali! Live that spicy life!
Butternut Squash Pav Bhaiji
Makes 12 to 16 pavs
Ingredients
1 tablespoon unsalted butter

1 small red onion, diced

½ teaspoon garlic paste

¼ teaspoon ginger paste

1 pound frozen butternut squash, thawed and diced

1 scant Tablespoon Shan

Pav Bhaji

masala

¼ teaspoon kosher salt

Handful fresh basil, leaves only

½ teaspoon ghee

Pav

of your choice
Directions
Heat butter in a skillet over high heat for approximately one minute or until butter is browned. Add onions, stir, and cook for 1 minute. Next, add garlic and ginger paste; cook for 1 minute.
Add butternut squash to skillet and stir. Reduce heat/flame to medium and coarsely mash squash. Cook for 3 minutes. Add pav bhaji masala and salt, stir, and cook for 3 more minutes.
Meanwhile, stack basil leaves, roll them tightly and slice it perpendicular to the roll.
Remove skillet from heat/flame; stir in ghee and cut basil. Serve hot with buttered pav.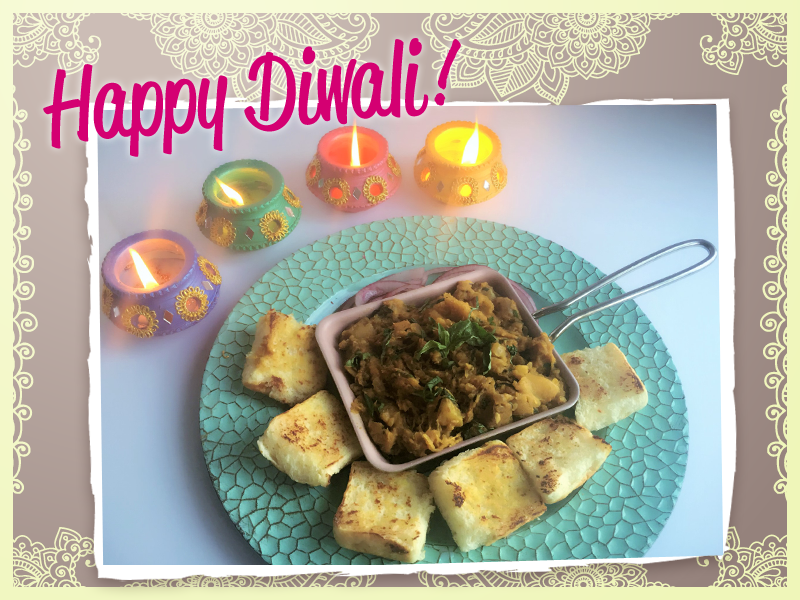 If you're looking for more inspiration on how to use Shan masalas, be sure to join us, Shan, and Aarti of Aarti Paarti on Diwali for our Twitter Party 5pm to 6pm PST and 8pm to 9pm EST this Sunday, October 30. #Shan #TasteHappiness. Tune in here!
To see more of Soni's original food articles and comics, visit facebook.com/sketchydesi.
---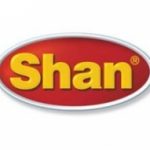 Shan Recipes' offer unparalleled expertise in taste of traditional cuisine. Procuring the best-in-class spices and ingredients from all over the world, Shan ensures pure and premium quality through manufacturing practices such as 'Cryogenic Grinding' and 'V-lock technology'. This enables the consumers to get the product in its purest form with the natural freshness, taste and aroma of the spices.
---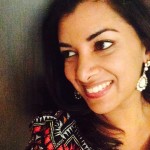 Soni Satpathy-Singh is a recipe writer and developer who resides in Manhattan. She is either always cooking or eating be it for work or simply because she loves to! She is working on her own cookbook and also recently created "Sketchy Desi" which provides daily humor, greeting cards, and apparel that celebrate brown culture. To see more of Sketchy Desi's work, visit facebook.com/sketchydesi/ or stay tuned for upcoming posts on Brown Girl Magazine.