by Syeda Hasan

In many ways, Shakila Ahmad embodies the modern American working woman. She runs a medical practice with her husband specializing in allergy and asthma care. She supports her three children as they pursue careers and higher education. She also serves as a leader to the largest Muslim community in Ohio. 
In December 2013, Ahmad was elected as the first female president of the Islamic Center of Greater Cincinnati, a sprawling 18-acre facility which houses an ornate masjid, over 20 classrooms and a community center frequented by local Muslims.
The election was reminiscent of another first for Ahmad. When the center opened in 1995, community leaders approached her to join the board of trustees. She became the youngest member of the board and the first woman to serve.
"My thoughts definitely went back to the evolution of the journey that I've had in my experience with the Islamic center," Ahmad said. "It made me think, ok, what is that you can contribute in order to really make this responsibility both fulfilling and effective?"
Not only is Ahmad the community's first female leader, she is the only new president the center has seen in over 18 years. She takes the place of Dr. Inayat Malik, a well-respected local leader who is a staple at the Islamic center.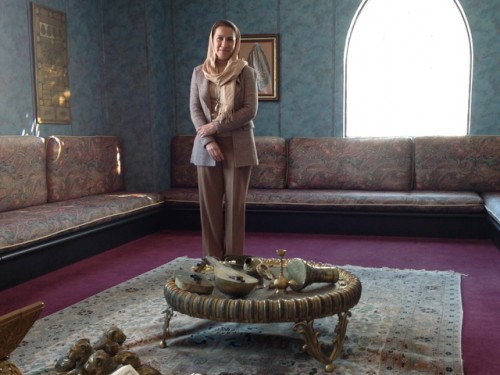 Although her post as president is a volunteer position, it can be as time-consuming as a second job. Ahmad visits the center several times a week, and she communicates with the staff and her fellow board members daily. Despite her hectic schedule, Ahmad finds that working at the Islamic center fulfills her in a unique way, and her faith gives her strength.
"We all need prayers every step of the way," Ahmad said. "You're trying to immerse yourself in something that's for the greater good and greater purpose. You're serving God and your fellow human beings in the best way that you can."
Like any newly elected leader, Ahmad is hard at work pursuing her vision for the Islamic Center of Greater Cincinnati, focusing on educating the community. With Muslims comprising less than two percent of the American population, misinformation spreads, she said.
"Islam forbids terrorism and extremism," Ahmad said. "[Extremists] don't represent Islam or Muslims as a whole, and they certainly don't represent American Muslims who are committed to this country and their faith."
Ahmad encourages American Muslims to embrace all parts of their identity. One way to do this, she said, is to get involved civically. Ahmad strives to stay committed to the causes close to her heart, including interfaith relations, racial justice and bullying prevention.
"People have misconceptions quite often because they've never met a Muslim," she said. "We have a challenge to make ourselves visible and known."
Ahmad is certainly a visible member of her community. When she was elected president, she said she felt welcomed by her fellow Muslims, but some seemed leery of having a prominent female leader.
"Many Islamic institutions are still managed by immigrants and uncles that come from a culture or era in which this wasn't the norm," she said. "We have a lot of cultural nuances, some people would say, cultural baggage. The understanding of the role of women sometimes is skewed."
Ahmad was born in Pakistan and moved to Cincinnati with her family when she was nine. Her experience across cultures has helped her gain perspective on her faith. Instead of waiting for cultural norms to change, Ahmad advises Muslim women to challenge the gender gap in leadership.
"You have all the abilities," she said. "Our history of Islam is very rich with women that have been intellectual leaders. Get engaged, know your religion and make yourself available."
Ahmad said women from ethnic and religious minorities today need more visible role models. They may hesitate to get involved in roles where they are the only woman present.
"Don't let that discourage you because your voice is needed," she said. "Somebody has to do it first."
Looking to the future, Ahmad is working to spread awareness of the Islamic Center of Greater Cincinnati and the educational bounty it has to offer.
"I hope to benefit people beyond this region," she said. "I hope to strengthen our relationships with God and with each other, with the diverse community at the Islamic center and with the greater community."
Featured Image via WCPO.com