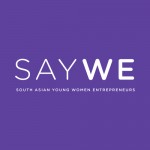 Information provided by Reema Rasool, founder of SouthAsianYoungWomenEntrepreneurs: 
South Asian Young Women Entrepreneurs (SAY WE), a national network of business-minded executives in the fields of technology, finance, entertainment and fashion, hosts three full-day conferences, aimed to educating women business owners about finance, marketing, public relations and social media. The conferences, "Raise, Rise, Rule!," are sponsored by founding partner Wells Fargo.
Subject-matter experts and entrepreneurs will discuss topics including, building your business credit, reinvesting in your business, protecting your credit score, creating relationships with business bankers, marketing your new business, reaching out to the media and implementing a social media strategy. The conferences started in New York City on May 17, with the second one taking place in Houston on June 14 and the last one takes place in the San Francisco Bay Area on August 9. For more information and to register, please visit www.saywe.us.
During the first-ever full day SAY WE conference at the Condé Nast building in Times Square, Nancy Wong, Wells Fargo SVP Asian Segment Manager, said because the Asian small business community has grown exponentially throughout the years, they recently announced their goal of lending $100 billion to small businesses by 2018. Through conferences such as this one, Wells Fargo solidifies their commitment to providing for the Asian small businesses across the nation. 
As for the next leg of the conference on June 14, we are so excited to announce that our Editor-in-Chief Atiya Hasan will be a panelist for the second half of the day. Also in attendance will be BG's Pia  and Rishika. Don't miss out on this free opportunity to become inspired, network, learn and build your brand.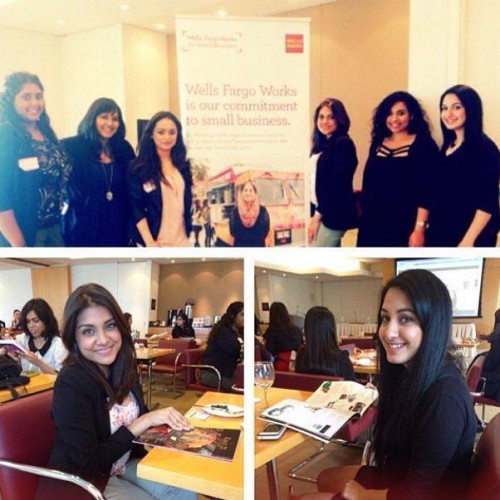 First panel discussion of the day on May 17:
"Making Dollars and Sense: Let's talk money"
SAYWE's opening panel focused on money and raising funds for your entrepreneurial endeavors, aptly fitting the name of the panel. The panelists included Pialy Aditya, co-founder of Mintbox, Abbas Hashmi, CEO of Green Card Capital, Sindhya Kalghatgi, CEO and founder of Helix and Wong. Journalist Sital Patel facilitated the discussion, which was very informative and personal to the panelist's individual feelings about being self-employed. From the discussion, I understood now that 99 percent of businesses in the U.S. are small businesses. That's a hefty percentage, which makes the dream of owning your own business more attainable, as it is clearly identified as a major norm. The conversation about financing, focused on the different types of funding available, such as venture capital firms, angel investors and small business loans. The resounding theme of the panel, however, was the need to be passionate about your product. Without passion for your endeavor there will be no reward, and the path to get to the goal is anything but easy.
You don't have to reinvent the wheel, you have to just ask yourself, what is the gap that I have to fill." – @GreenCardCap #saywe2014

— Lakshmi Gandhi (@LakshmiGandhi) May 17, 2014
As an entrepreneur you have to challenge your ego everyday. #SAYWE2014

— Kamini R (@KaminiRamdeen) May 17, 2014
@Sital says culturally we are taught to be modest & to not share knowledge, but you'd be surprised w/ the outcome of sharing #saywe2014

— Brown Girl Magazine (@BrownGirlMag) May 17, 2014
You have to be the heroine of your own story #SAYWE2014 — Kamini R (@KaminiRamdeen) May 17, 2014
Invest in relationships. Create your brand. Help others. Stand out from the crowd. – great advice from @Sindhya at #saywe2014 #entrepreneur — Heena (@heenatabla) May 17, 2014
.@abbasthashmi write it down, make a business plan and then look into your own network before you start looking to raise money #saywe2014 — reema rasool (@reemarasool) May 17, 2014
Second panel discussion of the day on May 17: 
"Tricks of the Trade: How to effectively market your products and services using PR, social media and other non-traditional techniques"
By Sindhuri Bhi 
The power of marketing, PR and social media strategies are often underrated.  The entire realm of marketing can power your business to drive itself to success. The second panel, moderated by journalist Aarti Virani, consisted of Adam Khan, head of digital education at L'Oreal, Joya Dass founder of networking initiative Lady Drinks, NY1 news anchor and documentary filmmaker, Parul Patel, CEO of The Cake Designer and Ayesha Hakki principal and founder of  Bibi PR and Bibi Magazine.
These successful individuals shared their advice on how they use social media tools such as Facebook, Twitter, Instagram and Google+ to grow their brand. Most social media marketing is inexpensive, accessible and doable. All it takes is some persistence and consistency.
Major tip: whatever you choose to market, make sure the message is short and sweet enough to capture your audience's attention.
Dass stressed the important of using Google+, stating, "Google loves itself." All it takes is a well-tailored sentence, just one to bring across your message to potential clients, she added. For Patel and Hakki, it was Facebook that really helped them connect and reach potential clients, which in turns brings good business. Strategist and start-up advisor Khan praised the importance of Twitter and its ability to impact many people at the same time through 140 characters.
The essence of social media is knowing your audiences and engaging them in something they love."