By: Pooja Dhar – Follow @dharpooja
In November 2016, our Brown Girl of the Month Sarish Khan took a huge leap of faith by taking a one-way flight to Pakistan to pursue her dream of an acting career. With no projects lined up, she auditioned until she was discovered and found her way into films.
BG Pooja Dhar caught up with her incredible journey a day after Sarish's first film release, "Chain Aye Na."  
P: Tell me a little bit about how you got into films.
S: I grew up in a family that was firmly rooted in the entertainment industry. Both of my grandparents are actors, and stalwarts of the Pakistan film industry. I remember watching my Nani's  movies with her, singing and dancing to her songs. Acting took a backseat to my academic pursuits up until I finished law school. But after I won Miss Pakistan USA, all of those dreams of acting came rushing back. So, I took a chance, and went to Pakistan in October with absolutely no idea what was going to happen. I auditioned quite a bit, and participated in some fashion shows. I was noticed by a lot of people in the industry when I was the showstopper for Rozina Munid and Maheen Karim. I was then interviewed on ARY and Hum TV, which are some of the biggest Pakistani TV channels, and this created a lot of social media buzz. My co-star in Chain Aye Na, Shahroz Sabzwari, recommended me for my role as the female protagonist, Ruba. The first film I signed is actually Rehbra starring Ahsan Khan, which is expected to release by the end of this year. 
P: What makes you particularly proud of "Chain Aye Na?"

S: I always wanted my first film genre to be romance. I have to say, I'm a hopeless romantic, and this is what attracts me towards Bollywood and Pakistani films. I wanted to be part of keeping that passion and those dreams alive. "Chain Aye Na" is through and through a romance. Shahroz plays a passionate lover who believes in his love deeply, and can go to any extent for her. 
P: Why is acting your calling?

S: The one thing that really draws me to acting is that it gives me the platform to be someone else. It allows me to portray a character's life who may or may not be like me, who has a set of experiences and has her own opinions and challenges. Whether as a lawyer or as an actor, I take a personal interest in others' lives, challenges, and dreams. 
P: What's next for you?

S: I've actually started taking voice lessons! I have a background in theater that I'd love to explore more out here in the US, for which I would definitely need to have a great singing voice. So, I'm training with a vocal coach and with my Nani.  As a child, I performed with the acclaimed Alhamra Arts Council, and I also did theater at George Mason University. I don't plan on moving to Pakistan at this time, but I'm very excited to try and juggle my law, theater acting, and film acting careers! 
P: How do you feel about being a public figure, since it could open you up to criticism, scandals and public expectations?

S: Being a public figure, you do have a higher responsibility towards the public. I realize this very deeply. Decisions we make as public figures can give people indications regarding our values. And our audience is not just our peers and elders, we've also got children and the youth of today who look up to us as role models. I believe that the audience does not attack a public figure out of malice, but because they hold us to a high standard, and I certainly hold myself to a high standard. I am always open to critique. 

In fact, recently, a couple of publications, Dawn Images and Express Tribune, wrote that "Chain Aye Na" promotes a sexist misogynist culture because there is a scene in the film where my character is slapped by Shahroz's character. The article continued to point out that I am a women's empowerment ambassador, and questioned how I could allow or support violence against women. Actually, I couldn't think of a more perfect outlet to addressing those comments than in a conversation with Brown Girl Magazine. This is the first time I am coming on record with a response to that criticism. We MUST learn to separate the person from the actor. An actor lives two lives—on screen and off screen. An actor does not always have leverage on how the character should behave, and us playing a character does not mean we subscribe to that character's views. Yes, I am progressive, and I completely support women's empowerment, and in far more meaningful ways than just in words. But films do portray reality, and as such there are characters and moments that are black and white, and all shades in between. I actually think it is great that people are appalled by a man slapping a woman. They should be! This tells me that our society is headed towards a progressive future. Awareness of social issues generates emotion and that leads to action. 
P: Sarish, you are Pakistani and rooted in your culture, but also grew up in America. How do you feel about the tensions between India and Pakistan?
S: I was brought up to respect people from all backgrounds. I have family in India and in Pakistan. I have never felt any apprehension or negativity towards India or Indians, but of course, I have encountered those opinions from others. I think of this divide as childish and harmful. We are the same, after all. In fact, to me, the cultural differences seem greater between regions than between the nations. I connect strongly to Punjabi people from both India and from Pakistan easier than those from other parts of India and Pakistan because that is the culture that is closest to my heart. I even participated on the George Mason Bhangra team, and never differentiated between Indian and Pakistani friends. As an artist, I love what people like Manish Sood of Intense Entertainment are doing with showcasing artists from both India and Pakistan. This is such an amazing way to bridge the gap through art and music. For example, I just attended the Sonu Nigam and Atif Aslam concert and I was so moved when Sonu Nigam sang a Pakistani song and Atif Aslam sang an Indian song.  
P: So many female actors have called out the entertainment industry for being sexist. Have you experienced any sexism in the industry?
S: I have to say that I have not yet experienced any sexism in my very limited time in the industry. I haven't been here long enough to truly make an informed statement. I have definitely heard of sexism being an issue in the industry, not necessarily impacting opportunities, but more so with pay scales. And I find that to be extremely unfair—men and women should be paid equally for the work they do. That said, I do find a dearth of women-centric roles in Pakistani cinema. I'd love to do an action film someday, for instance!
P: Now, for a tough question. Which actor(s) would you like to work with next?
S: (Chuckles) That is certainly a tough question, but quite a fun one to answer. In Bollywood, that would be Ranveer Singh. He is absolutely dreamy. Being the romantic I am, I think if anyone is the quintessential lover in Indian Cinema (after Shahrukh Khan of course), it would be Ranveer. In the Pakistani movie industry, I'd have to pick Mikaal Zulfiqar. I've followed all of his dramas, most recently, I've been blown away by his work in "Alif Allah aur Insaan." I'm a huge fan! I just did a photo shoot with him, and can't wait for the photos to be released. We have great chemistry, and it would be wonderful to be able to bring that to the big screen! 
P: Another fun question—tell me a role in a film that you would have liked to play.
S: This one's easy. Hands down, it would have to be the character of Mastani in "Bajirao Mastani." I really connect to that kind of passionate character that would do anything and everything for the sake of love. 
P: Is there anything else you'd like to say to the Brown Girl Magazine readers/viewers?
S: Absolutely. I just want to tell all my fellow brown girls that the subject of mental health is taboo in our collective South Asian culture, but it is critical to our success in any field. It is important for South Asian women to be vocal, and seek help. You will face criticism and backlash no matter which industry you work in and even in your personal lives. So let's all do everything we can to own up to our struggles and get help. 
---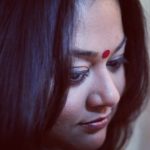 Pooja Dhar is the quintessential "Jill of all trades." A brown girl who spent the first 17 years of her life in India, and the next 17 years of her life in the U.S., she has never truly fit in with either culture and has found reasons to rebel against and embrace both, for various reasons. She's a proud Indian, and a proud American, but resists the term Indian-American for unknown reasons. A corporate Training & Development professional by day, Pooja has had a checkered past littered with artistic pursuits – from acting in plays as a child, to being her school's beloved emcee at a moment's notice, to a brief and highly unsuccessful stint as a dancer, to an advertisement dubbing artist, to a wedding singer, a blog/poem/short story writer, to a photographer. The singing is now mainly contained to the bathroom (!), but the writing and photography are and remain front row center. To support her quirky artistic pursuits, follow her on Facebook and Instagram or check out her website.