The following post is brought to you by our newest sponsor, Sanskriti Box—a beautifully packaged box with children's storybooks and activities from South Asia's vibrant culture for a family learning experience.
Education and the celebration of our culture are important to South Asians all over the world. We want to teach our children about our language, history, traditions, food and holidays alike. But a challenge, in particular, that South Asian parents living abroad tend to face, is the convenience in enriching our children's minds with that knowledge and culture. I know, having grown up in the United States as an Indian-American, it was not like we could walk into Barnes and Noble and pick up children's books about Holi or Ganesha.
A couple of thoughts that cross many South Asian parents minds' are—How can we enjoy, educate and celebrate our cultural background with our children? How can we instill pride into our children for their rich heritage?  Where do we find the time to do it all?
The answer is two simple words: Sanskriti Box. 
My family discovered Sanskriti Box online, which was founded by entrepreneur Anjali Bharadwa. All the desi culture and education you need, all in one box, every month at your doorstep. You sign up for monthly boxes that arrive beautifully packaged just like a present. You can add additional crafts depending on the number of children you need the crafts for, and you can pause or cancel your subscription at anytime.  If you prefer, you can order a one time box, and subscribe later for the silver or gold subscriptions detailed on their website. The boxes are centered around a different theme each month, such as tricks or a holiday.
My family's first box was the June box, which included three crafts, one of which was a phenomenal Father's Day card.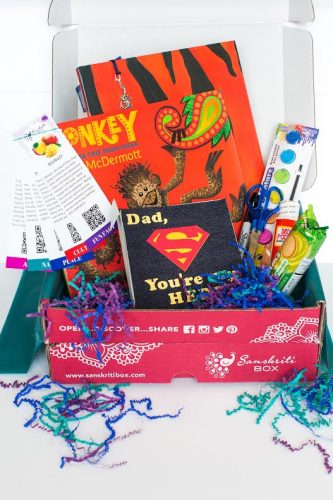 [June's Sanskriti Box]
 There were five educational flashcards perfect for our four-year-old, two South Asian inspired books, a precious collectible alligator charm, and of course a package of pineapple cream parle-g biscuits. The box is designed to indulge all of your senses.  
July will be the Rakhi box, which we are looking forward to receiving.
[Sanskriti Box: One-time Raksha Bandhan Box, Now Available]
 While I read the book titled, "The Traveller The Tiger and The Very Clever Jackal," my two children devoured the parle-g biscuits. As we put together the Father's Day card, they anticipated how happy their daddy would be with it.  
We explored the flashcards, teaching my whole family new words such as the instrument a snake charmer plays, which is called a Pugni. Through another card, we learned about Panchatantra, which are popular pieces of literature in India. My children continued their learning about mangos, Jaipur, and the Bengal tiger—all through these creative flash cards.
One of the more interesting features, and somewhat unique to Sanskriti Box, is the QR code readers, allowing you to take full advantage of the box and the experience. You can download any QR code reader to your mobile device (which is a free application!). The QR code on the Panchatantra flash card, read by my QR code reader application, brought us to a fun Crocodile and Monkey story on YouTube. My children giggled throughout the video story. That laughter and joy was reason enough to know Sanskriti Box has a special place in this South Asian family's heart.
---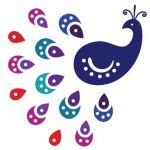 Sanskriti Box—a monthly subscription box—is your child's surprise into culture and tradition. Every month, Sanskriti Box delivers a beautifully packaged box with children's storybooks and activities from South Asia's vibrant culture for a family learning experience. We want you to enjoy 15% off your first box by using promo code BrownGirlMag. For all boxes available for order, click here.
https://www.facebook.com/sanskritibox/videos/1601205430194283/
---
Anita Kharbhanda is a mother, wife, reader, writer, singer, and runner. She loves the laughter of children, strong characters, and sweet foods. She wears her family and culture like badges of honor.