Meet Executive Director of the nonprofit South Asian Americans Leading Together, Suman Raghunathan, a daughter of immigrant parents and a strong advocate for South Asian women.
As executive director since February, Raghunathan's role is to coordinate SAALT's overall efforts to amplify diverse South Asian voices advocating for progressive change in the U.S., which includes developing and coordinating with SAALT staff and Board of Directors. Together they form a vision for the organization by working closely with SAALT's stakeholders, and expanding the resources necessary to implement that vision.
Since its inception in 2000, SAALT has worked with a range of constituencies, including organizations that are part of the National Coalition of South Asian Organizations, and elected officials, media and government agencies to highlight issues that affect South Asians. It's goal is to support and serve the South Asian American community, especially those who are marginalized and disempowered. It creates opportunities and forums for dialogues by connecting South Asian activists, students and professionals looking to become more engaged with social change efforts in their communities.
Raghunathan, an avid social justice worker, graduated from Brown University, where she engaged in campus politics, mostly around the importance of Asian American women. Her goal was to make sure women had a support system where they could find a safe place to talk about issues regarding race, class and campus activism. She worked to help women of color understand their own identity and how they fit into the larger ecosystem, not only on campus, but also in her community.
Time at Brown definitely politicized me and encouraged me to think about bigger issues. Just after undergraduate, I wanted to build my background in International Relations and humanitarian aid. I went on to work for an international organization, called International Aids Vaccine Initiative, which is seeking to develop an AIDS vaccine in partnership with scientists and individuals from the developing world."
Raghunathan also earned a Master's degree in Nonprofit Management from the Milano School of International Affairs, Management, and Urban Policy in New York City.
Through the years, Raghunathan continuously asked herself, "what does it mean to be engaged in your community?" Through her work at organizations including the American Civil Liberties Union, Progressive States Network and the New York Immigration Coalition, Raghunathan said she has a keen understanding for the issues affecting South Asian and other immigrants in the United States. She has a keen understanding for the issues that affect South Asian American immigrant communities, and experience with  multifaceted and multi-issue campaigns that span numerous proposals and stakeholders.
Prior to working at SAALT, Raghunathan gained experience in leading non-profit organizations, having first served as Interim Executive Director and then as a long-time member of the Board of Directors of Chhaya Community Development Corporation, one of SAALT's close partners.
Raghunathan reflected on the time she figured out that community work was the right path for her. Working with community-based organizations and leaders inspired her to continue building advocacy campaigns.
Fourteen years ago, Raghunathan said she fell into immigrant rights work and did a lot of ethnic alliance building, which led her to joining SAALT.
Coming to SAALT felt like coming home, building some support and conversations for my community in the U.S."
As for the South Asian American community post Sept. 11, Raghunathan said it was a crucial time.
It was a tremendous sense of honor that I felt to bear witness to those conversations. I remember immediately after 9/11 when we realized the nature of the American conversation to immigrants and in particular to south Asian immigrants, would be forever changed and I remember facilitating community conversations and there was such an outpouring of activism. I felt like this was a moment for me and other folks who were also a part of the movement, communities of color."
Being a strong South Asian woman, Raghunathan believes that similar to many other immigrant communities, we have to remind ourselves that South Asian women come from a culture that is deeply rooted in thousands of years of oppression. Some of that is why women historically have faced and continue to face much resistance.
She said we need to try to gain as much support around us as we can to be fearless and not feel like we have to be silent.
If we have something to say, we should just say it!"
Speaking to Raghunathan about SAALT's goals, she mentioned SAALT continues to support their community partners on a regional and local level. It is very important to Raghunathan to build out that deeper level of regional engagement for SAALT in a thoughtful and respectful way.
SAALT also needs to continue to be at the center of the debate for immigration laws, Raghunathan added.
I continue to on a personal level settle into my leadership role and really own that role and develop my own leadership style. As SAALT's Executive Director, I am really looking forward to see how the vision for my own leadership will develop and make more space for next generation of South Asian women to speak out."
Raghunathan is looking forward to her time with SAALT, and the future it holds for her.
As a small piece of advice to our BG readers, she emphasizes, "Don't be afraid to ever speak out or make mistakes. Speak out. Speak your mind."
Read more about SAALT's former Executive Director Deepa Iyer here. 
---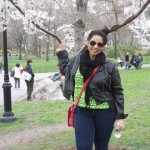 Sindhuri Bhimavarapu is a writer, lover of all things pure-hearted and a fan of exceptionally made coffee. She aims to inspire and motivate young women around the globe. Among her achievements are graduating from Stony Brook University with a degree in Economics and writing rap, which can be considered "Jay-Z" material. She enjoys light reading on modern economics, current events and latest business ventures. Sindhuri finds happiness in the simple things in life, occasionally indulging in Chipotle. She's also responsible for updating Brown Girl's Instagram account daily.