It only took one phone conversation with Rujuta Vaidya for me to be left completely inspired. With all that she's accomplished, one could expect no less.
Rujuta is a highly accredited and globally recognized Bollywood-dance choreographer who has quite literally done it all. From choreographing dance numbers in Bollywood movie productions such as "English Vinglish", to working with Britney Spears, The Black Eyed Peas, and Sri Devi, she has covered a wide spectrum of the dance world. She was also choreographer for John Legend and AR Rahman's Jai Ho Performance in the 2009 Academy Awards, as well as the music video for Priyanka Chopra's "In My City".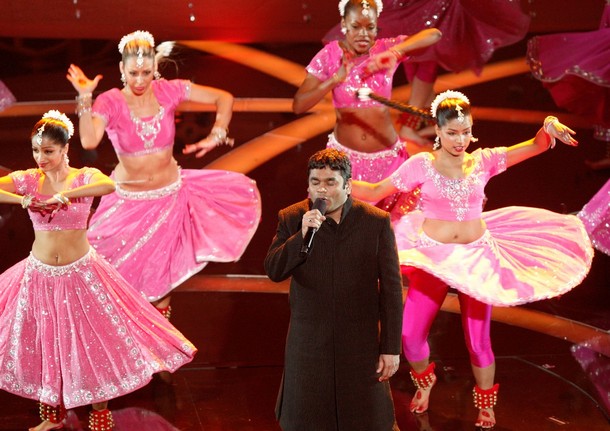 [AR Rahman and Rujutas Dancers at the 2009 Academy Awards]
Contrary to what's expected, Rujuta didn't take a liking to dance lessons right away.
"I started Bharatnatyam classes at age 5 and cried during the class. It's good that my mom actually made me stick it out. If she hadn't given the chance, I wouldn't have been so inclined towards it and gotten the training"
If Bharatnatyam wasn't her favorite thing in the world at first, where did her love for dance come from?
"My love for dance came from watching Bollywood films"
Her biggest inspiration? None other than the beautiful Bollywood actress Madhuri Dixit. Rujuta would watch Madhuri's dance videos and try to imitate them. She would often say half-jokingly that if she ever got the chance to meet Ms. Saroj Khan, that she would ask her to teach her at least one step. Luckily for us all, Rujuta got the opportunity to learn more than just one step from her. She had the opportunity to train with Saroj Khan and learn the ins and outs of the filming aspects of the dance world.
"In the Bollywood world, we don't realize what goes into making a Bollywood song whether it's putting the move, creating the look or feel for a song, the angles, shots, or costumes. I was with Saroj Khan sometimes from 6 am to midnight. That was something that taught me how much goes into creating a Bollywood number. It helped me grow as a dancer and choreographer."
[Rujuta with Mentor and World Famous Bollywood Choreographer, Saroj Khan]
Rujuta's training and determination has made her virtually invincible. When faced with any sort of discouragement or doubts, she has a strong support system and unwavering perseverance.
"The entertainment field has a lot of ups and downs—it's unpredictable. When there are ups, you feel like you're on cloud 9. But between those ups, there are a lot of downs and because we live in America, Bollywood commercial work is harder. I'm blessed to have my husband in my life who has been able to support me whenever I've gotten discouraged"
However, the challenges don't stop with just the nature of the entertainment field. Being a female in the industry comes with its own set of challenges. Rujuta is the mother of two kids, so she understands the challenge of balancing work life and family life that almost all women face. Finding this balance is even harder for choreographers like Rujuta because of the physical and emotional changes that accompany the experience of having kids.
"Being a female in the world of dance/choreography is a challenge initially because of the life choice that we have to make in terms of having a family. For three years I put my career on hold and focused on family. Three years is a long time. As a female, you feel like you're starting from scratch again. Most female choreographers don't have a family life. With dance, you have to be physical and if your body is weak, it's really hard to make and create good work."
Rujuta Vaidya is a prime example of someone who has masterfully found the balance between family and work. Even after taking a three-year hiatus, she has accomplished so much and bounced back into the dance industry with grace and grit.
[Rujuta with her dancers after a performance]
If her ambition, drive and ability to succeed as a mother and choreographer at once are not enough inspiration, she also has brilliant words of advice for aspiring professional dancers.
"Keep at it. Don't ever stop. When I was a kid, I would go to all these Indian shows with my parents and every time a choreographer would come out I would say to my parents, 'Oh, she has my job.' They would look at me like I was on some other planet but every show I would say that to them. Now, they still can't believe that it actually happened. If you really believe in something, it will happen."
Now, Rujuta Vaidya is taking her passion for dance to the next level by launching a first of its kind Bollywood Summer Intensive. New York City is replete with Bollywood dance troupes and drop-in classes, but this intensive will be in a league of its own.
This series details the essentials of Indian classical, folk, and Bollywood dance forms by top dance instructors, guest artists, and business leaders in Bollywood TV and film. The curriculum includes acting and voice, costume, makeup, and the history of dance and business in Bollywood with cross-over elements drawn from Broadway musical theatre and London's West End Musicals. Students will learn to master hand gestures, footwork, expression, body movement, and posture.
Whether she is choreographing Disney's Cheetah Girls 3: One World or watching her artistic vision come to life on stage with some of the biggest artists in the music industry, one thing is for sure: Rujuta has made massive strides for the South Asian community.
[All Photos Courtesy of Rujuta Vaidya.]
---
Shilpa Prasad is currently a pre-med student at Boston University. In her free time she loves to dance, read and binge-watch TV shows! Her goal as a writer for Brown Girl Magazine is to connect with girls all around the world by sharing her own unique experiences and ideas.