by Amina Khan 
"In these sour times, please allow me to vouch for mine." — Riz Ahmed said in his raw and intense performance of "Sour Times" as a guest on The Tonight Show Starring Jimmy Fallon.
"In light of all the current events that are going on, it just seems like we're living in really, really divided times and it really hurts," the rapper from Swet Shop Boys said. "It's my attempt to get behind the headlines and work out where all this extremism is coming from."
Last Monday, the rapper and actor performed the track he wrote ten years ago in response to the recent white nationalist rally in Charlottesville. He hoped that this poem would eventually become irrelevant. Unfortunately, that was not the case: extremism continues to magnify in all forms.
"So see, it ain't religious faith that's causing these crimes/It's losing faith in democratic free market designs/It's no coincidence that bombers came from ghettos up north."
In his work, Ahmed stresses the dangerous mindset of extremists. He underlines how their lack of faith in justice makes them "weak targets." Consequently, they are brainwashed into thinking that committing terror attacks "pleases" God.
For this exceptional performance,  Ahmed added to a part of the lyrics based on current events.
"The truth is, terrorism ain't what you think it is/ There ain't no supervillain planning these attacks from some base/ The truth is so much scarier and harder to face."
Furthermore, Ahmed shines a glaring light on the facts that need to be discussed. He brings a voice to those hurt by the bitter wounds of racism and prejudice based on religion.
"See, there's thousands of angry young men that are lost…They think there's no point in putting ballots up in the box/ They got no place in the system and no faith in its cause… The way that Trump talks, gives a lost boy a cause."
As a Muslim myself, I understand what it feels like to "lose my religion to the headlines." Every time I see the words "Islamic Terrorism," my heart hurts. It pains me to see people normalizing the association between Islam and violence.
I thank Ahmed for his honest and passionate approach to the matter with his powerful poem.
---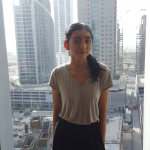 Amina Khan is a writer and painter living in Dallas, TX. You can see her work here.