by Rinku Bhattacharya – Follow @Wchestermasala
Rinku Bhattacharya is the author of the blog, Cooking in Westchester, where she shares her life experiences and original recipes that combine Indian spices with produce from her backyard and local farmers markets. Rinku loves food, numbers, kids, books and her camera. Rinku is blessed with a gardener husband, who always surprises her with a prolific and fresh supply of produce to keep her creative instincts flowing. Rinku has been teaching recreational cooking classes for the past six years, and her cookbook The Bengali Five Spice Chronicles, highlights and offers many simple recipes from Eastern India. Rinku can be found on Facebook, Twitter, and Pinterest.
Finding my culinary wavelength has taken me on a journey of highs and lows, before settling down to a style that works. I think of my cooking today as practical, simple and sustainable. I have always been comfortable in the kitchen, since I feel like I practically grew up in my grandmother's kitchen. I started cooking for myself in earnest, when I was out of graduate school and living by myself. I missed the simple home flavors that could not be found in any restaurant. They had to be created, well, at home. Since a lot of my cooking was done for just myself the recipes were simple, practical and fresh. They centered on a plethora of core Asian flavors with a heavy Indian accent, after all, this is what home cooking to me was all about! A couple of years later, I went through this phase where I tested and tried things from the elaborate to the extremely complex to return to where I started; cooking food and developing recipes that are simple, practical and fresh.
These recipes serve me well now as I cook for my family of four. Yes, I have moved beyond the small city apartment to a small cozy home with a sprawling and vibrant backyard. I have realized that as a working mother, that available time is an even rarer commodity and the need to cook fresh and healthy food (to feed my children) an even stronger priority. So, I continue to spend time in the kitchen, creating food that is simple, practical and fresh.
I will share with you every few weeks a recipe that is usually tossed together quickly with simple ingredients and essential spices. I would love to be able to talk through spices along the way and welcome your questions and recipe requests.
Today's corn curry uses tender sweet corn, low fat milk, mustard seeds, turmeric, chilies and curry leaves. Turmeric is a very basic spice in the Indian pantry. It seems to have jumped up the popularity scale these days because people have realized its essential, beneficial qualities. Turmeric is anti-inflammatory, anti-oxidant rich and is said to prevent cancer. All of this and most importantly, it imparts a pretty color to the food when cooked.
Given the suddenly popularity of this spice these days, I call it trendy turmeric. However, I think that most of the ancient spices are making a comeback, right alongside their partners – ancient grains as people realize the value of a nutritious and balanced meal.
Corn Curry with Curry Leaves
This simple curry is one of the first recipes that I like to offer students. Inspired by the flavors of the northern state of Gujarat, this lovely curry is great as a chunky soup or light meal with some warm flatbreads of your choice.
Prep Time: 15 minutes
Cook Time: 25 minutes
Serves 4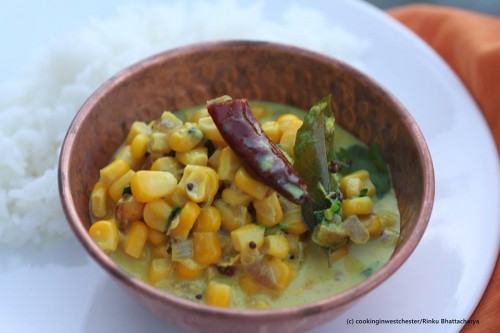 Ingredients 
2 tablespoons oil
¾ teaspoon mustard seeds
1/8 teaspoon asafetida
1 tablespoon ginger paste
10 curry leaves
1 red onion, cut into a fine dice
4 dried red chilies
1 minced green chili
11/2 cups fresh corn kernels (can use frozen)
½ teaspoon turmeric
2 cups milk (2% or whole)
Salt to taste
¾ teaspoon sugar
Lime juice (if desired)
2 tablespoons minced cilantro
Method of Preparation
Heat the oil and add in the mustard seeds and wait till the seeds begin to crackle.
Add in the asafetida and followed by the ginger paste in a few seconds.
Add in the curry leaves and the red onions and sauté the onions lightly for about 3 minutes. The oil will crackle a little when the curry leaves are added, so take care to not let the oil splutter.
Add in the dried red chilies and the green chilies, followed by the corn and turmeric and stir well to let the seasonings mix in.
Add in the milk and bring the mixture to a simmer and cook for about 15 minutes.
Stir in the sugar.