by Isha Sodhi
This post was originally posted on Isha's Verdict and is a part of the "Rescue Mission" series. 
Last month, I waded a year deeper into my forties.  I am not quite sure what to make of aging physically—it seems slow and steady but then you wake up after a night of minimal sleep and low and behold, you look like you have aged 10 years overnight! On the flip side, aging mentally is proving to be an enjoyable experience that only seems to get better with every passing year.
Age has brought about a deeper admiration for the beauty and brilliance of human ability and innovations. I have a greater appreciation for history, including my own, and the need to preserve "beautiful things" that have been acquired over time and serve as symbolic markers of my life.
And those very thoughts linger behind the idea of this post you're reading. Let me just take this moment to delve into the details of "Rescue Missions" and help you revisit the concept, as I have told in one of my earlier pieces:
My mother would often take some of her older clothes on trips to India and return with new outfits that were different permutations of an older outfit or two. As a teenager, I dubbed these her "Rescue Missions," where she would salvage elements of an older outfit by pairing it with something new. I must admit I thought it was a waste of time and would tease her about these "projects." However, as I grew older I realized that Indian clothes are so beautiful (and often so expensive) they cannot be left to languish in a suitcase simply because the style may have gone out of fashion. The gorgeous handiwork that makes Indian wear so beautiful rarely changes; it's the cut and style that fluctuates and then the outfit is relegated to the back of the closet and forgotten about. During my time in India, I decided I was going to embark on some of these "Rescue Missions" myself!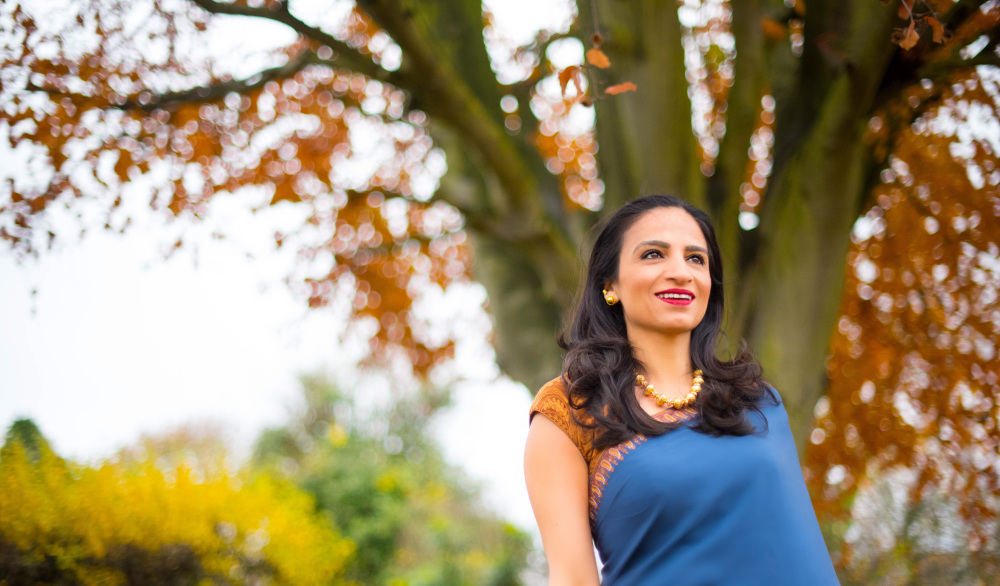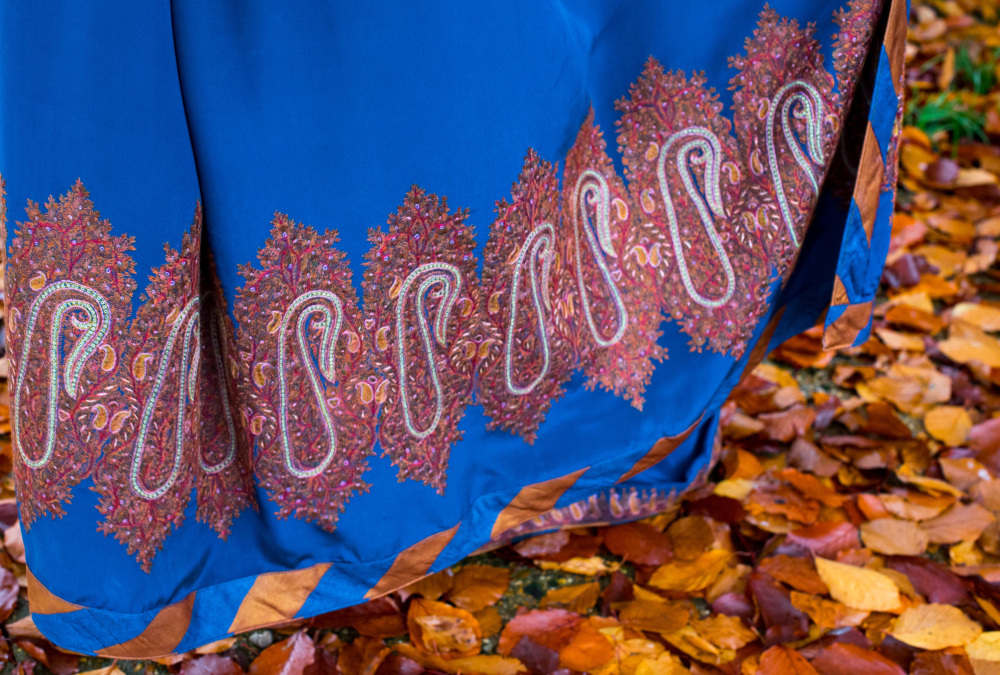 This crepe sari was a gift from my mother-in-law when I got married and is over 15 years old. The sari was plain blue crepe with no border or embellishments except for the column of beautiful Kashmiri embroidery on the pallu (long trailing end of the sari). The Kashmiri embroidery is truly a work of art and I would admire it every time I saw this sari in my 'sari suitcase' (as I always say—you can never have too much money or closet space and sadly I don't have enough of either). Despite my admiration of the handiwork, the sari with its plain blue blouse left me uninspired every time I contemplated wearing it.
Then one day, while living in India, I decided the time had come to perform a "Rescue Mission" on it.  The sari and I went to meet a lady tailor recommended by a friend and after much deliberation, she convinced me the garb needed a border and a new blouse to increase its "wearability prospects."  I wasn't sure I fully bought into her vision but I am so glad I went with it because I think the dual colored border and the self-embroidered blouse surpassed my expectations.  I think the "Rescue Mission" was a success and brought this dull sari to life.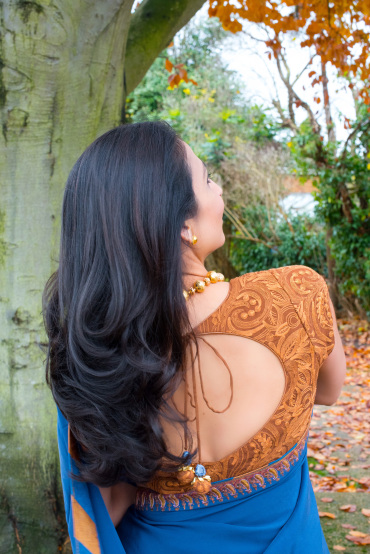 This piece is a rather unusual blue and I love the color combinations the designer used. The handiwork on it is exquisite and there is a certain nostalgia associated with it as it was a wedding present.  I hope you enjoy this renewed version of this sari and are inspired to rework some of your treasured pieces!
---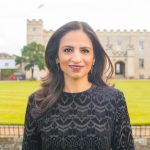 Isha Sodhi is the 40-plus blogger behind the personal style and fashion blog, Isha's Verdict. Her unique blog posts intertwine her personal life experiences with her love for all things fashion.  She combines the love of writing with her passion for style, and 'lookbooks' both western and Indian clothes on a regular basis. A global citizen who has lived in Los Angeles, Mumbai, and London, Isha has a truly international appreciation of fashion and style.