by Karishma Sharma – Follow @kaysharmaa
Before I even start, I want to set a disclaimer. Every single fitness instructor does things differently and all are correct in their own way. While some strive to be healthy in each and every conscious decision they make, others let loose once in awhile. One week after class, a Zumba instructor may tell you to go home and eat a big bowl of pasta because you earned it, though another will say to go home and eat a salad and a protein shake. While each instructor is different, all are professionals that have perfected their way of doing things.
From a young age, I was always the one who loved food. For starters, I could never get into enjoying salads. From a young age, I fell in love with Taco Bell's Mexican Pizza, boats of cheese fries, and Buffalo Wild Wings' chicken wings and spinach dip. I was always eating whatever I wanted, whenever I wanted, and staying in shape through Bharatnatyam classes, tennis lessons, and high school sporting teams.
Until college.
By sophomore year, I had gained an abnormal amount of weight, very quickly. It wasn't until my senior year that I tried to make a change. I tried everything, you name it—salads for lunches, no carb diets, vegan diets, protein-based diets—and I couldn't do any of it. I never stuck to the diets. It wasn't until calorie counting through the MyFitnessPal phone app that I was able to lose the weight. Why? Because MyFitnessPal did one thing for me: instead of limiting what exactly I was intaking, I just had to take in less of it. With portion control, I could still enjoy my Mexican pizzas and cheese fries. I was the master of my own body and feeling great about it.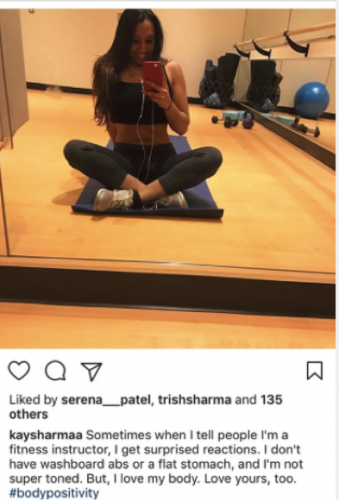 So why is all of this relevant? Because I realized, by losing weight that way, that perhaps others were like me too. When I graduated and wanted to take my love for fitness to the next level, I became Zumba certified. I began teaching, though struggled to find my groove. I had confused students walk into the door and see my curvy image. I had other instructors question my credibility. But what got me through was being relatable.
During my classes, I encourage students to get through the workout by thinking of what they get to eat after. I joke about how after class I'm headed straight to Taco Bell and how I plan on eating ice cream on my couch tonight. I am very open about the foods I enjoy and that I don't eat salad for every meal, and I urge my students to do the same.
I talk about the importance of hydration and portion control while letting my students know that it's okay to enjoy a big bowl of pasta or tacos and chips and queso. Because of the way I am, my students feel comfortable in my classes and keep coming back. I realized that there was nothing wrong with how I did things, or how I was, just because I was different.
So what's the bottom line here? Be positive. Love yourself and love your body, because every single person is different. And guess what? That's okay. Be your unique self and enjoy your unique fitness journey. I know I do.
---
Karishm
a Sharma is a Bollywood Dance Fitness Instructor based in Minneapolis, MN. Her biggest hobby, her passion, and her dedication are all to fitness. She is also a dancer and is passionate about spreading her culture to those who may not be familiar. She aspires to keep her love of fitness alive each day in everything she does!