By: Catalina Campos  – Follow @Browngirlmag
Austin-based Tat Tvam Asi formed with the goal of promoting classical Indian dances in its pure spiritual essence to inspire future generations. Founded by Sruthi Mohan, Tat Tvam Asi showcases a curated series entitled The Panchakanya Project, based on the five Panchakanya women Ahalya, Draupadi, Kunti, Tara and Mandodari from the Indian Epics of the Ramayana and the Mahabharata.
A single prayer to these five women is said to cleanse the prayee's soul from sin. Five prominent classical dancers were given the opportunity to depict each Panchakanya woman and free her from the often negative patriarchal interpretation. The Panchakanya women are still often considered controversial but Tat Tvam Asi's series will break any discord to reveal strong-willed and intelligent women.
Renowned Malayalee actress and classical dancer, Divyaa Unni, took the role of Tara, "the ever illuminating star", the beautiful queen of Kishkinda who lost her husband, Vali, in war. Through it all, Tara learned the transcendental message from Rama, an incarnation of Lord Vishnu, that although the body is perishable, the soul is eternal. With Rama's help, Tara begins to understand her destiny.
Unni began her classical training at the tender age of three and pursued her studies to get closer to her spirituality. Opportunities wouldn't evade her as Unni explained:
"Later on, I was finding new possibilities of taking it as a profession because the kind of dancing that I do is deeply connected to Indian spirituality. That connection keeps us going. The professional side, the money, the fame, wasn't even the main thing. All of that comes secondary when you start practicing".

[Divyaa Unni as Tara]
She had an unplanned calling, a gut feeling to preserve in her industry. Her involvement in The Panchakanya Project is far from coincidental.
In Tat Tvam Asi's Tara, the music and choreography were original and specially composed for this performance. Tara began with a stunning choreographed introductory piece, an Alarippu, showcasing a bit of her intricate technique. Although Unni strives to focus on abhinaya, one cannot avoid her strong technical skills. She dances with strong precision and a captivating force. Unni's grandeur was captured in her phenomenal abhinaya, or art of expression, that left the crowd speechless. Those originally unaware with the story, such as myself, were able to grasp every scene, every emotion that Tara endured. Unni's abhinaya of Vali's death held profundity, filling the audience with a sense of loss. The pivotal scene where Tara faces Rama and questions Him proved to be Unni's most difficult to render, yet successfully captured. To question God's motive, although intimidating, requires a lot of courage and passion. Through this brief act of defiance, Tara is granted her answers.
"Bharatanatyam is that art form that can take you to that [spiritual] level. In the olden times, they said that Bharatanatyam dancers did not need any sort of spiritual practice. It is like meditation. They are so much in union with the supreme being that when they dance, that in itself is enough", Unni said.
Tat Tvam Asi reinforces the rightful connection between classical dance and spirituality, reminding the audience the crucial importance of continuing the practice of India's traditional dances. Their choice to focus on the Panchakanya women is pivotal in our current moment of history. With South Asia's growing plague of a lack of women's rights, The Panchakanya Project series resonate with female audience members on the importance of strength and having a voice against oppression.
---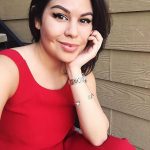 Catalina Campos is a graduate of the University of Houston earning her B.A. in English Literature. She previously managed a prestigious photography gallery and has worked as a music and fashion editor in Berlin. As a recent New York transplant, she currently studies Bharatanatyam and Kathak at Navatman, Inc and hopes to one day pursue a career in promoting South Asian arts. Catalina spends her free time indulging in films and exploring galleries. You can follow her on Instagram.