The sounds of a quick and thumping dhol drum could be heard with blaring brass horns. Together the sounds form a mix of an Indian wedding baraat band, a New Orleans brass band, jazz, hip-hop and bhangra music. All of the sounds were floating among a room full of a dancing crowd as diverse as the band itself.
This is a typical scene from a Red Baraat show. Red Baraat is an Indian-fusion, New Orleans-style brass band from Brooklyn, N.Y. That is right—Red Baraat has Indian drum beats mixed with brass and horns. The style branches from both an Indian baraat band (wedding parade band) and a New Orleans brass band—which bandleader, Sunny Jain, said he feels comes from the same sensibility.
With members of the band embodying all walks of life—including three South Asian members, the band is truly eclectic. Sunny said he feels the eclectic and diverse nature of the band draws people from all ages and walks of life.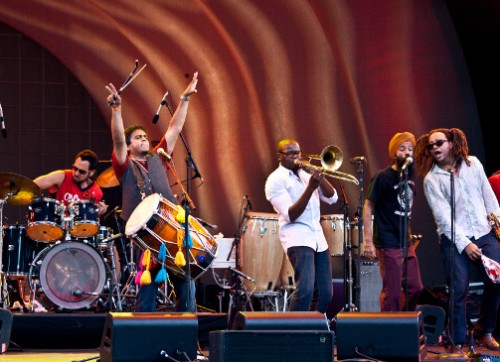 The band has released 4 albums "Big Talk" "Shruggy Ji" "Bootleg Bhangra" and "Chaal Baby," and will release a new record in early 2015.
The Red Baraat band is big—just like a New Orleans style brass band or an Indian Baraat Band. The nine instrumentalists include a dhol player (Sunny), percussionist (Rohin Khemani), drumset player (Tomas Fujiwara), soprano saxophonist (Mike Bomwell), trumpet player (Sonny Singh), bass trumpet (MiWi La Lupa), trombone player (Ernest Stuart) and a sousaphone player (John Altieri). Sonny and MiWi add some vocals to the troupe, with Sunny as the MC and John raps.
Sunny said when he formed the band, he did not want a single vocalist backed up by a band.
I was purposely going for an instrumental thing with little sprinkles of vocals," he said. "[I was] looking to have a band that's just primal and tribal—just drums and horns… no guitars, no electrified instruments, no amps. I was looking to have an acoustic band that had a lot of energy and sound that could take the street."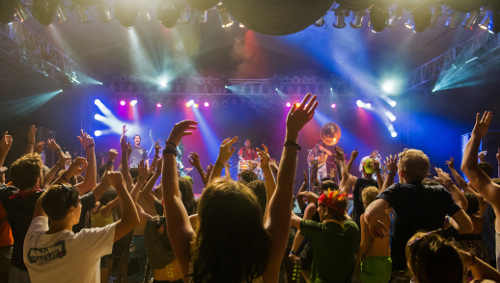 Sunny recalled his very first memory of India, which is also the reason behind Red Baraat's creation.
The seeds of inspiration," Sunny said, "came from when I was 5-years-old and in Delhi for my uncle's wedding. I remember coming outside and my uncle and cousin were on top of a horse. There was a marching band and a baraat band jamming out and these dhol players come out and started banging away—not with a brass band—just separately—getting aunties and uncles to dance."
The band is on tour for half of the year all over the country, Sunny said. They only play in their hometown of New York City a handful of times throughout the year and I was lucky to catch them playing in the Northeast twice this spring.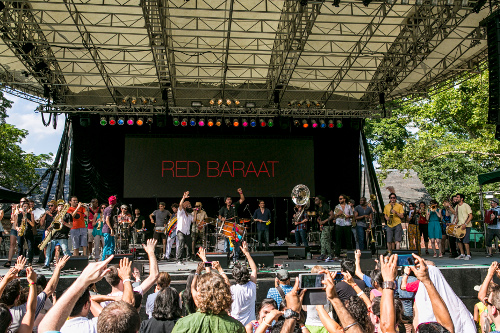 Many musicians playing the horizontal dhol drum appeared in the middle of the crowd with the band jumping off of the stage into the audience. Watching them felt like an actual baraat band at an Indian wedding – just like Sunny's memory from his uncle's wedding. The fusion Indian Baraat-New Orleans style brass band had came to life—off the stage—in a parade through the Highline Ballroom in New York City.
All Images Provided by: Red Baraat