by Faria Akram
"The arts are our soul. You cannot survive without the arts."
These words spoken by the New York Indian Film Festival's prestigious executive director, Aroon Shivdasani, filled the theater at the Perot Museum in Dallas on opening night of the Dallas-Fort Worth South Asian Film Festival. They presented a raw honesty that kicked off a weekend of love, adoration, and celebration of the arts.
On February 19, 2016, the DFW South Asian Film Festival began its second year. With a dazzling red carpet and opening night at the Perot Museum of Natural Science, followed by two days in the Angelika Film Center in Plano, TX, attendees saw a number of feature-length films and shorts. Though diverse in their stories, the films explored elements of South Asian culture, including everything from the desire to succeed to sexual assault to youthful independence.
Friday's opening night showcased the film "Miss India America." Saturday morning began with the short "I Say, Bhallaji" and the documentary "The Backward Class," followed by two other documentaries, "Blue Like Me" and "Spaces Between." Saturday afternoon kicked off with the much-anticipated "Help Us Find Sunil Tripathi," which left the audience awestruck while "Saankal" or "Shackle" was the choice for the women's programming section. This was followed by the men's programming, which included the short "Vanvaas" and the feature film "Umrika." After an eventful after party Saturday night, the films began again Sunday at noon with family-friendly programming. Several kids accompanied their parents to the theater to watch the short "Supergirl" and the following feature film "Dhanak." Next came the documentary "Amma & Appa," followed by the much-anticipated closing film "Aligarh."
All the films shown were brilliant and a true tribute to the creativity that lies in the South Asian diaspora.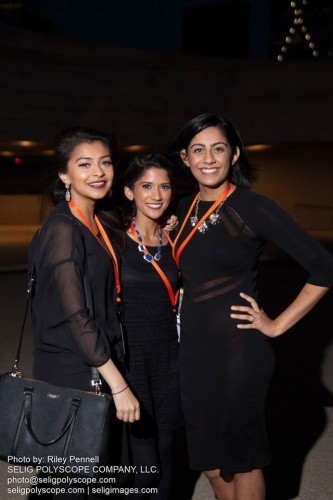 [From Left to Right: BG DFW SAFF Team Sarah Khan, Faria Akram and Aditi Mehta]
Here's a recap of some of our favorite screenings:
"Miss India America"
"Miss India America" is a funny, entertaining film that is perfect to watch at a movie night with friends or when you're sipping that post-dinner chai with family. The film follows Lily Prasad (Tiya Sircar) succeeding at everything possible in life – that is until her boyfriend Karim (Kunal Sharma) dumps her for the reigning Miss India America. Hoping to get him back, Lily enlists in the Miss India America competition, confident her winning streak will not fail her until the beautiful Sonia Nielson (Hannah Simone) makes Lily think twice. The film is lighthearted, cleverly pulling humor out from typical teen scenarios (think Mean Girls-y sass levels) and Indo-American culture clashes (Bharatnatyam dance classes and white boyfriends don't mix well). Throughout the amusing scenes, however, the film subtly brings up the most complex issues that we as South Asians in America – and as young girls, really, – can relate to. The pressure to triumph over everything, to make something of ourselves, to do all that without getting in over our heads. Directed by Ravi Kapoor, "Miss India America" is sweet, will encourage quite a few chuckles, and reminds us that it is both our successes and our failures that make up our true selves.
"Saankal" (Shackle)
"Saankal," on the other hand, takes a drastic turn away from light and cheerful. Set in a village in post-partition Rajasthan, India. "Saankal" explores the real-life malpractice of women in their twenties being forced to marry boys who hadn't even hit puberty. The film follows the story of such couple, 26-year-old Abeera (Tanima Bhattacharya) and 11-year-old Kesar (Chetan Sharma), as they navigate their relationship together and the injustice brought to them by members of the village. Bhattacharya excels at depicting the resilient Abeera, who endures unimaginable struggles. She is a pillar throughout the entire film, depicting through expressions as equally as she does through words. Sharma also doesn't falter in his portrayal of an emerging adult, confused and shocked by the horrors he witnesses in his village. The storyline is well put together and key at depicting the awful historical tradition that negatively affected several boys and young women.
One aspect the film sorely lacks, however, is a trigger warning.  Certain scenes depicting sexual assault are shown so intensely that viewers may experience a range of unpleasant emotions.  A trigger warning would protect viewers who may be negatively affected by some of the film's content. This could easily be placed in the beginning of the film, next to the health warning about cigarettes and tobacco.
All in all, "Saankal" is a wonderful film highlighting social injustice that could improve the experience of its viewers with a trigger warning.
"Umrika"
When Udai (Prateik Babbar) heads off to "Umrika," his family in India continues to receive letters from him. When the letters stop coming, however, his younger brother Ramakant (Suraj Sharma) sets out to find his brother, and begins a journey of his own.  "Umrika" explores the intricacies of familial relationships, a man's dreams, and novelty of a foreign land. It's a feeling several South Asian immigrants can relate to. Whether it's the unknown America that we ventured to, the feeling where anything is possible if one works hard enough. Or for those of us already born here, it's going back to our roots in South Asian countries and hearing relatives exclaim and gasp over rumors of America. There is something new and fascinating about this country, which draws us to and its name from our lips. It's a name that Ramakant focuses on as he searches for his brother. In portraying Rama, Sharma does an impeccable job. In each scene, by just the tiniest of expressions, Sharma leaves no question about his immersion into his character. It comes across the screen as genuine as can be, which is even more impressive for someone who had no acting experience or training prior to "Life of Pi" (2012). Now studying film at NYU, Sharma's performance leaves us in awe of his potential for future movies and more than satisfied with this one.
"Dhanak" (Rainbow)
The main feature film on Sunday's family-friendly event proved to be as magical and colorful as its name. "Dhanak" shows the relationship of 10-year-old Pari (Hetal Ghada) and her eight year old brother Chotu (Krrish Chhabria) living in Rajasthan, India. Chotu is blind, and for him, Pari is his entire world. When Pari sees an advertisement of Shahrukh Khan encouraging people to donate their eyes, she believes Khanis the only one who can help her brother and attempts to write letters to him. After the letters fail, Pari and Chotu take to the road to search for Khan themselves. The film is cute, fun, and pulls at your heartstrings as the sibling pair travels around Rajasthan to find a cure for Chotu. The way Pari cares for Chotu, and his humor and love for her, is something that any brother-sister duo can relate to. Ghada and Chhabria do a tremendously beautiful job of portraying the young characters. Their immense skill at such tender ages shine beautifully, and instills hope in us for their future films. Overall, "Dhanak" is a beautiful, family-friendly film that is a joy for anyone to watch.
The DFW South Asian Film Festival was a fantastic event that showcased truly remarkable and diverse range of talent present in the South Asian community. The Brown Girl staff is so excited to have been able to attend this event, and looks forward to seeing more great films come from South Asian members of the entertainment industry!
---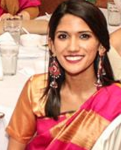 Faria Akram is a tiny and tough Texas native who's about to graduate with a double major in journalism & advertising from the best school in the world, UT Austin. When she's not trying to master the art of storytelling, she can be found choreographing dance routines in her room, planning adventures with friends or watching "Kuch Kuch Hota Hai" for the thousandth time. She loves sparkling water, reading, meeting new people and sharing their stories with the world.