If you're South Asian, it's likely that you've seen this article (or a version of it) on the turmeric latte. The turmeric latte is a fancy name for what we've been drinking since childhood, haldi ka doodh.
Many South Asians are upset by the fact that something our mothers and grandmothers have been preaching to us is all of a sudden popular. Maybe some see it as cultural appropriation.
Personally, I think it's ironic that something we used to hate as kids is now trendy. I remember plugging my nose and forcing gulps of it down my throat when I was sick.
I spoke to another South Asian health and wellness influencer, to see what she thought and she said, "I think it's so funny how it's trendy but I'm glad a lot of people are seeing the benefits of turmeric and how great it is for the body." I agree, turmeric is great for the body, and I'm glad people are focusing more on their health—but hey where's the credit?
As much as we can complain about the turmeric latte hype, I think it's important to admit that we may have taken other health trends for granted. There are many cases where a "new" trend was old news in different cultures.
For example, quinoa was a staple grain in the Andean region for over 3,000 years before it snuck its way into our kale salads. Kombucha has been around Asian culture since the ancient times, way before it was sold at Whole Foods. And matcha, a type of tea used in traditional Japanese tea ceremonies, now can be found at Starbucks!
Here's what I'm going to say: Trends in health and wellness can be great as they bring us different ways to treat our mind and body. But instead of taking them for granted, we should all do our research and look at these trends with a critical eye.
P.S. Luckily I've found a way to make haldi ka doodh more palatable so I no longer have to plug my nose to get a healthy dose of turmeric. Check out this recipe here.
---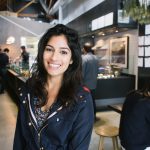 Akansha Agrawal is a writer, pilates instructor, and an Insights Analyst who lives in San Francisco, CA. She is also the creator of Citrus & Gold— a blog that focuses on wellness for the mind and body. Akansha loves to connect to like-minded individuals so feel free to say hi on Instagram or Twitter!