By: Hera Ashraf – Follow @Hera Ashraf
Vishal Bhardwaj is back with "Rangoon," reuniting with Shahid Kapoor and Saif Ali Khan for what looks like a film about love, deceit, and war. Bhardwaj is one of my favorite Bollywood directors in more recent times. His films are intense and heavy, definitely not everyone's cup of tea, but flawlessly made. He created a niche for himself with his Shakespeare adaptations, which he executes flawlessly.
Bhardwaj joining hands with Shahid Kapoor for most of his directorial films was the best thing to watch as a loyal Kapoor fan. Kapoor is one the most versatile actors of the industry but was never able to showcase the extent of his abilities until working in Bhardwaj's films like Kaminey and Haider. Kapoor has constantly performed the director's multi-faceted characters brilliantly, and it has been a treat for viewers to watch.
When I found out Bhardwaj was reuniting with Saif Ali Khan since "Omkara," my expectations for "Rangoon" immediately skyrocketed. Khan made "Omkara" a Bollywood classic, and I couldn't wait to see him work side to side with Kapoor. Then to hear Kangana Ranaut was also a part of the cast, my curiosity and excitement heightened.
I didn't know what to expect from the "Rangoon" trailer. I hadn't heard anything about the plot and I had only seen a couple of leaked pictures of Kapoor's stoic look and Ranaut's feisty appearance. After watching the trailer, I'm left wanting to see more. There was a lot of hype surrounding this film already with the cast, and the trailer will definitely boost the anticipation.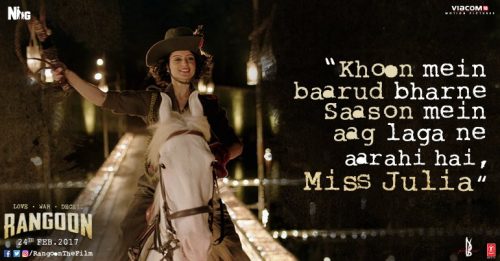 The film takes place in 1944, while India is trying to fight for its freedom from the British. Ranaut is a famous actress, with Khan seemingly working as her manager. The two also appear to be in a relationship, but Ranaut's Miss Julia eventually falls in love with Kapoor, a soldier who was assigned to protect her as she travels to Burma to entertain the troops.
The film's trailer quickly turns its love triangle violent as Khan's character suggests he will be fighting Kapoor to the death for Ranaut's love. Hopefully Ranaut's character will be more than just a plot device that causes conflict between the two male leads — looking back at Bhardwaj's previous films and Ranaut's previous roles, we have hope that Miss Julia will be a strong female character who takes charge of her own future.
"Rangoon" looks like a stunning film, full of twists of deceit and love, and I, for one, can't wait to see more. Mark your calendars for February 24, 2017!
[Featured Image: Viacom 18 Motion Pictures]
---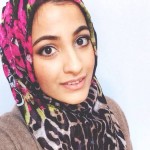 Hera Ashraf is a graduate with a Biology degree, hoping to pursue medicine. She is a self-proclaimed foodie with a passion for desserts. Coffee and Bollywood are her two most favorite things. She loves to read, even though she barely gets time for it anymore. Brown Girl Magazine allows her to write about the things she loves and then shares it with the world. Her ultimate goal in life is to become a world wanderer.