When I was twelve years old, I had accompanied my parents and younger brother to Nathwara, a famous temple dedicated to Lord Krishna and located in the north-western Indian state, Rajasthan, to which I also belong to. As we were walking towards the temple, I could not help but notice a girl my age walking in the opposite direction; she was holding the hand of an older lady, dressed in the region's traditional clothes: lengha, kurti, and odhna. The girl herself was in a lemon yellow frock but what stood out about her appearance was that she wore the adornments of a married Hindu woman: sindoor, bangles, bindi. Our eyes briefly met and then, she went her way and I went mine. Even at that time, I realised she was probably a child bride and the thought had been so unsettling and bewildering. The sight of those child's large hazel eyes and the crimson sindoor has lingered in my mind for all these years…what is she doing now? Does she too have a daughter? And what dreams does she nurture for her? I will never know, and can only rely on my imagination for answers.
I have been visiting Rajasthan and particularly, Jodhpur practically every summer; for me, Jodhpur represents my late grandmother, its distinctive blue homes, the world's best samosas (according to my taste-buds anyway!), rainbow hued clothes, and also, its massive fort. Yet, what it also represents to me are most essentially my roots and how much they mean to me, no matter how faraway I live.
Many people may be familiar with Rajasthan as seen in movies or incredible images – and indeed, Rajasthan is all that: stunning palaces, forts, and havelis and gorgeous desert landscapes. Yet, as I like to describe it, peel away the postcard glossiness and you will find numerous social issues compelling to be addressed and looked into. And it is then that the little girl and her eyes enter my mind, haunting me. If I had spoken to her then, what stories would she have told me?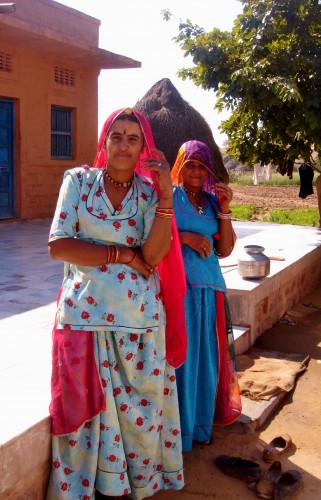 As a journalist, I have often written about gender-based issues, whether it's organisations seeking to empower women or profiling women challenging patriarchal norms, demolishing stereotypes and breaking glass ceilings. Whenever I returned to Rajasthan, I find myself speaking to women I meet there and seek to highlight the minor and major challenges that they faced through narrating their stories.
Several years ago, I approached the Jodhpur-based developmental organisation empowering the region's communities, GRAVIS to document their women's socio-empowerment projects. Quoting from their website, their gender program seeks to:
"unite women within village communities, work to raise their self-esteem and allow them outlets for creativity and expression. Through our women's empowerment programmes, we encourage women and girls to speak their mind in public, participate in village meetings and take control of their own lives."
I was specifically involved in speaking to women associated with the Self-Help Groups (SHGs). We drove up to the village of Phalodi and visited the nearby hamlets, some no bigger than a cluster of huts. In one of the larger huts, there was a group of village women gathered there for the monthly SHG meetings. I conversed with them for a long time, listening to their individual stories about how their lives had dramatically changed through the medium of SHGs and acquiring a greater degree of economic agency. If I was infinitely curious about what made up their lives, they were equally curious about mine. I told them I was there to convey their message, put into words the actions that they were taking to empower their lives.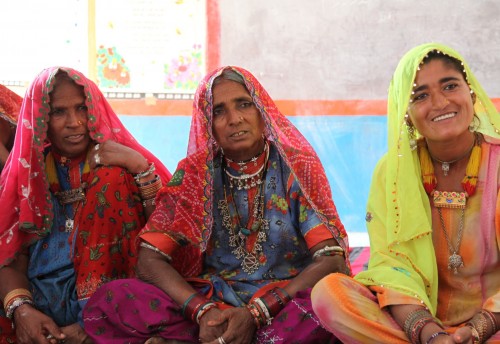 About three years ago, while exploring the crowded bylanes of old Jodhpur, I noticed a sign above a shop declaring that the products it showcased were the handiwork of women working under the aegis of the women's self-empowering organisation, Sambhali; when I stepped inside the shop, I saw colorful handicrafts, postcards, and other hand-crafted items adorning the shop. It was then I was introduced to Sambhali, which is doing such incredible work in Jodhpur.
I had the opportunity to meet Govind Singh Rathore, the founder of Sambhali, the teachers, the volunteers (many of whom had arrived from abroad), and of course, the Sambhali women and girls themselves. Govind told me that Sambhali means "rising of the deprived women."
"The essence of Sambhali is its personal and needs-based approach to fulfilling the needs of the women and girls who come to Sambhali for help. We try to make these women and girls so independent that they don't need Sambhali anymore: independent decision-making and looking after themselves and their families," said Rathore. "We have taught literacy and vocational training; our students have graduated from school through our Scholarship program. We also run women's SHGs and help women become entrepreneurs."
In short, he said that when women come to Sambhali, they know that Sambhali will help them in one way or another. And indeed, when I sat down and chatted with many of the girls in a brightly painted school-room where they had their lessons, workshops (dance and photography amongst others), they radiated confidence and had begun to nurture dreams. One of the girls, Anita told me that she aspired a life beyond marriage: she wanted to be empowered and even if she did get married, she wanted her partner to understand and support her in whatever she did.
These stories I was able to write but what of the stories that I heard but could not share? A few years ago, I wanted to explore a story about women miners in Jodhpur; while their husbands and menfolk worked down in the mines, the women were seen shattering larger rocks into smaller pieces, surrounded by hillocks of stones. When I went to meet one of these women, she was accompanied by her 15 year old daughter. She told me that while her younger siblings were attending school, she either looked after them or helped out her mother. As I stood there, scribbling down their voices in my notebook, I asked what would happen after she got married. Her mother intervened, saying it all depended on whom the girl married and his family. Her daughter remained silent throughout the conversation, as if she had nothing left to say.
I could not write her story then; I am being able to do so now. It makes me think that whilst organisations such as GRAVIS and Sambhali along with many other dedicated individuals are introducing and implementing changes and allowing women to access and be part of it, there are many other women who are still far removed from it all. The hope is that as we narrate their stories, we can reach out to them and also, inspire them to reach out to others.
Images provided by Priyanka Sacheti.