This post was originally published on SAADA.org and republished here with permission.
I grew up in Jamaica, Queens with some of the bravest girls to walk this planet. The girls I knew were quietly fierce and pioneers of the urban landscape. Most lived in heavily-populated West Indian communities in Queens (South Ozone, Jamaica, and Richmond Hill), and self-identified as Trinidadian, Guyanese and on occasion, East Indian.
Most of us knew each other from high school or friends of friends and bonded over the traumas of adolescence, girlhood, boys, parents, immigrant life, becoming American, and a shared experience of marginalization. We came of age together and redefined teenage rebellion in a quiet, yet powerful way.
Biggie Smalls, Wu-Tang Clan, Beverly Hills 90210, and Brad Pitt formed the backdrop of my '90s life. However, my experience as an immigrant teenage girl from Queens, NY, was very different from life portrayed in popular media. I didn't live in a nice house or hang out at the mall with my friends or have a unique talent that I could count on. Instead, I rolled with a crew of girls who merged mainstream American culture with the urban immigrant lifestyle in which we were embedded.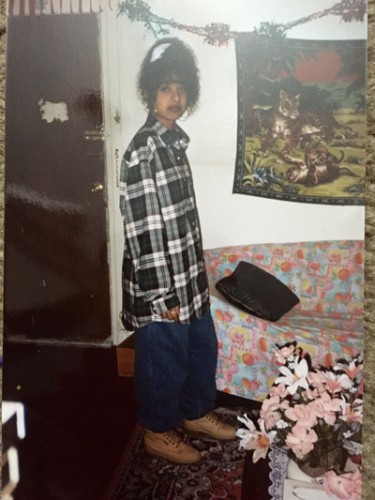 Our style and perspectives were unique: we had long, dark, flowing hair that took an hour to style and had pins, hairspray, and more pins to hold up poufs or buns or ponytails. Our eyes were lined in Maybelline and our lips were shades of Revlon red—dark maroon for some and brick-colored for others. We smelled of sweet dollar-store perfumes and wore nail polish that we painted ourselves while watching MTV. We had nose rings and arms of bangles and unsmiling faces. And while other girls were buying neck chokers, press-on nails, and slim fitting Levis, we were shopping on Jamaica Avenue for huge gold-plated Mickey Mouse earrings and colored shells for our beepers.
We were a different kind of teenage fashionista: hip hop meets urban Indian girl. Most of the crew wore baggy jeans tucked into socks that fit into Timberland boots, the yellow ones like the rap stars wore in their videos. Never mind that the baggy clothing drowned out our feminine frames; that served a purpose. I owned plenty of oversized sports shirts with the names of athletes that neither, I nor the crew could identify in a sports line-up. Our look was often polished off with a name-plate on the neck or a name ring on the finger and a Jansport book bag on the back—the ones with strings hanging out so that people knew you could afford some things. Having money and being vulnerable was a dangerous combination in some parts of Queens, especially for those of us who ditched school to have adventures and make friends—and sometimes enemies—before returning home to our families and curfews.
Some of us carried Newport cigarettes and lighters in pockets, and maybe brass knuckles. I remember the first time a girl named Naomi showed off her brass knuckles. I stared at it like she'd introduced me to a pistol. Shortly after that I tried to buy brass knuckles at a grimy store where Sutphin Boulevard and Jamaica Avenue met. That intersection was one of several immigrant hubs where tired service workers caught buses, shopped for fresh fish and vegetables, and others snatched necklaces to pawn at one of the many resell shops along the avenue.
The guy didn't sell it to me.
"How old are you?" the storekeeper asked, skeptically. He was pretty unkempt and looked tired.

"I'm in high school." I figured he might sell it to me if he thought I was somewhere around 16.

"You got an ID, baby?"
His nails were dirty and he smelled of cigarettes. He was an immigrant like me but from a different place.
"No."

"You're not old enough, baby, I know." He said and gave a perverse smile.
He was exactly why some of us wanted brass knuckles.
There were plenty of common themes among the girls in the crew: immigrant families who worked hard, fathers who drank too much alcohol, mothers who yelled, and siblings who were kind of annoying. With one another, we took turns expressing our self-determination and bitching about restrictions on our liberty. Our lives were no 90210. In fact, most of us had barely ever left New York since arriving from the places where we had been born. Some had never left Queens. Raised in a close, collectivist culture, we cared about our families but felt that they didn't get us.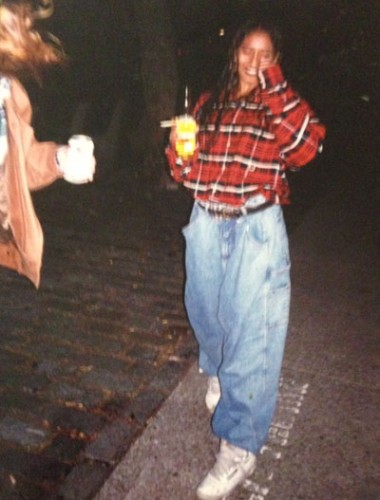 "Yo, we're American, don't come up in here with this old school bullshit!" Shelly shouted loudly, hands waving wildly as she sat on a shaded corner of the block on 169th street, minutes away from the high school where classes were in full session. She'd been complaining about her parents' restrictive curfew and unreasonable demands, like helping with cooking and tending to her siblings after school and on the weekends while they worked. The rest of us nodded in agreement while burning cigarettes between our fingers. Other realities transcended our differences too, like our minority status and the way that we seemed to be different from Asian girls and African American girls and Hispanic girls and Caucasian girls, and the ways that we were sometimes marginalized because of it.
Like any group, there were also differences and inequities among us. Most of us held beliefs about which one of our countries was better and therefore which type of girl was better than the rest. Sometimes we repeated the stereotypes we heard about girls from Trinidad and Guyana. When that happened the confrontations were swift and the arguments were well-defended before they were dismissed.
Some of the crew lived in decent houses owned by their parents and some lived in dingy apartments that only illegal immigrants could afford.
I was an illegal immigrant.
My family's apartment was a tiny one-bedroom in one of the apartment buildings in Jamaica, at the intersection of 89th Avenue, near Mary Immaculate Hospital before it closed down. I shared a bunk bed with my brother and sister while my parents slept on a couch in the living room. I never told anyone that my mother and father had spent a day and night cleaning that apartment and killing dozens of mice while my siblings and I stayed with my aunt and uncle a few blocks away.
We were not model minority members. Instead of going to class, doing homework and planning for futures in science and engineering and/or childrearing, we filled our brains with the sounds of Method Man, Onyx, TLC, Shabba Ranks and the number for the local Chinese restaurant that delivered. Sometimes we jumped turnstiles to get onto the subway and used our school transit cards to get onto the Q112 bus, far, far away from school and the places we knew. Pretty daring for a group of Indian girls who were raised to be "good girls" and to do as they were told. We found ourselves hanging out in Jamaica, Brooklyn and once or twice, we took the train to Jackson Heights where plenty of East Indians lived, exchanging smiles with each other as passengers boarded for school and work and we made our way to the next adventure.
We followed the pages on our beepers with return calls on payphones that led us to plenty of other teenagers like ourselves. Sometimes we found each other in nicely decorated living rooms with pictures of awkward-looking Indian children on the wall or on side tables. There was plenty of underage drinking and other risky happenings at these underground "hooky" parties, but the crew and I stayed in line as much as possible—except when our anthem played:
Lord, have mercy
(Kill dem)
Dem want I, dem want I
(A fool dat)
To come a dem funeral
Dem ting say, dem ting say…
The risk of getting caught or "busted" was always on our minds but didn't stop us from flirting with danger. Our parents, while protective, were the kinds of parents who exercised the right to slap or use a belt when angry—sometimes in the presence of others. I once witnessed one of my homegirls get slapped in the face; the way she grabbed at her cheek after it happened made me feel awful. My mother did the same thing to me after a meeting with the dean of my high school. That time the shame stung worse than the slap.
The crew and I quickly learned how to navigate our environment and the varying degrees of danger. We knew where and when the cops swept Queens looking for truants. One time my best friend and I got swept by the cops. We had been in Richmond Hill hanging with some friends and were walking back to the bus stop when the 106th precinct cops rolled up on us.
"What are you doing out of school?" the cop asked.
We were quiet at first then uttered something about ending the day early.
"Lemme see your program cards," he demanded.

"Sorry officer, we don't have them."

"What school do you girls attend?" the cop continued.
The lie rolled off the tongue with such ease that our parents wouldn't have recognized us at all: "John Adams High School."
He put us in the backseat of the police car, un-cuffed and thinking he was doing two mischievous girls a favor.
Five minutes after he dropped us off to John Adams High, we walked out the exit and made our way home.
I was glad that my mother hadn't been phoned that day. Another time the dean would contact her and things would be very different: She would stop vacuuming the floors of the penthouse apartment she cleaned and apologize to her boss for leaving early. That time I'd see her face and the Maybelline eyeliner would stream down my cheeks as I tried to explain what had happened.
These kinds of stories about South Asian American life have mostly been ignored in American history. Instead, myths about the model minority and the "upwardly mobile" South Asian American persist, overshadowing a life of common immigrant struggle, disparity, marginalization and quiet resiliency. Within this, the stories of South Asian American women have also been replaced with notions of the "passive Indian woman" and the "dutiful mother." These stereotypes devalue and minimize the complexity of the lived experiences of Indians across the diaspora.
So here is part of my story, as I have lived it.
---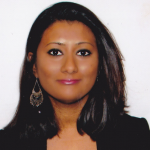 Odessa Devi Despot, PsyD is a graduate of NYU and holds a doctoral degree in psychology from Yeshiva University. She is currently Director of Diagnostic Testing at Oakland University and an adjunct faculty member at the Michigan School of Professional Psychology. Her research focuses on identity development, multicultural and feminist issues, and relational psychotherapy. She is a writer and activist and was previously Board Secretary for the Indo-Caribbean Alliance (ICA). Odessa has contributed articles for the Caribbean Star newspaper, South Asian American Digital Archive (SAADA), and presented at various professional conferences. She recently completed a manuscript based on her life as an undocumented immigrant girl growing up in Queens, NY, tentatively titled, "Indian Girl."