**SPOILER ALERT
In last Sunday's "Quantico" episode, the audience witnessed a new aspect of the relationships at the FBI training academy, and beyond: trust.
In the present day, Alex and company are trying to clear her name, and in flashbacks to their time in Quantico, this is the first episode where trusting each other has been essential to the characters and story line.
Although it has not been discussed in detail, it is clear that Quantico tested every friendship and relationship established there. And, in the present, when these characters meet each other again it is clear that the reunion is not a joyous occasion. It takes time for them to trust each other, but eventually they do.
In previous episodes, Ryan, Simon, and Shelby agreed to help Alex and believe that she is innocent, regardless of the tensions that may have tested their relationships wth each other in the past.
In this week's episode, it was mid-term exam week for the recruits. It is pretty unanimous that there has never been a midterm as stressful as the one Alex, Ryan, and the others are put through. They receive their test papers, but when they begin, they realize that the paper is blank.
Eventually, they find a bomb in the classroom that one of their classmates had planted. Not sure whether the bomb is real or another twisted test from Liam and Miranda, they race against the clock to disarm the bomb. A few recruits, including Elias, run away leaving the others behind to deal with the bomb. Alex, Shelby, Simon, Ryan, Caleb, and Raina all stay. As Raina said, "they are in this together."
Upon finding out that the bomb was fake and a test of their ability to sacrifice, they realize that they can trust one another. The midterm impacts Raina the most as she tells Miranda that they need to tell the others about the fact that she and Nimah are both at Quantico and have been switching places.
She said that they can't trust each other with their lives if they can't trust each other with their secrets. Miranda complies, and they voluntarily reveal their secret to the others.
In the present day, when Natalie finds out that Ryan is working with Alex, she rats him out to Liam. It is no secret that Natalie is not a fan of Alex and they do not trust each other, but when something unexpected happens to Ryan, Natalie puts aside their rivalry and makes a surprising decision.
Do they all completely trust each other?
Probably not, but when it comes to saving each other's lives or helping one of their own clear their name, they learn to work together and build some level of trust. The complex relationships between the major characters are perhaps the show's best asset.
The fake bomb in the flashback to their midterm at Quantico could have foreshadowed the bomb that eventually destroyed Grand Central Station.
During the midterm, they were forced to gauge whether one of their own would commit such a horrible act, and they led an investigation to determine whether he could be guilty. It is similar to Alex's situation, although the midterm was on a much smaller scale with lower stakes.
As the writers are able to develop the characters and become more creative with the storylines, "Quantico" has evolved into a noteworthy show.
According to Variety.com, "Quantico" is the "first broadcast program this fall to more than double its same-night demo ratings," though their ratings have dropped since its initial weeks.
Priyanka Chopra, who plays Alex, has found her footing and has become stronger from week to week, in terms of her acting, although there is still room for improvement. The actors that stood out the most in this episode were Jake McLaughlin and Anabelle Acosta, who play FBI agents Ryan and Natalie, respectively.
So far it seems like everyone from Alex's Quantico class is innocent.
Tune in on Sunday at 10:00 p.m. EST on ABC to find out if one of them has been playing Alex, and the audience, this entire time. Follow along on Twitter @BrownGirlMag as we live Tweet the episode. 
---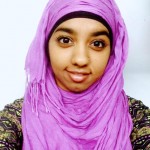 Gabrielle Deonath is a full-time college student. She is a contributor to the teen column, "At The Crossroads," in SISTERS Magazine and the author of the "Hijab Diaries" series on virtualmosque.com. Her dream is to be a journalist and novelist one day. One of her biggest obsessions is Bollywood movies and music. When she's not in class or following her dream of becoming a writer, she most likely is choreographing a dance to the latest song or watching a new Bollywood movie. To read more, visit her blog at hijabdiaries.com.