During the "Quantico" episode, which aired on Sunday, October 25 at 10:00 p.m., the FBI recruits were given a new task: to create a brand new undercover identity.  Once that assignment was completed, they then had to switch identities and successfully obtain a meeting with the CEO of a company.
In previous episodes, Alex Parrish (Priyanka Chopra) has been the one at the top of her class, seeming to effortlessly accomplish goals and pass tests that former recruits were never able to complete, it was refreshing to see that she is not made out to be completely unbeatable or the perfect agent.
In the task assigned, Nimah (Yasmine Elmasri) and her twin sister, Raina, were the ones who were most successful in completing their mission, with Alex, Ryan Booth (Jake McLaughlin), and a couple of other recruits not far behind.
While the recruits are trying to find a way to the CEO of the company they were assigned to infiltrate, Miranda Shaw (Aunjanue Ellis), a mentor to the trainees and an FBI agent, confronts Liam O'Connor (Josh Hopkins) about his off-book investigation into Alex. Although it is not revealed why Alex is under surveillance, Miranda explains to Booth that it is a question of national security.
One of the standout moments in this episode was Alex's interview with The Unknown, a group of hackers who help her tell her side of the story to the public. Alex explains that she is being framed because she is a "brown girl" in a country that has been touched by terrorism, which then spurred racial discrimination, Islamophobia, and xenophobia, Alex said that because of this she is the easiest person to blame.
The choice by the writers to highlight this issue is a smart way to address the problem without being too forward about it. People of different backgrounds may not realize how difficult it is for South Asian or Middle Eastern-Americans, in terms of being racially profiled. Their method was an efficient way to open the eyes of those people.
One inconsistency in this week's episode, compared to last week's, was the absence of trainee/agent Natalie Vazquez. Because she has played somewhat of a significant role in previous episodes, observant watchers will notice the absence of Alex's rival.
As the series goes on, there is clearly a formula to each episode, which has been followed so far. Every week, there are flashbacks to the trainees' time in Quantico and a major assignment that is focused on. In the present day, Alex either meets up with a former classmate from her past at Quantico, or they are somehow implicated into the storyline. This week, at the end of the episode, that former classmate is Caleb Haas (Graham Rogers).
This week seemed to not be as hectic and chaotic as previous weeks, which was enjoyable. Now that audiences have gotten to know the main characters fairly well, this week's episode allowed for relationships between characters to be explored and developed further.
"Quantico" betters itself from week to week and its strengths become more noticeable. It is not without its small problems, but those issues may be able to work themselves out by the end of the first season.
"Quantico" has become an important series on primetime television, so here's hoping it continues to tackle significant topics and achieve a new level of creative storytelling.
Now that you're all caught up don't forget to catch the latest episode of "Quantico" on Sunday at 10:00 p.m., and tell us your thoughts!
---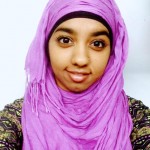 Gabrielle Deonath is a full-time college student. She is a contributor to the teen column, "At The Crossroads," in SISTERS Magazine and the author of the "Hijab Diaries" series on virtualmosque.com. Her dream is to be a journalist and novelist one day. One of her biggest obsessions is Bollywood movies and music. When she's not in class or following her dream of becoming a writer, she most likely is choreographing a dance to the latest song or watching a new Bollywood movie. To read more, visit her blog at hijabdiaries.com.