by Sana Kamal
International makeup artist and entrepreneur Tamanna Rashan a.k.a. DressYourFace partnered with Anastasia Beverly Hills to create the Tamanna palette. Rashan handpicked every shade of warm and cool tones to combine a palette that would suit all skin tones. The rich neutrals and shimmering jewel tones are perfect when creating Rashan's signature smokey eye or dramatic cut crease looks. Inspired by Rashan's South Asian heritage, the colors are gorgeous and a must have beauty product. The palette is, however, a limited edition item, so order yours now!
The best part about the palette, outside of its beautiful colors, is the price: 10 shades for $29.
The colors are very pigmented, easy to blend and provide minimal fallout, so you will not have to worry about tons of powdered shadow falling on your upper cheeks.  The palette includes everyday neutral colors, as well as shimmery colors for a bolder look. Packaged ornately, the palette is perfect from transitioning from a day look to a glamorous night look.
In addition, each palette comes with "get the look" cards. The cards are step-by-step instructions on how to get the look Rashan herself created with the palette.  I tried to recreate these looks with a twist of my own.
Overall, this palette would be a fabulous addition to your makeup collection and the beautiful colors suit any complexion.
Colors featured in the Tamanna palette, described by Tamanna herself:
FRESH: A full-pigmented creamy matte, my personal preference to highlight a clean bold browbone without looking like a shiny disco ball.
BLUSH: A smooth shimmery highlight that I love to add a pop of shine to the tear duct or all over the lid for a clean yet light-reflective look.
VENEZIA: A gorgeous teal blue shimmer for the perfect pop of bold color inspired by the exotic jewels of India and the Middle East.
GILDED: A rich antique gold that glides on like a cream with beautiful metallic finish.
CUSTOM: A highly versatile antique metallic grey-taupe which I love to use for both soft and dramatic smokey eye looks.
SANGRIA: A fully pigmented rich cranberry shimmer which glides on effortlessly and can blend into a softer rose hue.
BENGAL: A silky-soft matte warm brown, my ultimate crease shade for every look.
CHOCOLATE: A heavy long-lasting dark brown to create depth to any look without having to build.
CHINA ROSE: The perfect blend of gold, pink, and coral… All in one silky satiny shade inspired by South Asian textiles.
NOIR: The blackest black you will ever use… This super matte pigment is out of this world and so intense you won't believe your eyes. This was the shade I was most excited about when it finally came from the lab!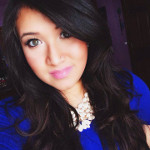 Sana Kamal graduated from Rutgers University with a bachelor's degree in Biological Sciences. She is currently applying to medical school and working on expanding her family business, R & R Cosmetics LLC. Although, she is not a professional makeup artist Kamal loves to apply and experiment with makeup on herself and friends. She is a proud Indian-Bengali-American girl who loves beauty, fashion, glitter and science.