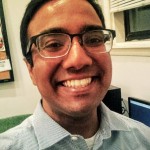 Last year, Vissagan Gopalakrishnan, known by his producer name "VGo," revolutionized the art of mixing and mastering Bollywood music with the release of his four-track "Bajirao Mastani" EP. If you missed it, please check it out below.
A long time presence on the collegiate Hindi fusion dance team circuit, VGo produces South Asian music remixes for teams and individual listeners—like this mix for our favorite twin sisters, Poonam and Priyanka.
He's been involved in music for several years, with the ultimate goal of breaking down barriers between different musical genres.
Here's what we found out about the talented VGo as part of our "Fast Five Interview" series, which introduces budding artists/activists work to the Brown Girl community with short five-question Q&A interviews.
1. How did you first get involved with making Indian-American fusion mixes? Do you have a musical background?
"It's a little complicated. My interest in music started with piano lessons in first grade. However, I wasn't a fan of sheet music at all. When my piano tutor found out that I was memorizing her hand movements instead of learning the music itself, she soon lost interest in teaching me. My uncle gave me his old harmonium, and I found that I could play Hindu bhajan songs by ear as a kid. Although there were no more piano lessons, I started toying with an old Yamaha keyboard.

My original remix of "Ghanan Ghanan" was my first real foray into Indian Fusion production exclusively on the computer.

At this point, a high school friend, Tej Desai, who was at Saint Louis University, asked if I could create a mix for a new dance team. That team ended up being SLU Shakti, and their breakout success in their first year launched me into the South Asian dance circuit. Before long, I was getting many requests to produce competition mixtapes and mixes for other teams. I soon found myself deep into Indian fusion, and a lot of my recent fusion work can be found on my Soundcloud page."
2. From whom or what do you drawn your inspiration and techniques to master mixes? Do you have any favorite artists or DJs?
"A.R. Rahman. Hands down.

His music has always served as my greatest inspiration. Today, I want to say that I've developed my own unique style, but A.R. Rahman's incredible musicality, specifically the way he combined different musical genres with Indian flair, is what got me keenly interested in Indian Fusion to begin with.

It has been a life-long dream of mine to meet him, and I would love to share my remixes of his songs with him. That is all wishful thinking though. At the very least, I want to study at his music school, the KM Music Conservatory in Chennai, for some time.

Besides A.R. Rahman, I'm a big fan of Lido, Sickick, Chance the Rapper, Keys n Krates, 20syl, Childish Gambino, the Yoshida Brothers, and many, many more. I listen to a wide variety of music."
3. The "Bajirao Mastani" EP is the first such EP you've ever released. What about this album in particular drew you to it and made you want to make the remixes?
"The Bajirao Mastani soundtrack is easily one of the strongest music albums from Indian cinema this past year. Amazing singers and incredible instrumentation. Most of all, the composition and arrangement of each song is very complex, using chord progressions and shifts in tone that most music directors would not venture. In an age when Bollywood music has been someone monotonous, the Bajirao Mastani soundtrack was a leap straight back to the roots and traditions of Indian music. When listening, I was very inspired. Beyond the four tracks I released in this EP, there are actually two unfinished tracks as well that I unfortunately had to shelve."
4. You're currently a medical student and are concurrently making mixes for collegiate dance teams. How do you manage/dedicate your time to your various interests? Do you want to find a way to incorporate music into medicine/in your career?
"Managing music production with medical school has been very challenging. However, I have such a strong passion for music and its creation that I ultimately make time for it. VGo is an integral part of who I am, and I believe I will continue to produce music to some extent throughout my life.

I joke with friends that when I see patients one day, I'd send them off with a copy of my mixtapes too.

Music is ultimately a way for me to reach out to others in truly meaningful ways. There's a part of me in all my mixes, and I hope that my music fascinates listeners, and maybe makes their day a little better. In some way, I want my practice of medicine to be similar. Whether in medicine or music, I want to be a positive force for others."
5. Tell us about your latest project, we hear it's your biggest one yet!
"I've spent the past couple of months working on a big 10-12 track EP, tentatively titled ANEKA, which means 'multiple' or 'many' in Sanskrit. The tracks are Bollywood remixes mostly, with some Bhangra included as well. I released two of the tracks before March as promotional tools for two dance competitions: Jazba 2016 and Midwest Dhamaka 2016.
My mixtape for Tufaan 2016 will serve as a preview of many of the tracks on ANEKA, which was released in early February.

I'm really excited about this project, and I hope ANEKA will be a truly memorable listening experience for years to come."
Vissagan graduated from Johns Hopkins University in 2014, and is currently a medical student at the Rush Medical College in Chicago, IL. Besides music and medicine, Vissagan said he is a passionate fan of the English football team Liverpool. He also enjoys playing soccer, cooking, and watching movies. Vissagan lived in China for eight years before moving to the U.S., and speaks Mandarin Chinese.
Follow VGo on SoundCloud, Facebook, and YouTube to keep up with his latest mixes.