Documentary filmmaker Ram Devineni  is no newbie when it comes to using graphic novels as a medium for activism. In 2015, Devineni, along with Dan Goldman and Lina Srivastava brought us Priya's Shakti, India's first augmented reality comic book about Priya, a rape survivor turned superhero who tackles sexual violence in India and around the world.
Priya inspired media coverage around the world touching a nerve that had not been previously touched, and certainly not through the medium of a graphic novel with a rape survivor as a heroine.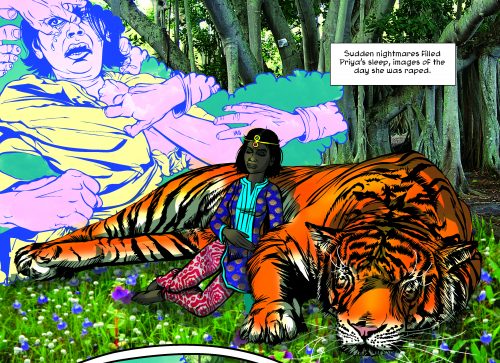 Perhaps it caused a stir in that the comic book and Devineni himself placed rape culture squarely on the shoulders of society and called out the misogyny that is inherent in religion, politics, and media, all culprits in the institutionalization of gender bias and violence.
Devinini and Goldman are once again stirring things up with their equally feminist and socially charged comic Priya's Mirror, which addresses acid attacks and both the survivors and perpetrators of these atrocious hate crimes.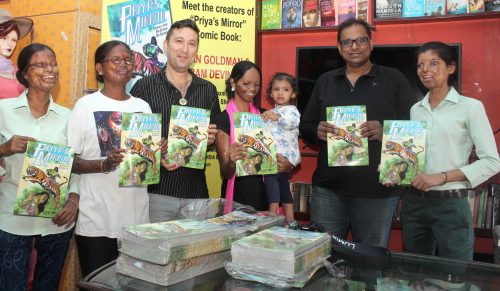 We had the opportunity to catch up with Devineni and learn more about his latest work, what inspired him, and the trajectory of the Priya series.
But first, a look at acid attacks, why this subject in particular and how could Priya help in spurring dialogue about it?
Devineni explains:
"Last December 2015, I was in Delhi presenting the comic book at the Delhi Comic Con, and I had the chance to meet Sonia and Laxmi of Stop Acid Attacks. What I discovered after talking with them is that they faced the same cultural stigmas and reactions from society that rape survivors had to endure. Society's treatment of them further intensified the problem and their recovery. How they were treated by their family, neighbors, and society determined what they did next. They were treated like the villains and the blame was put on them.

Our comic book focuses on this and tries to changes people's perceptions of these heroic women. The comic book's main character is Priya who is a survivor of gang rape and we wanted to continue her movement and adventures by focusing on acid-attacks and have her story and character evolve. The correlations were too obvious and imperative."
And just as Priya has evolved/is evolving, so has the scope of Devineni's work. When asked whether having one comic book under his belt helped get more eyes on Priya's Mirror or if he felt he had to start all over again in getting people to acknowledge the atrocious crimes against women, Devineni shared the surprises he has experienced along the way.
He explained how he knew that the Priya was "a great and important idea" but, he never imagined it would be such a hit. In fact, Devineni and team had never planned on producing a second chapter to the series.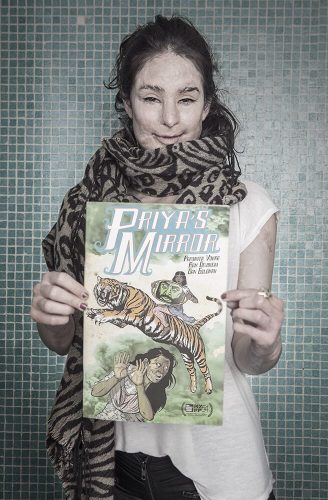 "Because of its success, the World Bank approached us to produce the next edition – 'Priya's Mirror.' I think having a remarkable comic book that went viral definitely helped us in producing the new book, and having a built in audience helped make it a success (again). I felt it was much easier to educate people about the problem of acid attacks and build NGO partnerships because of the success of the first comic book.

When we conceived 'Priya's Shakti,' – everyone thought we were crazy because it was such an unusual concept: an augmented reality comic book with an Indian female superhero and rape survivor? This was a radical and unconventional concept. Luckily, Ruchira Gupta with Apne Aap Women World Wide was one of our earlier supporters; working with her and Lina Srivastava, helped out immensely in launching the first book. After its success, it was relatively easier to develop on 'Priya's Mirror.' Additionally, there was a global network of acid attack survivors who were also advocates; and they wanted to be in the comic book and share their cause with the rest of the world."
A theme in both Priya's Shakti and Priya's Mirror is the power of sharing one's story in that it may help others and how sharing may provide some semblance of catharsis for the victim.
And though I can appreciate this message, my curiosity struck me–had Devineni faced any challenges in encouraging women to share their stories – was it challenging to have women entrust him with recounting experiences because of his gender?
Devineni said his experience as a documentary filmmaker helped him to communicate with the women in a way that facilitated a sense of comfort. He stated that his empathy and the ability to listen to people, qualities which he developed through his work, really helped in the interviews he conducted with the women.  He added that the women he interviewed wanted to tell their stories because "they have been fighting the system for some time now and having someone to listen to them and get their story is out is what they want."
Another theme in both Shakti and Mirror is victimization and moving past stigmas but also, moving past the role of victim. In Priya's Mirror, Priya says, "I learned I could find strength by believing I was more than a victim."  I wondered, how as a society does Devineni recommend we acknowledge and discuss the victimization of women yet, move beyond it and see women as more than victims? Does Priya help in striking this balance?
"Priya is all about conquering your fears and seeing yourself more than as a victim. I think becoming open and public is a deeply personal decision that needs to be discussed with family and loved ones. However, the first step is overcoming fear. On a broader conversation, it is important that society acknowledges how it demeans and further victimizes women who have suffered sexual assault and acid attacks. How society treats them immensely affects how they see themselves and their path to treatment."
I agree with Devineni, a "broader conversation" is required in the South Asian community and at times, it's challenging to know how to start these conversations and through what mediums.
This is where the Priya series serves as a valuable and interesting platform. Devineni agrees. "I think the series has been a huge hit with the South Asian diaspora all over the world. There is a bit of nostalgia for sure – especially for the Amar Chitra Katha comic books we grew up on, but I also get many positive comments on how we have created something original and powerful. Men are equally involved in the conversation and the comments come from both.  The power of Priya is she resonates and connects with audiences all over the world. She is a powerful symbol."
And how much more of Priya will we see? Are there future comics we can look forward to in order to further the conversation about institutionalized sexism?  
Yes. Devineni explains,
"Both Dan and I would like to stop after five comic books. Although, the series is popular, we also believe it should come to an end and be used as an educational tool. Possibly package the series as a book and distribute it in schools. Trying to make the comic book an effective tool to discuss gender-based violence issues is our bigger goal, and is more important than the creation of the series.

The next chapter, 'Priya and the Last Girls' which is about sex trafficking and we are working with Apne Aap Women Worldwide to develop the story. Dan Goldman and I were in Kolkata a few days ago and interviewed exploited women in the red light areas. The research is funded by the Jerome Foundation and we hope to release it in a year."
"Priya's Mirror" is available to download for free, and readers can use the hashtag #StandWithPriya to get involved in the movement. Follow "Priya's Mirror" on 

Twitter

 and 

Facebook

 for more regular updates.
---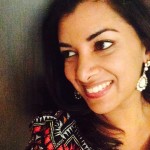 Soni Satpathy-Singh is a recipe writer and developer who resides in Manhattan. She is either always cooking or eating be it for work or simply because she loves to! She is working on her own cookbook and also recently created "Sketchy Desi" which provides daily humor, greeting cards, and apparel that celebrate brown culture. To see more of Sketchy Desi's work, visit SketchyDesi.com or stay tuned to upcoming posts on Brown Girl Magazine.