*SPOILER ALERT
Priyanka Chopra's new show "Quantico" premiered on Sunday, Sept 27 at 10 p.m. on ABC. "Quantico" begins with a terrorist attack that decimates Grand Central Station in New York City.
FBI agent Alex Parrish (Priyanka Chopra), is framed for the attack, and in order to clear her name, she must investigate her former classmates from the FBI Academy in Quantico. Because of this, "Quantico" shifts between the present-day where Alex must prove her innocence and the past where we see her time in Quantico, training to become an agent.
The recruits in Alex's class are an eclectic bunch: the Mormon, the Hijabi, the pretty boy, the blonde Southern belle, and the gay Zionist.
Their first task during their time in Quantico is to choose another recruit and investigate them. One important piece of information was left out of everyone's file and it is their job to discover each other's secrets. If they are unable to do so, they must leave Quantico. This leads Eric (Brian J. Smith), the Mormon character, to commit suicide when he thinks his darkest secret has been discovered: He impregnated a 14-year-old girl in Malawi on a mission and she died during the abortion he took her to have.
In addition to this shocking reveal, Simon, the geeky Zionist, hid the fact that he spent time in Gaza. Shelby, the Southern beauty, is an orphan; her parents died during the 9/11 attacks. Pretty boy Caleb's (Graham Rogers) secret is that both of his parents are agents, and that is the only reason he was selected for Quantico training. Hijabi Nimah (Yasmine Al Massri) is hiding a secret for two: She has a twin sister and they share one spot at Quantico. We find out that Alex killed her father, an FBI agent, during a domestic dispute between her parents.
And lastly, and most surprisingly, her love interest, Ryan Booth (Jake McLaughlin), is not even a real recruit. He is already an agent and is under strict orders to spy on Alex.
The episode ends in the present day when Miranda Shaw (Aunjanue Ellis), the director of Quantico training camp, helps Alex escape FBI custody so she can figure out who framed her for the most-devastating terrorist attack since 9/11.
Chopra was quite a surprise. She is convincing as an American-bred woman of South Asian descent with a hint of a slight Indian accent, which is cleverly explained by her character's move to Mumbai after her father's death. In some of the emotional moments, Chopra slightly overacts, but it is hardly noticeable. Aside from that she shed the baggage of being a Bollywood leading lady and made me actually forget that she was the Priyanka Chopra.
The ensemble cast does a great job, as well. Even though this is the first episode, the audience can already emotionally invest in some of these characters. The strongest performance came from Ellis as Quantico's director. She is clearly not a lady that should be messed with, and to highlight one of the refreshing aspects of the show: ALL of the women are strong and dangerously intelligent. There is no damsel in distress here.
One of the scenes in the first few minutes of the show is a love-making scene between Alex and Ryan only several hours after meeting and before Alex realizes they are both FBI recruits.
Although some may not personally relate to Alex's decisions, I respect that her character is written as a woman who owns her sexuality and is not afraid to hide it. When Alex meets Ryan officially in Quantico, she takes control of the situation by being the first one to acknowledge their sexual encounter in front of the others.
Growing up watching many television shows on various networks, there were never any South Asian women in leading roles, and there certainly were no Muslim women in Hijabs, unless they were characterized as radicals or oppressed women without voices. "Quantico" is breaking new ground, and, as both a brown girl and a Hijabi, it makes me proud. To see Priyanka Chopra, the notorious desi girl, take on the leading role in an American television show and on a major primetime network, is simply remarkable.
While there are certain flaws and clear borrowings from other series, "Quantico" has what it takes to stick around for at least a second season. However, regardless of whether it turns into a success, this is a giant step in the right direction in terms of representing real Americans of every heritage in pop culture in an unadulterated way.
---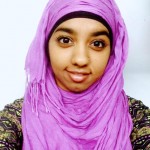 Gabrielle Deonath is a full-time college student. She is a contributor to the teen column, "At The Crossroads," in SISTERS Magazine and the author of the "Hijab Diaries" series on virtualmosque.com. Her dream is to be a journalist and novelist one day. One of her biggest obsessions is Bollywood movies and music. When she's not in class or following her dream of becoming a writer, she most likely is choreographing a dance to the latest song or watching a new Bollywood movie. To read more, visit her blog at hijabdiaries.com.