Hi Brown Girl beauties!
This year, my love for maxi dresses is on a completely different level. I adore the intricate fabrics rolling down my legs mixed with pleasant summery prints. Whether it is a summer wedding, garden party or a casual day out with friends, a maxi dress can create a sensual and relaxed look for the day.
For more daily fashion inspiration, visit my blog  Zunera&Serena.
---
Read our exclusive Q&A with Zunera below: 
You're a very talented woman; working for the Immigration Office, running a fashion blog, being a full-time mother, and having been crowned Miss Pakistan International 2014. Is it a struggle to keep a balance?
I have always had a passion for fashion and  enjoy writing about self-awareness and independent thinking in women and young girls. To me, a woman who is aware of her body, knows how to express herself and exudes confidence. Also, being an immigrant working at USCIS Immigration Services is incredibly meaningful to me and last but not least, becoming Mrs. Pakistan was all about breaking social barriers. To me, all these passions are tied together so they naturally balance each other out. Together, they have allowed me to inspire and motivate young girls that they can pursue everything in life.
Earlier this year, a video of you speaking out against the terrorist attacks in Paris was posted on CNN. How has the public responded to the video?
The response has been overwhelmingly positive. I have received so much love and support from people all around the world, and some heartwarming messages all the way from France. It also helped start some great conversations too. However, there are always people who strongly disagree with you and some that are completely ignorant, which resulted in death threats for me and my family. I forwarded those threats to local authorities and continue to speak up because I believe freedom of expression is the key to individual freedom.
Have you noticed a specific response from a certain demographic?
I have noticed a big response from extremist Muslims and right-wing media. Both are strong opponents of woman like me. To most extremist Muslims, I do not fit the category of a good Muslim woman because of the way I dress up and right-wing media doesn't like women like me because they want to paint all Muslims as terrorists so someone like me who is educated, speaks up and has a descent career, would go completely against their fear-mongering agenda's.
Because you were crowned as Mrs. Pakistan International 2014 and run a fashion blog, have you received judgment or negative responses for voicing of your political opinions?
Yes, I have constantly heard people say 'but you do fashion' then why political opinions? As a feminist, the question gets to me every time, because we need to get it out of our mindset that a woman can only do one thing. I am firm believer that you can have multiple interests and be a well rounded woman. We need to not just have out of the box thinking for women but we need to completely remove the box.
You're a successful fashion blogger along with your daughter. What's the process look like when you work on a blog post?
It all depends in summer the blog posts are play dates. We usually pick a place or garden where Serena can play around and we capture her looks while she's running around and also take some pictures of my outfits. However in winter we take pictures right outside our house. The blog is meant for fun, so we keep it very simple.
Why did you decide to start the blog with your daughter?
We wanted to do something as a family and the blog become our creative outlet. To us, blogging is like our family playground, where I showcase my creative style through writing and styling outfits. Serena showcases her personal styles and  Sharjeel (my husband) captured this art using his own creativity.
If you could give girls advice about dressing confidently, what would it be?
Embrace your body.  New styles and trends are great but we have to know what looks good on us and even more important how it makes us feel. If you are wearing something that is trendy but it doesn't really make you feel good then dump it. We all have unique style and bodies. Why try fitting into someone else's definition of fashion.
How would you describe your current outlook on life?
I live and breathe the idea of 'we create our own reality.' I always love taking on new adventures but also enjoy the present moment because the truth of the matter is, the present moment is all we have.
Lastly, is there anything you'd like to say to the Brown Girl Magazine community?
Do not let anyone define your life and let nothing hold you back, whether it is culture, family or social stigma's. Become your own person and live your dreams. You will experience high and lows but they all will be your own experiences. Being a brown girl comes with its own plus and minuses. Embrace them all with a smile and love yourself.
---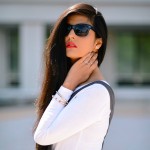 Zunera Mazhar is the highest earning fashion blogger in Washington D.C. Her blog, Zunera & Serena, is about fashion, inspiration, confidence and she occasionally includes photos of her five-year-old fashionista, Serena! The blog has been featured on ABC, FOX and she is a featured guest on CNN. She has worked with some of the top designers and retailers in the fashion industry and is the international brand ambassador of "Labels." She contributes/writes for Self Magazine, AOL's Stylelist. and POPSugar. When she is not blogging, she works as a program manager for Refugee Asylum and International Operations for the U.S. Immigration Services.