by Duriba Khan
Wednesday was an important day for the students of my small Islamic school, and Muslims everywhere because President Obama visited a mosque in America for the first time as President.
During lunch, all the student gathered to watch Obama deliver his speech of the century on a flimsy projection screen. Some were stunned, others shocked. Some peered at their phone screens in boredom, and others eyes' sparkled. I then turned to see my English teacher's face and noticed a single tear rolling down her cheek.
"This is phenomenal," she whispered under her breath.
Watching her provoked strong emotions within me.
As I watched the President rebut "inexcusable political rhetoric against Muslim-Americans that has no place in our country," my heart grew warm. To the average American, this may seem like a kind gesture. To Donald Trump, it may seem blasphemous. But to me as a Muslim-American teenager, it means the world.
Growing up in a post 9/11 world, I have witnessed both the physical and emotional harms that come with the territory of being Muslim. Hijabs tore off, "Random selections" at airports, graffitied and defecated mosques, and slurs like "Go back to your country!" are a weekly occurrence for my friends and family.
I've had to explain my religion as a religion of peace and perform prayer on college front lawns with the fear of being pushed or shoved. I've watched my religion being debated in courtrooms and on media channels by people who know nothing about it. I have felt like a foreigner on the very soil I learned to walk on, and I have endured protests, town hall meetings, and interfaith workshops to educate others. And today, after so many years of constant fear, Facebook comment wars on the HuffPost Religion page, and frustrated breakdowns, I finally feel acknowledged.
Many refute Obama's claims by bringing up all the drone strikes on Syria and others and arguing that, "if he really cared…" and broadcasting the hashtag "#TooLateObama." But this discussion here isn't about his hypocrisy or deceit. This discussion is an acknowledgement of the realization that Muslim Americans are not invisible, and it brings up a conversation in American households that needs to happen.
As Muslims, we must accept the truth that "beggars can't be choosers." In a country where other influential political figures are spreading anti-Muslim rhetoric like wildfire to deport Muslims and the President nationally denounces such acts, it will have a huge impact. However small, it is a nuance that we need to accept. By urging Americans to take a stand, he sheds light on a problem many people never knew existed.
"We can't be bystanders to bigotry," Obama affirms. "Together, we've got to show that America truly protects all faiths. As we protect our country from terrorism, we should not reinforce the ideas and the rhetoric of the terrorists themselves."
So, here's to awareness and equality. Here's to the equal protection of ALL Americans, regardless or race, sex, and ethnicity. Here's the true American way, that has been distorted, manipulated, and destroyed.
To President Obama, his speech may be viewed as one of many, but to me, it is viewed as a comforting song.
"Let me say as clearly as I can as President of the United States: you fit right here," Obama tells the audience at the Islamic Society of Baltimore,"You're right where you belong. You're part of America too. You're not Muslim or American. You're Muslim and American."
And I couldn't be prouder.
---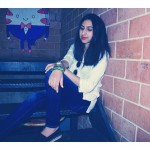 Duriba Khan, or "D-Dawg", is a sixteen-year-old blogging, vlogging, photographing, filmmaking, sketching geek who enjoys long, romantic walks to the refrigerator. She is half-Pakistani and half-Indian and currently resides in Austin, Texas. Duriba also feels uncomfortable writing about herself in the third person. For more of Duriba's work, check out her blog.