Last week, at just 24 years old, well-known Indian television actress Pratyusha Banerjee ("Ballika Vadhu," "Bigg Boss") committed suicide. Her death has kicked up a lot of speculation and conversations in the media, mostly revolving around what friends and family are left with after a suicide—trying to piece together why. The problem that has emerged, however, is in the way both the Indian media and the community at-large has been discussing Banerjee's suicide.
In the South Asian community, we are not new to the stigma against mental illnesses, especially mood disorders such as depression and bipolar disorder. Suicide, much like these disorders, is misunderstood as something that can be willfully overpowered and fixed.
In Banerjee's case, as with so many others, there is remorse amongst the community that someone so young, beautiful, and with so much seemingly going for her could take such a step—some even going so far as to label Banerjee's act as selfish. The problem with shaming suicide in this way is exactly why battling mental illness is so lonely—unlike physical ailments, mental battles are invisible and when tangible circumstances like a successful television career and ample financial footing check out, many don't understand why someone would "choose" to be sad or ungrateful.
All these senseless suicides which achieve nothg! Life is God's gift for us to live not for us to take at will. We have no right to do that.

— Hema Malini (@dreamgirlhema) April 4, 2016
One must learn to overcome all odds & emerge successful,not succumb under pressure & give up easily.The world admires a fighter not a loser

— Hema Malini (@dreamgirlhema) April 4, 2016
Just becomes food for the hungry media who chew on news like celebrity suicides until the next sensational news happens.Thn it is forgotten

— Hema Malini (@dreamgirlhema) April 4, 2016
RIP #PratyushaBanerjee pray for her parents,cant imagine what the mother must b going thru!make no mistake guys suicide is never the answer

— Nora Fatehi (@Norafatehi) April 2, 2016
Not the way to go….rip pratyusha banerjee….wen smeone dies they dont die alone…suicide is neva the rite way out.. SAD

— Karan Wahi (@karan009wahi) April 1, 2016
These reactions from Indian celebrities, for all intents and purposes, are absolutely infuriating. Mental illnesses, like depression, are not just sadness or a lack of gratitude. Suicide is not selfish and is not for "losers." Anyone outside of that person's head can never understand what it feels like at rock bottom.
After a suicide, we often hear people wonder why didn't that person consider all the people they love who they left behind. The sad truth is, when they do take this under consideration, they often believe that their loved ones would be better off without them.
From self-harm to suicidal ideation, the culprit is often a sense of hopelessness and helplessness. Suicide is the culmination of a private, internalized struggle, whether due to mental illness or contextual factors—and in both cases becomes a means of finally taking control in the pursuit of peace.
This is just so sad…and a wake up calm to families and friends who don't consider depression a medical condition…RIP #PratyushaBanerjee

— Karan Johar (@karanjohar) April 1, 2016
RIP #PratyushaBanerjee.We all live on the edge of disturbia,some fall in the abyss.Sad for parents,friends.Showbiz needs TLC !#Gonetoosoon

— RichaChadha (@RichaChadha_) April 1, 2016
The other sad dynamic emerging in the wake of Banerjee's suicide is the turmoil she was allegedly facing in her relationship with Rahul Raj Singh. Following statements from her close friends as well as her parents, there are now strong allegations of domestic abuse against Singh. He has also been charged with abetment of Banerjee's suicide, which is punishable by up to 10 years in prison.
This becomes especially important in the wake of Indian model Priyanka Kapoor Chawla's recent suicide, in which she very clearly stated domestic abuse as the reason she decided to end her life. Both cases also bring back tragic recollections of Jiah Khan's suicide in 2013, which was also surrounded by rumors of abuse by her boyfriend, Sooraj Pancholi. (Side note: Pancholi was also initially arrested and charged with abetment of suicide, but was later released. The case is still ongoing.)
The media's obsession with, and pursuit of, gossip around the contexts of these women's suicides is tragic in itself. The truth is, in an industry that focuses on superficial success and glamor, hidden truths of trauma, loneliness, and abuse are often overlooked.
The fact remains that 10 percent of suicides (including attempts) are not due to a psychiatric illness. We may never fully understand why Banerjee did what she did, whether or not she was suffering from mental illness, and what the nature of her relationship really was. But in the wake of her death, we owe her the respect to not shame her for her decision to end her life.
---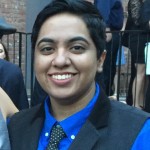 Priya Arora is a queer-identified community activist, writer, and student. Born and raised in California, Priya has found a home in New York City, where she is currently pursuing a Master's degree in Counseling Psychology at Teachers College, Columbia University. Priya's passion and research lies in capturing and fostering the needs and experiences of South Asian American LGBTQ people, with a mental health focus.