Nisha Mathur has become a major icon in the Indian-American community for some time. As a co-anchor to the New Jersey based "Asian Variety Show," Mathur has brought the latest Bollywood news and stories to a wider, English-speaking audience. Now, she will bring the stories of real women to homes all across the world, through TV Asia's new show: Shades of Shakti, premiering on International Women's Day on March 8 at 8 p.m.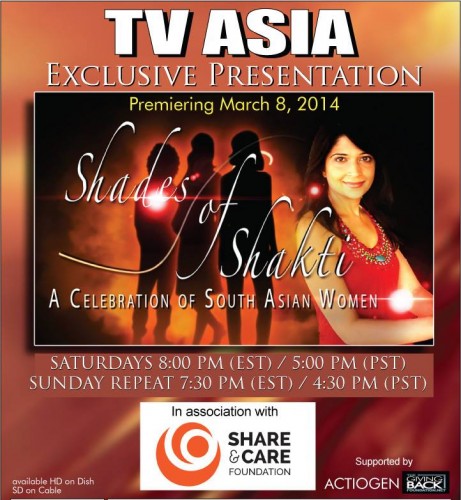 Given her lifelong passion for broadcasting, Mathur pursued majors in media and communications at SUNY Binghamton. She later felt her calling in entrainment news and began working for AVS soon after graduating. Mathur continued to intertwine her culture and career with her book "My Mango Tango," which released in 2011 and chronicles her journey of finding herself amidst two cultures.
Mathur's newest venture has taken her one step further into the realm of women's empowerment. She is the host of an exclusive series on TV Asia, titled "Shades of Shakti," which highlights and celebrates real stories of strong South Asian women from all aspects of life who overcame struggle. The 13-show series showcases women we can all learn from, including Patti Tripathi, the first South Asian reporter for CNN who launched her inaugural calendar "Saris To Suits;" Ekata Doshi, a young woman who had it all, but is now facing one of the toughest battles of her life – leukemia; Ann Mukherjee, Chief Marketing Officer of Frito Lay at PepsiCo and Chanda Zaveri, a Calcutta girl who took a leap of faith as she fled an arranged marriage at 17, to name a few.
Read on to hear some of Mathur's advice for today's young South Asian woman!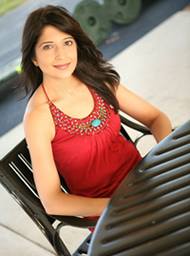 What made you pursue the not-always-conventional majors in media and communications and then a career in broadcast and then a career in media and communications?
I always had a passion for broadcasting/communication—as a child, I would take a hairbrush and pretend it was a microphone! Even though I wanted to pursue a career in broadcasting, I actually pursued a career in business after falling prey to the unsolicited opinions of others in the community (aunties and uncles) who would ask, 'What is broadcasting? Is there any scope in this field? Why not engineering?'  I believe that when you have a passion for something, you will always come back to it!
Do you think that there was something in your South Asian upbringing that allowed you to achieve the success you have today, and if yes, what would that be?
I have always had tremendous family support and unconditional support.  I also have always been connected to my culture and my roots thanks to my upbringing which made it possible for me to not only pursue my dreams, but to also take the South Asian route.
Why was it important for you to write your book "My Mango Tango"?
'My Mango Tango' is a book that spans three generations (my parents' journey, my life growing up as an Indian born in the US, and now me coming raising my kids as Indian Americans). I want others who are struggling to balance these two worlds to know that they are not alone and that you don't need to choose one culture. It is possible to take the best of two cultures and find a great balance.

What advice do you have for young women looking to write their own stories?
I would encourage young women to write their own stories. As a community, we need support from one another to find our own strength and courage. However, writing a book takes a lot of dedication and commitment. Only take on the task if you can focus and have the time.
You have become an icon for South Asian women everywhere. How important was it for you to meld you career and your heritage?
I have always had a passion for media and for me to be able to combine it with my love for my culture is a dream come true. "Shades of Shakti" is truly a dream project. What more could I ask for because through my words and my work, I can make a difference for others in our community.
How have the women featured on "Shades of Shakti" been chosen to share their stories?
We celebrate the lives of truly inspirational South Asian women in the US who have risen above their own challenging experiences, fears and obstacles. With their determination, they have come out stronger, more resilient. They tell their story in their own words and share their secrets as they prove to be true role models. Every woman has inner strength displayed in many different forms and colors. These amazing stories will give you something to think about, talk about and share with others as we observe life through the unique lenses of exceptional women from the community.
To learn more about Nisha Mathur and "Shades of Shakti" listen to BG Trisha Arora's exclusive radio interview on Radio Asia's Bhangra Beats:
Image Source: www.facebook.com/ShadesOfShakti