by Sushmita Ghoshal – Follow @browngirlmag

my patriotism is a melody of
all the prayers that went unanswered.
it's me thinking calling a country
mine is enough,
will ever be enough.
my patriotism is a cradle for all the
battle cries children have grown
to mistake for lullabies.
it's a framework holding together
disappearing dreams
and shrinking promises.
my patriotism is a
list my shivery veins jot down
on the lining of my heart
every time a little girl loosens
the grip on her dreams.
it's the heaviness of the air settling
down in my lungs when i feel valleys
giving in to pellet guns
hanging over their streets.
my patriotism is a receipt of the hopes
i have bought with my unarmed fantasy.
it's a reminder of the ruffling reality
knocking on my door
to seek refuge from the
wind that's turned against it.
my patriotism is a sequence of promises
passed in murmurs hidden under
the veils of uncertainty,
from my quivering heart
to unsteady heartbeats of a country.
---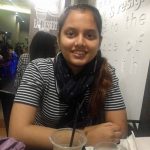 Susmita Ghoshal is an 18-year-old from Mumbai, India. She's a lover of poetry, history, biology, and cats. You can find her on Instagram @idksush and more of her work @iknowsush.