This post was originally published on our partner website India.com.
"No." It's one of the most powerful words in the English language. No matter what language one speaks, the word "no" is universal. And when a woman uses it to refuse a sexual act with a man, it's meaning is never undefined or confused. "No means no."
This is the overlying message of the compelling new Bollywood film "Pink." Produced by Shoojit Sircar and directed by acclaimed Bengali director Aniruddha Roy Chowdhury, the movie follows three women — Minal, Falak, and Andrea — as they fight in the court of law and public opinion against victim blaming and the unfair definitions of womanhood in Indian society.
Much of the story is ripped from many, many recent headlines. The three women meet three guys — led by Rajveer, a young man from a prominent political family — at a rock show. The six hit it off as friends (mostly because one of the young men, Vishwa, is Minal's old schoolmate), and Rajveer invites the women back to the resort he's staying at to have dinner and drinks. The men end up trying to pair off with the women to have sex with them, but when Minal refuses Rajveer, she hit him over the head with a bottle. The bottle shatters on his face, leading to stitches and an eye injury as the women run from the scene.
After one of Rajveer's more violent and unhinged friends tries and fails intimidate the women into saying sorry and allowing Rajveer to unleash his own brand of punishment against Minal in particular, the girls finally lodge and FIR complaint about molestation amongst other charges. Unfortunately for them, the men, too, lodge a FIR complaint and allege Minal's "attempt to murder" as well as alleging all three women for prostitution. Minal is immediately arrested, and Falak and Andrea go to their neighbor Deepak Sehgal — a former lawyer who retired likely because of his bipolar disorder and his desire to be with his ailing, dying wife, for help.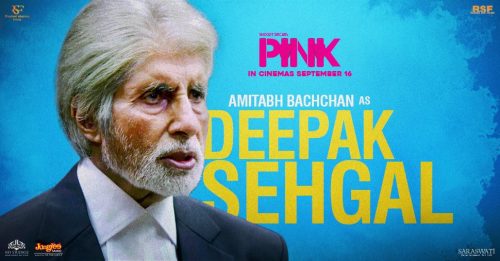 The rest of the film follows that court case, the women against the men. But what's more important than the court case itself, is how the women are treated and how quick Indian society is to believe the men's story over the women. Throughout the trial, Deepak explains the "rules" for women in Indian society: Women shouldn't drink for fear of being considered immoral, women shouldn't smile or playfully speak with men for fear of being considered ready for sex, women shouldn't wear shorts or pants or skirts for fear of being considered easy. Unfortunately, even as the rules are pointed out for being ridiculous, many characters in the film, including and especially Rajveer, continue to buy into these ideas and use them as their defense for all kinds of misdeeds.
"Pink" works on so many levels because of its truthful look on modern-day society. Victim blaming is real, and it happens every day. It doesn't matter that Minal and Andrea, in particular, were molested, assaulted and harassed. It doesn't matter that they have never given reason to believe they are untoward or immoral women in the past. The fact of the matter is, when Rajvir and his friends lodged their complaint and accused the women of being solicitors, their fate was already set in the court of public opinion. And it was sealed shut when the boys' lawyer came to their defense with his constant attacks against the girls.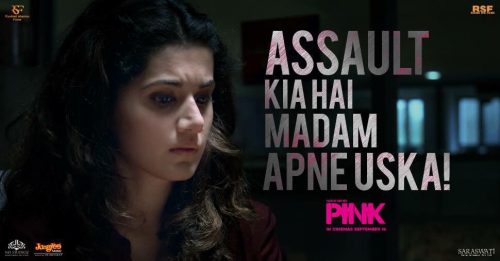 At times, "Pink" is hard to watch for this reason. Rajveer's lawyer is ruthless in his quest to prove the girls are prostitutes by bringing up all kinds of "evidence," from false witnesses to Falak's former relationship with a divorced professor from whom she was taking loans to pay for her ailing brother's medical treatments — money she was planning on paying back, especially after she and her boyfriend parted ways. The women are constantly attacked on the stand for false information and theories about their lives, to the breaking point where Falak admits to something untrue in order to just get the rest of the trial moving past their depraved lives. Without giving away the outcome of the trial, it's best to say that just winning wouldn't solve any problems. It's society that needs to change, not just a judge's mind.
The acting is the standout factor in the movie. From Taapsee Pannu's broken and yet determined Minal, Andrea Tariang's damaged Andrea, and Kriti Kulhari's Falak who tries to put on the brave face deserted by her friend Minal even as her world comes crumbling down around her. Bachchan also shines, as usual, as Deepak, though his backstory isn't defined as well as it could be, rendering it unimportant at times.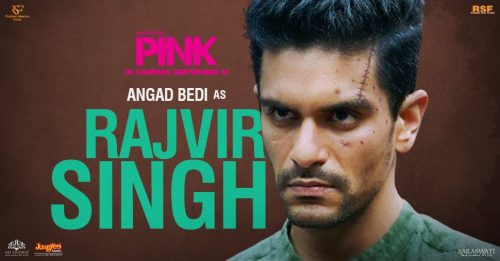 Even the villains of this story play their part well, especially Angad Bedi, whose Rajveer truly believes in the archaic teachings of womanhood that were instilled in him at a young age, and because of that, he truly doesn't understand what he's done wrong. A huge standout goes to Piyush Mehra, who plays Rajveer's lawyer and constantly tries to attack every single word of the women's testimonies and true story of what really happened that night. He's just doing his job, a thankless one at that, even if he doesn't necessarily want to.
But none of this great work would have mattered if it wasn't for that underlying message. No means no. It will never mean anything otherwise. And to try and interpret such a clear, concise statement is wrong.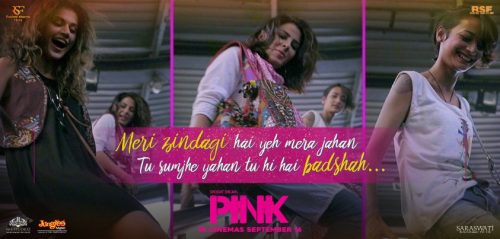 The only slight complaint I have about "Pink" is one that is not so much the film's fault as it is an issue, once again with Indian society and even the attitudes in Bollywood. Why is it that a film like this — about victim blaming against women, about unfair standards and ancient ideals of how  women should be, about a man's right over a women — why is that a film that proves these attitudes instilled in Indian society are wrong has to be made by men? Why is it that a film that showcases these values as being incorrect has to be portrayed by a man saving the women in a court of law?
It's not Shoojit Sircar's fault. It's not Amitabh's Bachchan's fault. It's not Aniruddha Roy Chowdhury's fault. It's all of our fault. We all are to blame that an important film in Bollywood about sticking up for women's rights has to be made by men and has to feature a man sticking up for women's rights in order to be taken this seriously. This is one of the problems in society that ironically enough "Pink" is trying to fix. Women's rights should be taken seriously. Victim blaming should end. Women should be free to make their own definitions of womanhood. And we should listen and support these ideals, whether it's a man or a woman telling us or asking us to do so.
[All photos courtesy: The Film Pink/Facebook]
---
Born in Texas, went to college in Missouri and now living in New York City, Keertana Sastry has a unique perspective on being Indian in different parts of America. Keertana has been working as both an entertainment, culture and lifestyle reporter, as well as a casting assistant for the film and TV industry. She loves to infuse her Indian heritage into her work and life.