Years ago, I boarded the plane to this land,
Wearing my culture and identity around my hand.
Which I was ready to adapt, to learn and imbibe—
To flow with the river, to follow the wind vibe.
I abided by the law, learned and followed all the rules,
When time permitted I volunteered in schools.
Learned to cook cranberry sauce, potatoes and turkey for Thanksgiving dinner,
I also helped hide the pastel eggs in spring, around the neighborhood, for Easter.
Donned a spooky, tall, velvet, witch hat when it was time for Halloweens,
While I doled out loads of candy and popcorn to kids and preteens.
To celebrate the spirit of Christmas season— so cheery and bright!
Adorned my porch with holly and lit up my house every night.
Every day, I packed a lunch of pretzels and apple walnut salad with delight—
So I don't bother colleagues with the smell of my food and vapors of my spice.
To be a small fragment of the valuable community,
I opened all doors and windows of my heart and soul to blend with amity.
That time when I returned from my long flight back home—
Sleep ladled in my eyes—fatigue weighing down each bone.
My bags passed the X-ray with flying colors, the dogs on duty did not sniff any suspicious odors.
My shoulders began to lighten and I heaved a sigh of relief,
Thankful —for passing the tedious, but essential ordeal.
The guys again shuffled through my bags and pulled out a guilty glass jar,
Filled with spicy mango pickle from my land afar!
They shrugged and tossed it into the greedy, gray can of trash—
While I stared, somewhere inside I heard a shattering crash.
Did not give me a chance, and absolutely no rhyme or reason,
They destroyed what my mom nurtured all through the summer season!
She chopped the mangoes, ground and mixed the spice; let it cook in the Indian sun.
Shielded it against rain and fungus for months. To pack with her daughter's family on their return.
It wasn't opium, wasn't a shiv, wasn't a bomb—
It was just a tiny little piece of my mom.

She called me later and asked fondly if I liked the pickle?
I had to lie; I tried to chuckle as my eyelids began to trickle.
"Its delectable mom, the best you made— but I have plenty,
Don't make it next year when the mango trees bear their bounty."
---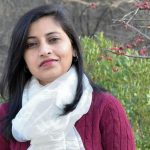 Sara is an Indian, living in the USA for the past 11 years. Columbus, Ohio has been her home away from home in India. She is an IT professional, who loves to immerse and lose herself in the ocean of written word. Sara is a voracious reader who can chew words in any shape or form. She also pours her heart out through my fingers on her blog This I Believe, which is a medley of personal essays, insights, poets and short stories. Her blog has been featured on top Indian blogs lists and her poems have published in the Haiku journal. You can find Sara on her Facebook profile.