by Mariya Taher
Photos by Tasneem Nanji
I grew up in a Muslim household, but call myself agnostic today. Nonetheless, I cannot deny my Muslim heritage. Tasneem Nanji cannot either; perhaps, this heritage and this identity, are the reason for her decision to photograph the many Muslim women she met during her recent visit to London. These were women who came from different backgrounds and represented different parts of the world, but who all now live in the multicultural and vibrant city of London. So as soon as she stepped off the plane at London Heathrow airport, she took out her camera and started shooting.
The first person she felt compelled to photograph was Sagina, a Heathrow airport employee from Goa who holds a Portuguese Passport. "She was emanating this lightness and freedom," Tasneem told me. For Tasneem, London was a city that represented the diversity of the Muslim world in 610 square miles.
In time, when she returned to her home country — the United States, she would photograph Muslim women there as well.
Maybe it's because Tasneem — a musician with a career spanning a decade — understands what it means to be labeled with an identity. It's possible that simply because of her appearance, she decided that capturing these women's images would be important.
She said:
"As an American Muslim artist I have to be honest it has been hard at times to carve a space out for my music. My sound has changed over the years. I started out with a rock band "Jungli " — we were so punk. I've calmed down a bit and am a lil more soulful. But people have always wanted to put me in a box for some reason like:

"Oh, you're Indian, do you have a tabla in your band?"
For her photos, she wanted to capture the diversity of Muslim women, to show the world that Muslim women are varied, not just one-dimensional beings, as often depicted and stereotyped especially by the media.
When she began taking the photos, the idea of going up to a stranger was daunting. She admitted that she was rejected many times, and she wondered if people's mistrust of her intentions was due to today's Islamaphobic climate.
A few brave women did engage Tasneem, and they were excited to take part in her project. They too wanted to reveal to the world what their candid, raw, everyday selves were like. They no longer wanted to be put into a box because of what they looked like on the exterior.
Tasneem found her allies.
I asked Tasneem, who she identified with the most out of all the women she took photos of and her answer was simple:
"I identified with Najah in the UK. She was on the train listening to her music. The photo is a candid shot of her just in her element. All of these women were doing everyday things like shopping, hanging with friends, ordering food, and riding the train…that's how I see myself. I'm just a woman doing my thing and I happen to be Muslim and we are regular people doing regular things."
Najah, Tasneem later learned was British-born, of Palestinian and Lebanese heritage. She was in her last year at Kingston College and was just heading home.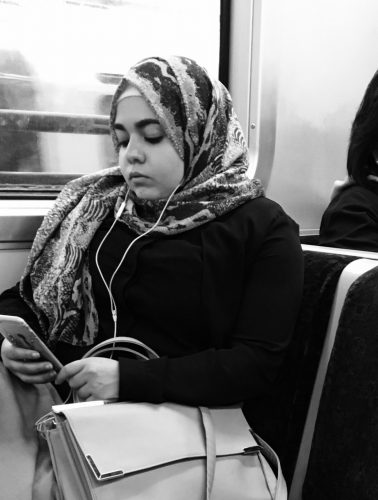 Tasneem also met other students on her journey, including Irma, a student from Indonesia at a tourist shop at Victoria Station. Then there were students like Safa, a Morrocan from Cardiff, and Sabiba, a Brit of Bengali heritage, both of whom were hesitant at first to have their photos taken, but agreed after chatting awhile with Tasneem to let her take a picture of them as they ordered their food.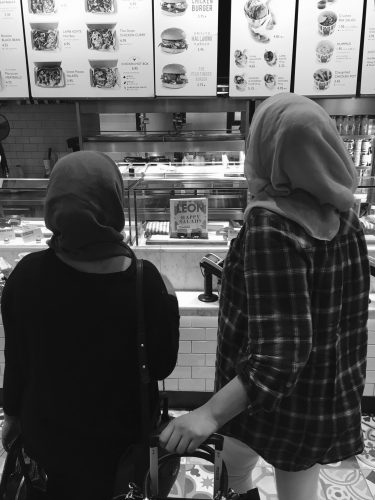 At some point in the trip, Tasneem followed her mango obsession, and it led her to a UK resident from Mauritius who worked with EcoPeace to sell Senegalese Mangos at a local farmer's market. To this day, Tasneem still dreams of Soraiya and tasting those delicious mangoes the woman sold.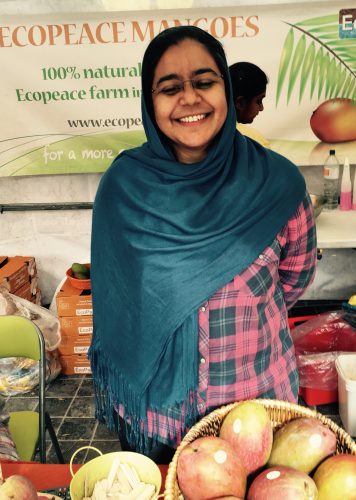 "I fancy myself a mango connoisseur and have tasted mangoes from all over like Kenya, Uganda, and Mexico. I think it reminds me of home and family, culture sweetness and love," Tasneem told me.
Another business woman, Tasneem met was Nurjahan (ironically this was my mother's birth name until she changed it in her twenties). Nurjahan was a U.K. citizen who had lived in London for over three decades. (My own mother has been living in the U.S. for nearly four decades – and on a personal note, I couldn't help but reflect on my own mother's journey to the U.S., when learning about the U.K. Nurjahan's experience from Tasneem).
Soon Tasneem's London journey was over and she went home to the U.S., but her desire to capture the diversity of Muslim women resided within her, so she continued the project in her home country, in my home country.
She needed to shatter the illusion that all "Muslim women" were oppressed or voiceless.
She wanted to show that she was more than her stereotype, that other Muslim women were more than their stereotype. She told me:
"Muslim women, every day, were part of their society, working as students, teachers, artists, friends, business women. We just never saw these types of images in the media or read about them very often. This photo project taught me that we can all thrive in society regardless of our diverging racial, ethnic, or religious backgrounds. The idea that all kinds of Muslim Women are thriving and coexisting in the modern western world while maintaining their unique cultural identity (which for some Muslim women is actually a blend of Muslim culture and the Western world) really spoke to me."
When she returned to California she photographed Mithra Alavi, a U.S. born, Muslim American woman who lives in LA and works at an Entertainment Agency in Beverly Hills. And who it might surprise others (it certainly did me), is also an aerial dancer trained in the Circus Arts.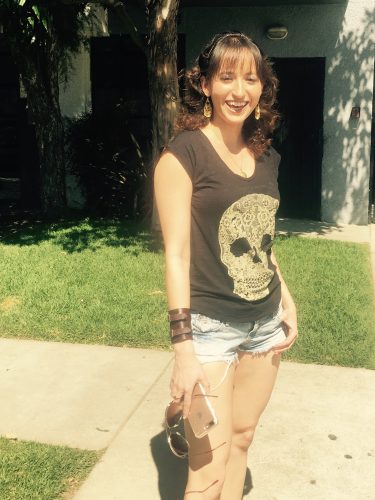 Tasneem ran into a variety of Muslim women across the U.K. and across L.A. In taking their pictures, she acknowledged that Muslim women were like anyone else. They wanted to be treated with dignity, to be treated like regular citizens of the countries they resided in. They did not want to be put into a box and singled out. This is how Tasneem felt and with the recent kidnapping and murder of Nabra Hassanen, Tasneem understands just how important it is to demystify how Muslim girls and women live in America.
In this last photo, we see a woman who Tasneem met outside of one of her music gigs at HOB in Anaheim. The woman was charging her phone when Tasneem approached her. The draw of the headphones, the possibility that the woman would be listening to a tune, maybe one that Tasneem listened to herself, called out to Tasneem and encouraged her to strike up a conversation with this stranger. Music bonded them, held them together. By the end of their conversation, the pair had each learned a first about the other.
Tasneem was the first Muslim woman musician that Monica Torrez Williams met in real life. Tasneem was equally thrilled to meet Monica Torrez Williams southern Californian, Mexican American Muslim convert. At the end of the day, they both went home happy at having learned something new in the world, about having made a connection to another Muslim woman who was just living her everyday life the way she chose to do so.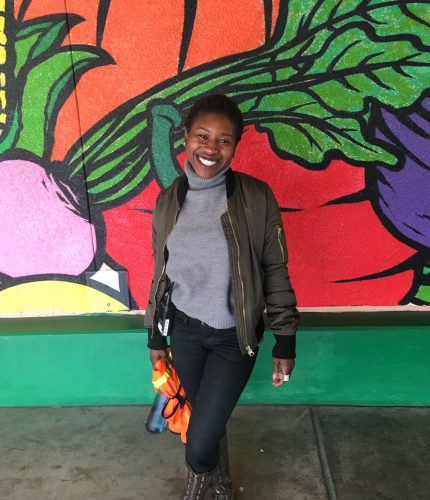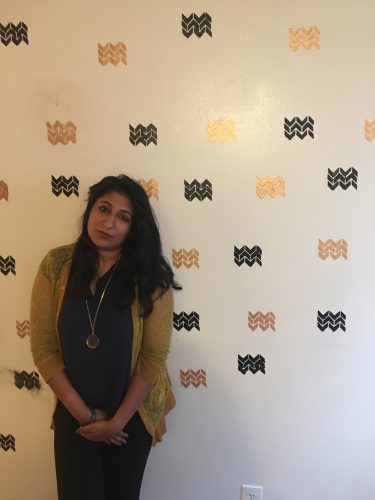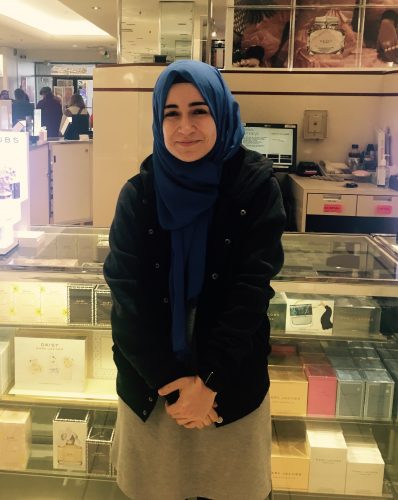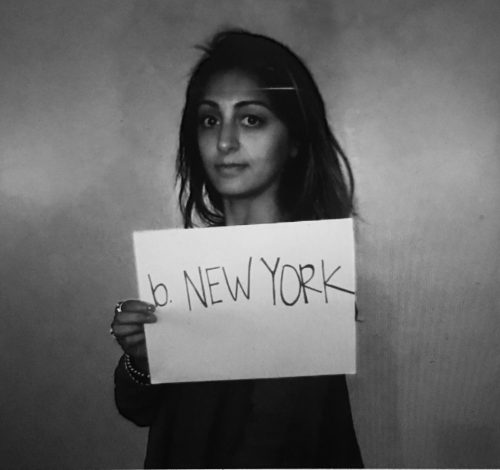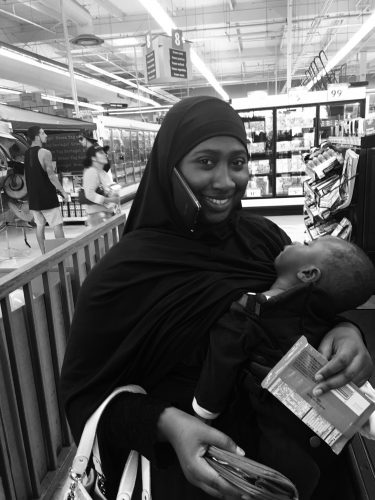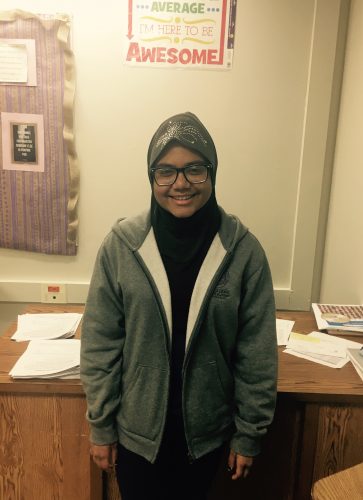 ---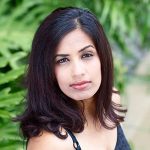 For the past decade, Mariya Taher has advocated against gender violence through research, policy, program development, and direct service. In 2015, she co-founded Sahiyo to empower Asian communities to end female genital cutting. The Manhattan Young Democrats honored her as a 2017 Engendering Progress honoree. Mariya also is a prolific writer whose articles have appeared on NPR, Ms. Magazine, Huffington Post, The Fair Observer, Brown Girl Magazine, Solstice Literary Magazine, The Express Tribune, The San Francisco Examiner, The Flexible Persona, Cecile's Writer's Magazine, and more. Follow her on Twitter @mariyataher83
---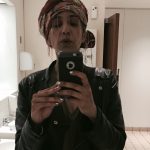 Tasneem is an American Muslim Musician Actor Writer and Activist based in Los Angeles California. She took her own self-portrait for this project in the bathroom at a Centre in London where Muslims gather for religious, social, and cultural purposes. She wanted to keep a memory of that moment and place. "The space itself brings me much joy when I think about it now documenting these women and the trip itself was magical for me." All her music can be streamed and downloaded at www.soundcloud.com/iamtasneem Follow her on Twitter & FB @iamtasneem and Instagram @lastmangoinparis