by Azhan Ahsan
What are successful people made off? I have often asked this question and have tried to find the answers by reading about accomplished people from all fields— politics, business, sports, and media. Almost always, there is one common factor in all their narratives.
They all are survivors.
And by surviving—again and again—they eventually ended up winners.
I have had the pleasure of working for and getting to know one such survivor—company's founder, Penny Sandhu.
I met her five years ago when I joined her TV network—Jus Broadcasting—as a junior writer. She was sitting in her office, which was extremely compact, congested and with papers all around on her desk, seemed like a replica of a bureaucrat's office in India. We were planning to make a pitch to some big ad agencies and needed concepts.
I was excited to be sitting in my CEO's office—was naïve and blurted out ideas one after the other. She didn't say much—only this:
"These all are great, but its not going to work with our audience."
I respectively disagreed.
Boy, was I wrong.
One of the most important reasons behind her success—that is often misunderstood, is her stubbornness, which comes from her clarity of vision and understanding of our target demographics.
A business idea only works best when it has a solid problem to solve. Sandhu quickly realized she has to solve the problem of first-generation Punjabi-Americans—craving to be entertained in their own language and culture. She determined what her audience wants and needs to hear. And I can assure you—no one understands the pulse of Punjabi-American audiences, its needs and desires, better than her. She understands her strengths and plays to them very well.
Sandhu, who started Jus Punjabi in 2007, is the first channel serving Punjabis living in this country. And since then, she has gone on to launch three more channels and a radio station.
What makes her success story rare and fascinating, are the various several challenges she faced. I can't list them all out here but a few.
Punjabi society, like various other communities in India, is extremely macho and patriarchal. A lot of men simply can't digest the fact that a woman can actually say no to their ideas, can overrule and out do them.
I have seen her rub shoulders and negotiate with staunch religious and community leaders, poker-faced lawyers, anchors, technicians and businessmen. Without flinching even once, she defends her strategies and stands up for them.
Not to mention, she achieved all of this as a single mother. Apart from her sense of humor, which is terrific, this is one aspect of hers, which I can immediately relate to and understand.
I can relate to Sandhu because a single mother who was running a business also raised me. I have experienced it first hand. I have seen my own mother and her anxiousness, and how she dealt with the pressures of it all with sheer discipline and hard work.
No matter how busy she is, Sandhu always excuses herself if her daughter, Aashmeeta, calls. I have had the pleasure of getting to know her; in fact, she was the one who hired me (haha she made the right choice). She is a balanced woman with a mind of her own, and I am certain the future of the network is in safe hands.
Over the years, I have seen the company expand, and expand not only with the size of its office space and staff, but also in its ambitions, its reach, platforms, creativity, and most importantly, in its viewers. But still, we have been able to retain the same culture, values, and vibes of a startup. It all can be directly attributed to Sandhu's leadership.
On her birthday, I want to thank her—for all the lessons and inspiration I've received from her.
So, thank you, Penny, for trusting me, and often having more faith in my abilities even if I had doubts about myself.
Sandhu doesn't enjoy much media attention and more or less avoids the press. But I am still writing this because, on this International Women's Day, her story needs to be shared and talked about as it can serve as an inspiration to millions of young women looking to build empires of their own. It's possible—take it from Sandhu!
How many Sikh, Indian, and immigrant woman can we find that are running successful media networks in the world? Not many.
Penny's story clearly states—no matter your gender, race, color, background or ethnicity, with the right attitude, you can survive, and thus go on to accomplish and win.
Oh, and one major myth I need to bust—she can parallel park her car like a BOSS.
---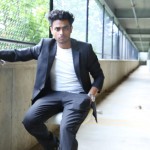 Azhan Ahsan is an electronic media producer. He currently serves as the creative producer at Jus Broadcasting and also hosts a late night talk/news satire TV show – Watt The Fuss. He is a published author of a national best seller and served as an assistant to screenplay writer of movies like Om Shanti Om, Billu, and Ra.One.