I had the chance to speak with Varshil Patel of Penn Masala about their "Evolution of Bollywood" YouTube video that has received over one million views in less than two months and made all of us feel very nostalgic! Here is what he had to say: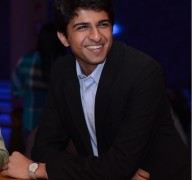 To start off, can you tell us a little about the history of Penn Masala?
Penn Masala was a brainchild of four founding members who shared a passion for both Hindi and Western music. In 1996, they did something that had never been done before – combined various music styles from both genres to create music with an entirely new sound. With the support of friends and South Asian societies across the North East and Canada, Penn Masala's early tape recordings were well-received. It all started from there. Next thing you know, the group started receiving invitations to perform at college campuses around the US and even got an opportunity to be featured in "American Desi" in 2001, starring Kal Penn. Eight studio albums and many tours later, we are grateful to our fans all over the world for the support they've given us over the past two decades.
If you could recommend one Penn Masala album for me to listen to, which one would it be?

We would recommend listening to our eighth studio album, Kaavish, as it embodies our most recent innovations in regards to sound and creativity. We experimented a lot with different languages and arranging styles, which really expanded our musical boundaries and brought us to show that a "cover" need not be exactly like its original.
Tell us about your latest track and music video "Without You."
We had been listening to David Guetta and Usher's track for a long time and when we heard the Murder 3 soundtrack, we were inspired to create a mix of Without You and Teri Jhuki Nazar. After recording the track, we thought of an interesting story that could go along with it, and recorded a music video featuring Arts House Dance Company (one of the extremely talented dance groups at our college). Also, shout-out to Lukas Arbogast for filming and editing!
What all is on the agenda for Penn Masala this year?
After our release of "Evolution of Bollywood Music", we were honored to have performed at the IIFA Awards in Tampa, Florida. We are done for the summer but really look forward to performing again in the fall and releasing some more new content.
Since Penn Masala has been around for so long, have any former members tried their hand at becoming singers/musicians as their full time career?

Many of our alumni still pursue music outside of college, to varying degrees. Wherever they are though, they all still continue to care immensely about Penn Masala and support the ventures and efforts of the current year's group. Our alumni are in fields ranging from start-ups to medicine to banking and more; we are extremely fortunate to have such a wide array of alumni that are just a phone call away.
Which artists do you look up to for musical inspiration?
We are inspired by a great variety of artists and groups, but we definitely have some favorites: A.R. Rahman, Shankar Mahadevan, Coldplay, Beatles, Ne-Yo, Bruno Mars, and Red Hot Chili Peppers.
Do you think movies like "Pitch Perfect" have influenced a capella groups to take it up a notch, adding choreography, etc.? If they made a South Asian version of "Pitch Perfect" – would Penn Masala star in it?
Definitely! The increased media attention that movies like "Pitch Perfect" are giving a cappella music has caused a huge spike in the popularity of the genre, and has thus inspired many groups to step it up by recording more tracks and performing more often. If there was a South Asian version of the movie, we would love to be in it!
Penn Masala is pretty popular among South Asians, have you come across any obsessive fan girls or fan boys?
We have some incredible fans across the world that always inspire us to produce more and more music — we occasionally get letters and messages expressing personal support. We are blessed to have had the support that they have shown!
Finally, what was your inspiration behind the "Evolution of Bollywood" video?
We heard another a cappella group called Pentatonix do an Evolution of Music video for Western music. We loved it, and wondered hey, why not make a similar video for Bollywood music? The Bollywood genre has evolved so much over the decades and we really wanted to show this in a musical format. From there, the project really took off as we began to select songs for different decades, arrange them in an aesthetic way, and move forward with recording the track.
Featured Image: PennMasala.com, photography by Abhinav Anand