by Arpita Kumar
The reception and success of "My Dear Americans" has been both humbling and an illuminating experience in terms of the dialogue the film has raised around race, nationality, gender and the immigrant experience. Even though the narrative focuses on a Sikh couple, it is a story of "otherness," that many from around the world identify and understand. In the month and a half that the film was up on PBS Online Film Festival, people from a multitude of background and ethnicities shared with us their immigrant experience, their solidarity with the immigrant community, and their pride for an America that continues to stand up for pluralism. Thank you.
As a filmmaker, my intention is to keep making films about characters that exist at the periphery. I'm developing a feature length script about an all girls school in India focused on an another outsider. I know the readers of Brown Girl Magazine will love it.
For BG readers in L.A., come to our screening at Hollyshorts Film Festival at the Chinese Theater in LA on Sat., Aug 17, at 2:30 p.m.. And Washington D.C. readers can catch the film at DC Shorts Film Festival on September 13 and 14.

About the film: Tejpreet, played by  Ansuya Nathan, is a recent immigrant to the U.S. and is visibly uncomfortable in her new surroundings. On the other hand, her husband, Baldev, delightfully celebrates everything American. However, when the couple encounters racism on the patriotic 4th of July holiday, it is the actions of the silent Tejpreet that turns the unsavory situation around. Up for PBS' People's Choice Award, watch 'My Dear Americans' on PBS' Online Film Festival.
Join the film's success on Facebook and Twitter!
[divider]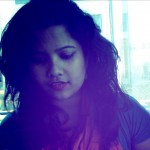 Arpita Kumar grew up in India and works as a filmmaker and professor in California. She makes films with her partner, Vineet Khosla, under the production banner of Arpita Kumar Talkies. She has worked internationally on films in Cuba, the U.K., Peru, Bolivia, India and the U.S. Her award-winning films have screened internationally at numerous film festivals and venues including the Mill Valley Film Festival, Sarasota Film Festival, Cleveland International Film Festival, and the Museum of Contemporary Art in Los Angeles, amongst others.