by Amina Khan – Follow @aminaaakhan23
The new Fox Searchlight movie 'Patti Cake$' directed by Geremy Jasper capitalizes the soul of a struggling rap artist yearning to be free from the confinement of living in a downtrodden town in New Jersey. Danielle Mcdonald stars in the movie alongside Siddharth Dhananjay, as the two enrich the ultimate friendship duo of Killa P and Jheri.
Mcdonald instills an insanely fiery thrill to the film, earning her praise for the dramatic performance as the lead actress. The film primarily focuses on the passion and grit Patti Cake$ has to reach her ultimate goal of becoming a famous rap artist. As she works at a local bar and picks up the occasional shift as a waitress for a catering business, Killa P is engulfed in the looming responsibilities of fulfilling her grandmother's hospital bills. Furthermore, as a plus-size white girl, discouragement from other rappers devoured her self-esteem which only fueled Patti's need to prove them that she has talent.
The character development for each character is well-thought out, yet the storyline seemed a little mundane and predictable. Although it is an overused story of starting from nothing to get to the top – threaded with the expectations of rap culture, I applaud the human aspects behind each role and the music. The fact that an oversized white girl is rapping juxtaposes what rap culture has so strictly defined as music that is purely rooted in black culture, may raise a couple eyebrows. Yet, Mcdonald tackles the role and plays the part to a T while adding an authenticity to the storyline in relations to being infatuated with a dream to make it big.
I got the chance to speak with Siddharth Dhananjay who plays Jherico in Patti Cake$ and learned more about the movie and himself.
Q&A With Siddharth Dhananjay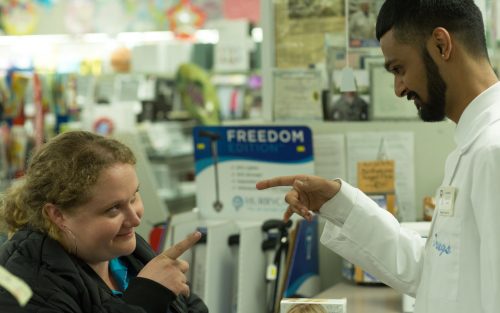 Q: What was your favorite scene to film?
A: That's hard *laughs* – The final performance was fun because there was actually 200 people, yeah that was a really good one. Also the two pharmacy scenes in the beginning and the end when Patti Cake$ and him are mad at each other then become friends again.
Q: What was it like playing Jherico aka Jheri?
A: It was really fun, although challenging because it was my first movie. It was challenging in itself to find the human aspect behind Jheri who loves his best friend but easier to play the flamboyant rapper image of Jheri.
Q: What was it like working with your cast?
A: So much fun! Everyone was so sweet and loving – we became like a family and still hang out and talk a lot.
Q: Who inspires you as an actor?
A: That one's hard – in the Hollywood scene I would say definitely Philip Seymour Hoffman and Tom Hardy. In the brown scene: Nawazuddin Siddiqui and Radhika Apte.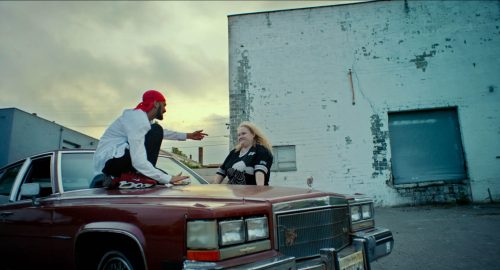 Q: How do you feel you fulfilled the role as a rapper rejecting stereotypical standards of a "brown" person?
A: Umm – I don't know, I went with my gut. Gerry is a great director and the writing is so good we just had to sit in the character and all of that. There was no question about having to ask who am I supposed to act like characterization wise. It was less about character and more about real humans and their real lives. I never really thought of it as a me playing a character who was a brown person.
Q: Do you see yourself in upcoming movies?
A: Definitely! I realized I haven't felt like this doing anything else in my life.
'Patti Cake$' is playing in theaters now!
[Photos Source: Danielle Macdonald as "Patti" and Siddharth Dahanajay as "Jeri" in PATTI CAKE$. Photo by Jeong Park. © 2017 Twentieth Century Fox Film Corporation All Rights Reserved.]
---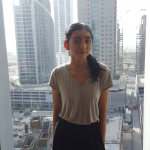 Amina Khan currently lives in Dallas, TX but forever misses her home in Los Angeles. She hopes to become a successful journalist and is always working towards enriching her writing by blogging about her travels or her current favorite TV show/book. Her dream is to work for AJ+ and deliver raw and unfiltered stories that don't make it to major news headlines. When she's not attending college or wandering around in botanical gardens, she invests her time in creating oil paintings and occupies herself with learning how to perfect Arabic calligraphy art. She also has an obsession for sushi, baby goats, Marvel and old people. Feel free to check out her blog!