This post was originally published on our partner website India.com:
More than 300 young adults filled the audience hall at Columbia University's Barnard Hall on Thur., Feb. 12 to take part in a panel discussion on transnational feminism and its contradictions in South Asia. The sold-out event was co-sponsored by Columbia University SEWA, the Indian Students Association at Columbia, Columbia University Organization of Pakistani Students, Columbia Muslim Students Association, and the Kraft Family Fund for Intercultural and Interfaith Awareness.
The "Transnational Feminism in South Asia: An Embodiment of Contradictions" panel was organized to discuss various topics, including where South Asian women fall in the broader context and how assumptions about the third-world woman have affected the progress and advancement of women in South Asian countries.
The room was filled with positive energy and readiness to engage, making the evening all more worthwhile. Co-presidents of SEWA Kaavya Mahajan and Sarika Kumar began the event with a moment of silence in honor of the victims from the recent Chapel Hill shootings.
Spoken word performer and author of "Milk and Honey," Rupi Kaur preceded the panel with a strong performance focused on women's breasts, or "boobs" as she would say, body shaming and rape culture. Kaur highlighted the fact that women's bodies are not considered their own, setting the stage for the engaging panel discussion that would follow.
#RupiKaur is the first performer of the night here's a clip of her spoken art #TransnationalFeminism #embodySouthAsia pic.twitter.com/zC05iYcBx5

— Brown Girl Magazine (@BrownGirlMag) February 13, 2015
The evening's expert group of panelists included:
Anu (Aradhana) Sharma, Chair and Associate Professor of Anthropology at Wesleyan University; author of  "Logics of Empowerment: Development, Gender, and Governance in Neoliberal India."
Afiya Zia, Women's Rights Activist and Researcher; author of "Sex Crime In the Islamic State: Rape, Class, and Gender in Pakistan."
Arvind Kaur, TV Show Host of "Jus Gulbaat" and Clinical Psychologist.
Vidya Sri, founder of Gangashakti and Carr Center for Human Rights Policy Fellow at the Harvard Kennedy School of Government and Nisha Mathur, host and producer of TV Asia's "Shades of Shakti," were not able to attend because of last-minute emergencies. Moderator Trisha Sakhuja, the managing editor of Brown Girl Magazine and content manager of Zee TV's India.com, opened the panel with pre-written answers from Sri and Mathur.
Their ideas expressed from experiences in the non-profit and media sectors, respectively, showcased a lack of resources and discussion of feminism, but also a dearth of awareness in how feminism is contradicted in the South Asian context.
"Media communicates the message that women are inferior to men in society" read by @Tsakhuja13 from #NishaMathur response to media &feminism

— Brown Girl Magazine (@BrownGirlMag) February 13, 2015
Following up to Sri and Mathur, Sharma and Zia brought in academic perspectives from their years of research and published work.
Early on, Sharma noted a key point that "there is a powerful radical history that transnational feminism brings to the word 'empowerment'" and how disempowerment is a better word to suggest the shifting identities of privilege. She spoke of her own ethnographic research on the study of the global projects of neoliberal development and governance in rural North India.
Sharma suggested that grassroots activism and empowerment models work to make space for women and the marginalized, only if we can change the inherent power structures and institutions to give them that much-needed space.
"Everyday survival is a form of empowerment" #AradhanaSharma on obstacles of social political and economic immobility #TransnationalFeminism

— Brown Girl Magazine (@BrownGirlMag) February 13, 2015
Zia's perspective on transnational feminism led to how convenient it has become to blame culture and religion – and other abstract entities – on real-life practices such as forced marriages and honor killings.
"Culture and the divine have become patriarchal manipulations of the abstract," Zia said. "Muslim women are more than the veil and their faith. They have all these working class identities we need to look at," she added.
"Tools of culture and religion can be used to oppress women and we need to look at the political uses" #AfiyaZia said #TransnationalFeminism

— Brown Girl Magazine (@BrownGirlMag) February 13, 2015
She also spoke about how her current work focuses on looking at secular feminism through the working class women's movements, which does not appeal to or rely on faith-based institutions. Many of these movements are gaining power in spite of old-age, conservative religious and cultural barriers.
Arvind Kaur took a different approach to the transnational feminism discussion by referring to her findings from her own experiences of working with trauma-hit kids. She also mustered up the strength to share a narrative about domestic violence in her own family. Her main message was that resilience and support are great measures in cases of violence against women, but we need to do something preventative before that stage.
"My sister did not survive DV she was my hero & we lost her to DV b/c we were late with our support" #ArvindKaur #TransnationalFeminism

— Brown Girl Magazine (@BrownGirlMag) February 13, 2015
Furthermore, Kaur tackled the challenging question of how faith and feminism work, in saying that the "soul [the spirit] has no gender." As a Sikh, she described how the scriptures are "pretty neutral" when it comes to males versus female, but that the gap occurs in how they are practiced in today's society and culture.
Culture & religion r interlinked but I would say it gives power & if you gain ur own spirituality it will empower u #TransnationalFeminism

— Brown Girl Magazine (@BrownGirlMag) February 13, 2015
Following a lively question and answer session with Columbia students, especially young men, asking how they could teach feminism and its principles to their future sons, Sharma wrapped up the session with one thought that resonated throughout the room: "Feminism is a humanistic project."
"The best way to get men involved is to push the boundaries and talk about it, keep pushing the envelope" @Tsakhuja13 #TransnationalFeminism

— Brown Girl Magazine (@BrownGirlMag) February 13, 2015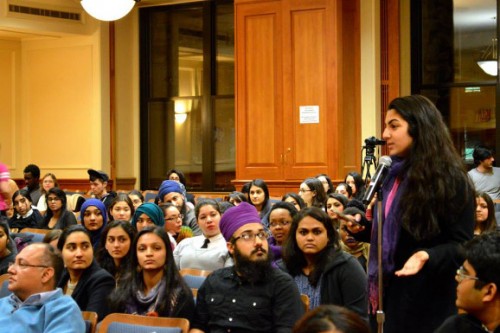 Quoting American author, feminist and social activist Gloria Jean Watkins, better known as bell hooks, Sharma described feminism as "subverting, not inverting" and said that "men would have to inherently give up some of their privileges if men and women were actually to be equal." Rupi Kaur also weighed in on this notion, by asking, "Why are men so afraid of losing their privilege to be at the same level as women. That should tell you something."
To close the night's enthralling discussion about further empowering South Asian women, 2014 NYC Youth Poet Laureate and author, Ramya Ramana, took the stage to perform her widely acclaimed piece, "Miss America," thanking the individuals who gathered to speak, act, and listen to topics they are discouraged from pursuing everyday.
With a mix of performances and discussion among a group of varied panelists, this panel provided an open forum for the South Asian community, especially those that identify with the South Asian Diaspora. It is not often our communities gathers so willingly and passionately to discuss the contradictions we face in our everyday lives, families, schools, and society at large.
This was a unique night in that it brought together a safe space for a community that often shies away from its shifting, yet rich and nuanced identities. And in this gathering, there was great strength, solidarity, understanding, and support in claiming space, commanding attention, and fighting the vulnerabilities imposed upon us as individuals and as a collective group.

---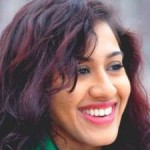 Vaidehi Mujumdar is an aspiring physician, writer, and researcher based in Washington DC. She's a contributing writer for India.com's US Edition. Her work has been published in The Guardian, The Feminist Wire, Media Diversified, and others. See more of Vaidehi's work on her website.