by Faria Akram
Two-time Academy Award winner Sharmeen Obaid-Chinoy's passion dwells from a place deep within her.
"I make films that I hope will cause some sort of change and spark a conversation," Obaid-Chinoy said. "That is what I've always aspired to do and that does not change—it is what I'll always aspire to do."
Born in Pakistan and educated in the U.S., the prominent filmmaker boasts an upbringing quite relatable to many South Asian women – the connecting of two significant cultures.
"I got involved in activism when I was at the Smith College campus," Obaid-Chinoy said. "I straddled two worlds between Pakistan and the west and I feel I am able to bring stories from one part of the world to the other."
Her interest in activism continues to display itself in her work, most notably through her Academy Award-winning documentaries "Saving Face" and "A Girl in the River: The Price of Forgiveness." The former depicts the concern of acid attacks on women in Pakistan while the latter focuses on honor killings in the same country.
Obaid-Chinoy's latest venture, "Song of Lahore," touches on another issue in Pakistani culture: music.

The film follows a group of musicians as they travel from Pakistan to perform in New York's Lincoln Center. While a group of musicians may not seem unique, this one is; they've worked tirelessly to revive the culture of jazz in post-Taliban Pakistan.
"Song of Lahore' is a patronage to Pakistan's culture and its rich musical past," Sharmeen Obaid-Chinoy said. "But this is still an issues-related film as it talks about our musical history being threatened."
"I grew up listening to my grandfather's stories of a time in Pakistan, which was very different than what I knew. The musicians all played on the street and in orchestras, etc," she explained. "When I discovered that the musicians at the Sachal Studios were trying to restore and celebrate our musical heritage, I thought we could try to restore Pakistan's musical past through their story."
"Song of Lahore" premiered at the Tribeca Film Festival in April of 2015, released in November of that same year and had a recent screening in New York City.
At one point in the film, one of the musicians remarks:
"We want to show the world that Pakistanis are artists, not terrorists."
This line is crucial to the core message of the film, Obaid-Chinoy said.
"In the never-ending 24-hour news cycle the headline always is about violence," Obaid-Chinoy said. "'Song of Lahore' is an ode to Pakistan's rich music and we want people to go on that magical journey."
As a female filmmaker of color, Obaid-Chinoy understands the struggle of women in the film industry. But she believes the documentary industry is easier to break into than others.
"There is a fraternity of female filmmakers that is large and encouraging," she said. "It is easier being a female documentary filmmaker than a female narrative filmmaker."
This is especially true in Pakistan, she said.
"I feel I get more access because I am a woman for the kinds of stories I tell and the sensitivities around them," Obaid-Chinoy said. "I don't see these as challenges, I see them as opportunities."
For our brown girl filmmakers (and other artists), Obaid-Chinoy has a key piece of advice: resilience.
"Never take no for an answer. Always knock on every single door and if a door hasn't opened for you it's because you haven't kicked it hard enough," Obaid-Chinoy said.
"Song of Lahore" is now available on DVD and VOD.
---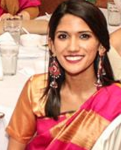 Faria Akram is a tiny and tough Texas native who's about graduated with a double major in journalism & advertising from the best school in the world, UT Austin. When she's not trying to master the art of storytelling, she can be found choreographing dance routines in her room, planning adventures with friends or watching "Kuch Kuch Hota Hai" for the thousandth time. She loves sparkling water, reading, meeting new people and sharing their stories with the world.