by Fatima Ahmed
Aqsa Pervez was 16 years old. Her family was originally from Pakistan but lived in Mississauga, Ontario. She was a typical teenager. She wanted to dress how she wanted. She wanted to listen to the music she liked. She wanted a part-time job of her choosing.
But her father and her family disapproved of her choices. They imposed the hijab on her. They placed restrictions on her social media. They didn't let her go out on weekends. At one point, Aqsa told a counselor at her high school that she was scared her father would kill her. Aqsa was removed from her home and placed in a shelter. She then went to stay with a friend to escape her abusive family.
On the morning of December 1, 2007, Aqsa was standing at a bus stop when her brother, 26-year-old Mohammed Pervez, offered to drive her home so that she could pick up some more clothes. This was an ambush. When Aqsa got home, her brother and father strangled her to death. Her father then called 911 and admitted to the crime because he felt, "my community will say, you have not been able to control your daughter. This is my insult. She is making me naked."
Farzana Parveen was 30 years old when she was murdered in broad daylight outside a courtroom in Lahore, Pakistan complete with police and the public there to witness the crime. Farzana had decided to marry Mohammed Iqbal without her family's approval, and her family had decided to claim she had been kidnapped and forced into marriage by her new husband. The day of her death, she was headed to a hearing where she was going to testify against her family's lies. But she never made it.
Farzana's family and Iqbal's family had a fight outside the courtroom. During the argument, Farzana was beaten to death with bricks. The beating lasted fifteen minutes. No one intervened. She was pregnant.
Samaira was 25 years old, lived in the UK and was fiercely independent. She fell in love with an Afghan immigrant, Salman Mohammed. They were together for several years but kept their relationship a secret because Samaira knew her family would not approve. Her family wanted a Pakistani boy for her but she said no. Eventually, she announced her engagement to Salman. Her family was not happy. In April 2005, Samaira was asked to come back home to discuss the situation.
In April 2005, Samaira was asked to come back home to discuss the situation. She went back to confront her family while hoping for a reconciliation. Instead, Samaira was held down and stabbed by her father, cousin, and brother. She fought for her life, bleeding, and thrashing, through 18 stab wounds and three slits in her throat. The police found two of her four-year-old nieces by her body when they arrived. They had been ordered by the family to watch as a "warning" of what happens to disobedient women.
Qandeel Baloch was born Fouzia Azeem in 1990 in the Punjab region of Pakistan and was one of twelve children. At just 17, Qandeel had lived through a tumultuous one-year marriage. She was forced into the arrangement by her family and soon found out her new husband was abusive.
In her own words, "He tortured me day and night during that one year." She ran away with her son and sought refuge outside Pakistan. She filed for divorce but had to give up her son since she could not afford medicine for him when he got sick. To this day, her son hasn't been told she was his mother.
At a very young age, Qandeel decided to live her life according to what her family wished of her, but the marriage left her bruised and battered. So she decided to live her life for herself and be happy doing what she wants. This led to her very popular social media and modeling career.
She rose to fame because of her social media posts, her pictures, videos, and comments — all of which were highly controversial. The largely conservative Pakistani community was outraged. But she went against the norms of society and lived life on her own terms. Following a picture with a senior Muslim cleric which went viral, Qandeel started receiving death threats. She feared for her life and asked for protection from the police but they gave no response. She was about to move abroad with her parents after Eid because she felt unsafe in Pakistan.
On July 15, Qandeel and her parents were drugged as they slept in their home in Multan by her brother Waseem. He then proceeded to hold her mouth and nose closed to asphyxiate her. He confessed to the crime, saying she was bringing disrepute to their family.
Qandeel used her social media platform to speak on women's issues in Pakistani society often. She called herself a "modern-day feminist" because she believed in a woman's right to choose her own path. She was a bold woman who spoke out against social norms holding women back under the guise of religious morality and respectability. She took control of herself and she was punished for it by her own family.
On her death, Mr. Qavi said, "I have a message for women, for people, that they should keep this lady's fate in mind and shouldn't say things that insult religious scholars."
The question here is, "Why must women live in fear of Islam?"
Let's also acknowledge honor killings are not contained by borders. They happen everywhere. They are not someone else's problem. They are ours. Honor-based violence is a collective crime. I stand here implicated along with everyone who chooses to partake in the cultural practices that lead to the death of innocent women. I contribute to it just as everyone else does, as we create social expectations, and put pressure on our women, and perpetuate the belief it is better to be dead than be disgraced. And it comes to a point where our daughters, sisters, and even our mothers become burdens to us.
It also cannot be ignored that honor killings are perpetrated against women at the hands of men. And so now, I want to address the men only. If you care about your daughter dishonoring you, then you don't want a daughter, you want an ornament. If you're worried about your sister dishonoring you, then you don't want a sister you want a plaything. If you look at the women in your life and see a liability, you don't love or respect them. We must teach men the women around them aren't property, but are people of equal status to them. We must teach men to respect women because they are people with their own feelings and emotions and choices and freedoms. You don't control them. Don't try to.
To the women, do not be afraid of being selfish. Do not be afraid of living your life how you want. Do not be so burdened you make your family's problems your own. Do not feel your family's happiness and future is your responsibility. Do not allow yourself to be pressured by the ones who are supposed to love you. Do not hang your head in defeat. Do not feel powerless and helpless in the face of society. You matter just as much as anyone else and to ask anything you do not want is not right.
Before you close this article, I ask just one thing of you: Hug your daughters, sisters, and mothers. Tell them you love them and you support them no matter what. Because Pakistani women don't hear it often enough.
---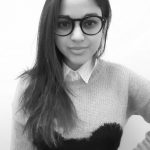 Fatima Ahmed is a 1.5 generation Pakistani working on her degree in English Literature in Vancouver, Canada. She has an interest in human rights activism, social justice affairs, literature and art as well as excessive chai drinking. You can find her on twitter @FattyA123 or read more of her articles at schemamag.com.