Dear Secretary Clinton,
Thank you.
Thank you, for your commitment to public service and women's rights.
I may not agree with a lot of your stances, but your resilience and grace have been nothing less than inspiring.
You may not have broken the highest glass ceiling, and we are all disappointed, but you have paved the way for future aspiring women leaders. I do believe we will have our first woman president sooner rather than later, and for that we will have you to thank.
Throughout your entire political career, you've had many arrows thrown at you from all directions, and even when you got hit, you handled the pain with strength and grace. You never staggered. You never gave up.
You faced many hurdles as a woman in politics. Throughout this election alone, we saw you deal with insults, we saw you being undermined by your mistakes, we saw you constantly apologize for your mistakes, and we saw you being drowned out by loud male voices. But you stood your ground without fail. Whether your fights resulted in victories or losses, you always came back to do what you could to make the most out of every situation.
You said in your concession speech,
"This loss hurts, but please never stop believing that fighting for what's right is worth it."
This loss is a painful one, and it will take some time to heal. I know you'll do whatever you can to continue on this fight—and this time, I promise I will fight harder.
You may feel like you have failed us by not successfully becoming the first woman president of the United States, but your quest thus far is no less motivational.
I am proud that young girls in this country will have your journey to look back on. Thank you for being our champion.
---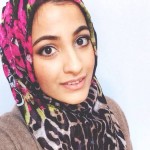 Hera Ashraf is a graduate with a Biology degree, hoping to pursue medicine. She is a self-proclaimed foodie with a passion for desserts. Coffee and Bollywood are her two most favorite things. She loves to read, even though she barely gets time for it anymore. Brown Girl Magazine allows her to write about the things she loves and then shares it with the world. Her ultimate goal in life is to become a world wanderer.